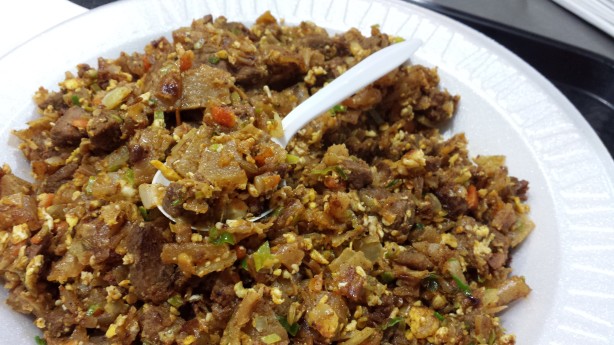 In June, Food Republic is counting the many reasons to love Asian food in America right now. Here's one of them.
As an intrepid food explorer who lives in Queens, arguably the most diverse dining destination in all of New York City, I'm well versed in all sorts of far-flung cuisines: Nepalese, Tibetan, Thai and Indonesian, to name a few. Yet there's one particularly exotic cuisine, a melding of Indian and Dutch influences with a vibrant spice palate, that I have little experience with: Sri Lankan.
That's because unless you're willing to take a trek to that most forgotten of boroughs, Staten Island, Sri Lankan restaurants are pretty hard to come by in New York City, and by extension the United States. Some 5,000 Sri Lankans live on Staten Island (by far the highest concentration in the country), mostly in the enclave of Tompkinsville, which is a thriving destination for Sri Lankan cuisine.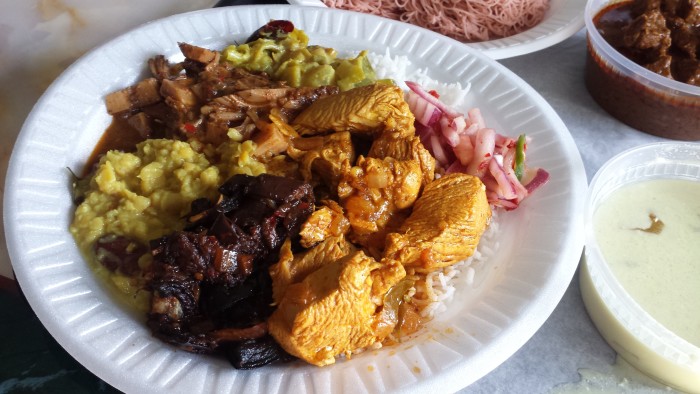 Victory Boulevard and Cebra Avenue, the beating heart of this vibrant culinary scene, is a mere 15-minute walk from the ferry. Along the boulevard are several Sri Lankan markets and restaurants, including New Asha, where Vijayakuman "Viji" Devadas has been cooking up home-style Sri Lankan food since 1995. The modest steam-table restaurant is named for her niece, Asha, which Viji says means "favorite." "This is the mama food," she says of the combo plate laden with meaty jackfruit curry, leeks, potatoes and eggplant moju, a beguiling black curry of eggplant cooked down with spices, including roasted curry powder, to a sweet, almost jammy consistency.
Sri Lankan curry powder — a mix of cumin, cinnamon, cardamom, cloves, coriander and fenugreek — features prominently in New Asha's kotthu, strips of roti stir-fried with vegetable, eggs and your choice of protein. Both the mutton and fish versions hum with aromatic and warming spices and are home cooking of the highest (and hottest) order.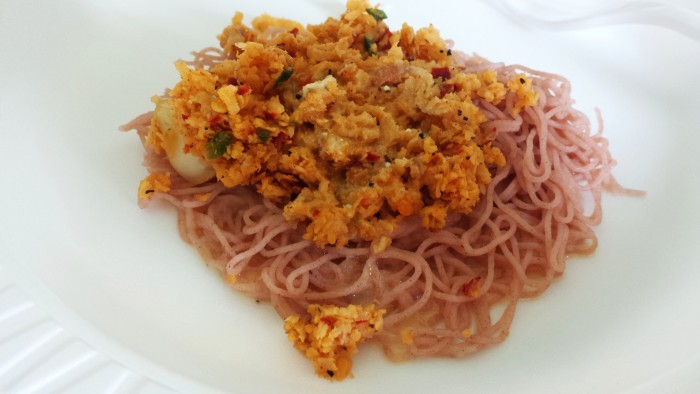 "That's a very famous breakfast in Sri Lanka," Viji says of string hoppers, nutty circular tangles of steamed red rice noodles. "But over here, people eat it any time." Her last comment is underscored by the portions in which the string hoppers are sold: 10, 50 and 100. Every order comes with pol sambal — a deep-orange-colored coconut concoction flavored with red onion and red chilies. Also arrive is kiri hodi, a gravy made with coconut milk, turmeric, onion and curry leaves.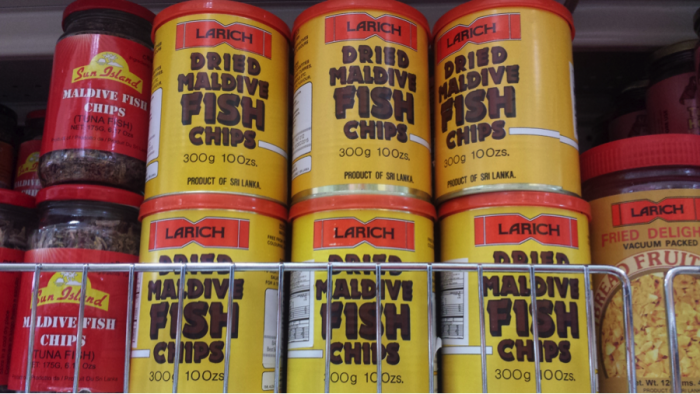 At the Lanka Grocery I learn the secret behind the incredible depth of flavor I've found in all this cooking: Maldives fish chips, a cured-dried tuna fish, known in Sri Lanka as masikaruvadu umbalakada, that's the fish sauce of Ceylon. The cuisine's fragrant heat comes from the liberal use of various and sundry curry powders. Here at the grocery there's an entire aisle devoted to the stuff — roasted, unroasted — including the fiery Jaffna and Spice It Up brand black curry. There are also many hot peppers, including the salty yogurt-preserved peppers known as curd chilies, eaten as a condiment with Sri Lankan thali plates.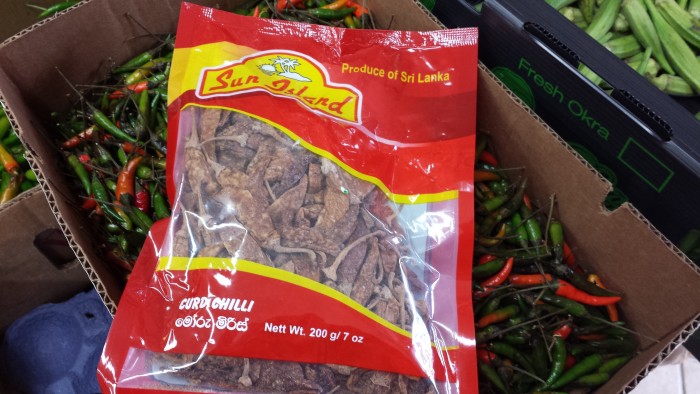 Lanka Grocery's owner, Jay Jayathunga, says his store, whose awning bears the words Apey Kade ("our market"), has been in business for about 30 years, and that there have been Sri Lankans on Staten Island since the 1970s. (The first Sri Lankan to move to Staten Island was an accountant named Leslie Gunaratne who estimates that 80 percent of the roughly 5,000 Sri Lankans on Staten Island "were connected to me by blood or marriage.") As I leave the market I note the many mixes for hoppers (fried dishes made with a fermented, slightly sour batter) as well as a puttu kudam, a narrow stainless steel vessel for cooking the cylinders of rice flour and grated coconut known as puttu in Indi and pittu in Sri Lankan.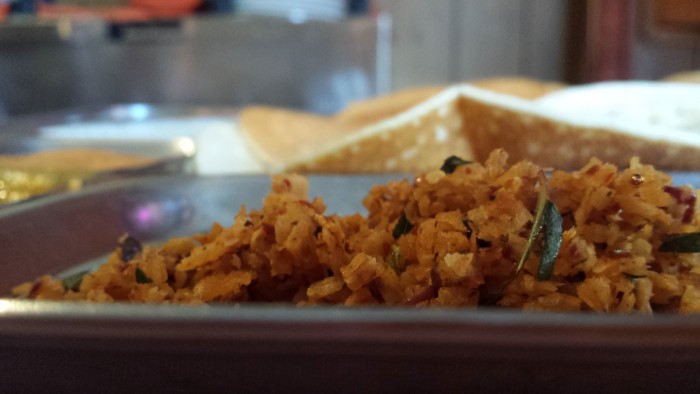 At Dosa Garden, a spot whose menu skews about 95 percent Indian, I dig into pittu served with coconut gravy and coconut sambal. I also have a lovely Sri Lankan-style set dosa. It's a trio of three dinner-plate-size pancakes served on a stainless lunch tray with a watery coconut chutney, an amazing tomato chutney and the aforementioned coconut sambal. Dosa Garden's version is particularly good, shot through with red onion and fragrant curry leaves.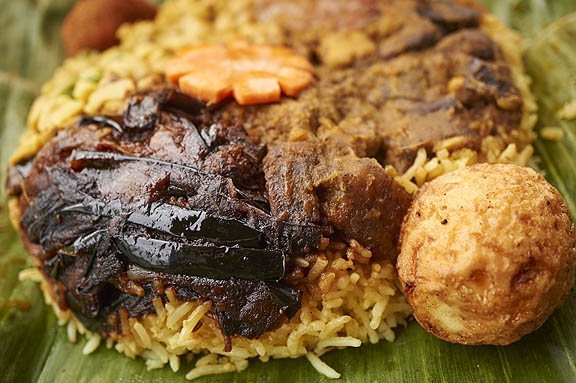 Lampries — a festive dish of rice and five curries — bundled in a banana leaf is the special of the house at Ceylon Curry. I unwrap the packages to find the ubiquitous eggplant mojul. There's also ash plantain and cashew-nut curry cooked to an impossible softness. For good measure, there's a fried boiled egg and fried fish ball.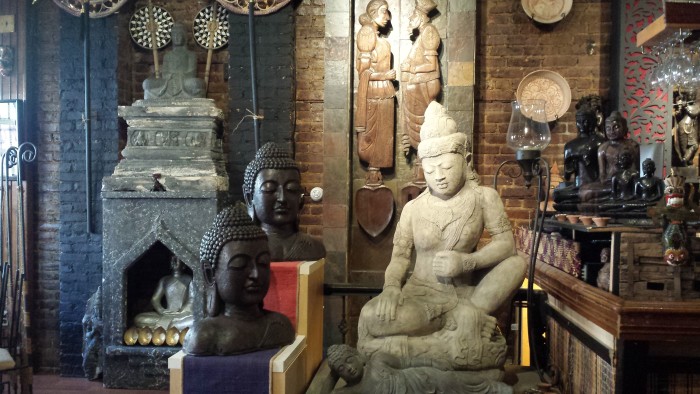 About a 10-minute drive from the hub of Little Sri Lanka lies Staten Island's most elaborate Sri Lankan restaurant, Lakruwana. The five-year-old spot is a world away from the humble eateries of Victory Boulevard, an elaborate affair with dozens upon dozens of Buddhas looking benignly out upon the dining room. It's part museum, part travelogue for Sri Lanka as a video monitor above the door plays a film that explores the island's beaches and temples. It's all presided over by the sarong-clad Lakruwana Wijesinghe.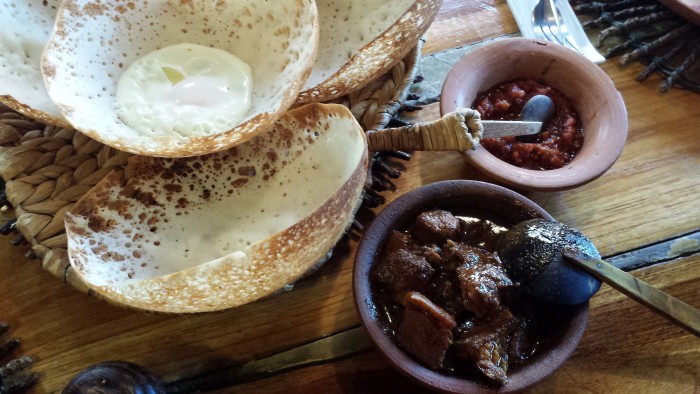 On my first visit I try another version of hoppers, this one with coconut milk, cooked up into a bowl. They prove an excellent vessel for the pork-belly curry in a rich dark gravy suffused with black curry powder. These remind me of waffles. Lakruwana tells me all of the decorative elements in his restaurant were shipped from Sri Lanka in  a 40-foot cargo container and encourages me to come back for the buffet. So I do, the very next day, with two friends. We gorge ourselves on the offerings, all impeccably fresh. In addition to the pork curry, other standouts include pineapple curry, kale, eggplant mojul and crunchy salted spicy fried red chilies.
On my second trip to the buffet I notice a sign reading, "Happy Wife, Happy Life" above the rows of clay serving vessels. "I'm pretty sure that came from Pier 1, not Sri Lanka," I say to my friends.
New Asha – 322 Victory Blvd., Staten Island, NY 10301
Lanka Grocery – 353 Victory Blvd., Staten Island, NY 10301
Dosa Garden – 323 Victory Blvd., Staten Island, NY 10301
Lakruwana – 668 Bay St., Staten Island, NY 10304