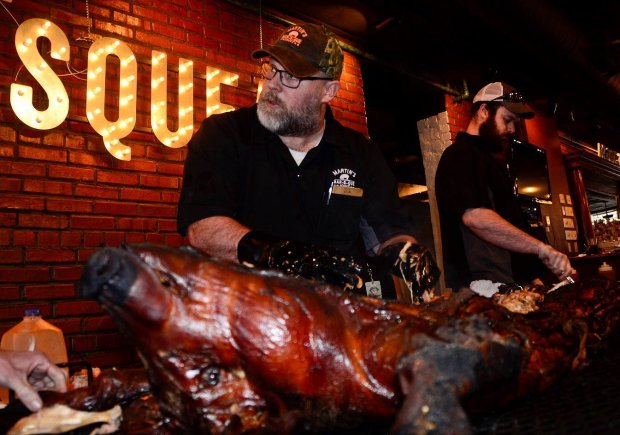 Middle Tennessee pitmaster Pat Martin has developed quite a following over the years, thanks to his whole-hog prowess at the small but growing chain of Martin's Bar-B-Que Joints. Focusing on the West Tennessee-style hog cookery that he learned from a Henderson, Tennessee, barbecue master named Harold Thomas, Martin aims to continue the traditions by teaching a new generation of pitmasters through an organized apprentice program. And he's currently building the ultimate barbecue playground for them to practice in behind his next Martin's location in downtown Nashville.
Martin has always been a fan of live-fire cooking, and he often invites local and regional chef friends to his home on weekends to throw some type of protein on some sort of cooking device. A lot of this love of flames and food came about when, as a member of the Fatback Collective — a group of chefs, pitmasters, writers and academics who spread the gospel of heritage-breed animals cooked low and slow at various barbecue competitions and events across the country — Martin took a trip to Uruguay to study the techniques of cooking large animals over open flames.
During his week in South America, Martin discovered a new world (literally) of methods for cooking meats beyond the traditional grilling/smoking techniques that have been the basis of American pitmasters' repertoires. He was also inspired by Argentinian Francis Mallman and his seminal book Seven Fires: Grilling the Argentine Way. In that book, Mallman describes the seven traditional fire-cooking methods of the Pampas: parilla (barbecue), chapa (cast-iron griddle or skillet), infiernillo ("little hell"), horno de barro (clay oven), rescoldo (embers and ashes), asador (the iron cross) and caldero (cauldron).
Armed with this new knowledge, some open space in his backyard and access to talented welders, Martin set about building his own pitmasters' playground. When the opportunity arose to construct a new restaurant that happened to have a lot of free space in a former gravel parking lot behind the building, Martin knew it was time to scale up his live-fire endeavors.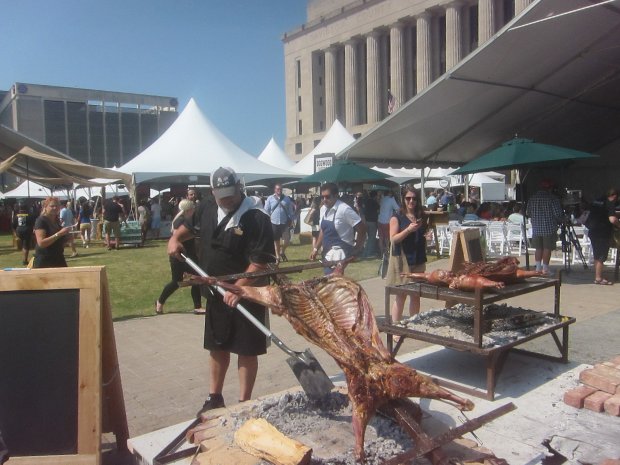 First, he wanted to experiment with a trial by fire of the concept. At last year's Music City Food and Wine Festival, organizers carved out a small patio pavilion for Martin to set up his various fire pits, grills, kettles and the dramatic asador frame where whole animals sat splayed over a hot pile of smoldering logs. He then invited chef friends to bring their own meat to throw on the grill or hang from a string over the fire and basically wrote out a menu on a chalkboard with approximate times that festival patrons could drop in for a taste of their efforts.
The response was overwhelming as the pavilion quickly became a gathering spot for chefs such as Andrew Zimmern, Levon Wallace, Tandy Wilson, Andy Ticer and Michael Hudman to let down their hair, share a cold beer and get back to the basics of cooking over fire (well, Zimmern didn't participate in the hair part…). Fans clamored for the opportunity to see their favorite chefs in an atmosphere outside of their own restaurants or while wearing their professional personas during formal cooking demos as part of the festival.
Martin intends to replicate the pitmaster playground in a bigger and better fashion at this year's iteration of the Music City Food and Wine Festival, and also permanently, at the newest Martin's location, slated to open in September. In addition to a standard Martin's Bar-B-Que Joint downstairs serving his full menu of pork, ribs, burgers and sides, the new addition will be sort of an open beer garden with the meaty addition of three whole-hog pits plus multiple apparatuses for applying smoke and fire to meat.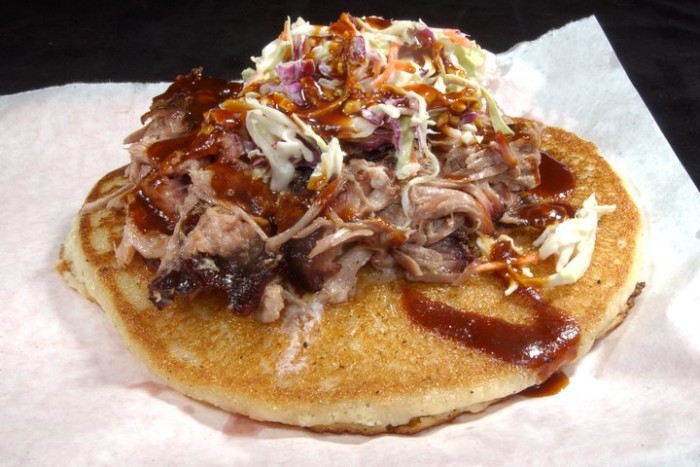 The menu will be simplified for the pitmaster playground, where food will be served and sold market-style by the pound or half-pound, by the slab or half-slab. Meats will be simply presented straight off the pit and served on butcher paper. Most importantly, Martin hopes that his chef friends will feel welcome to drop by anytime to experiment with his gear.
"I want to get back to the basics of meat and fire," says Martin. "This is what I do on Sundays at home with my friends anyway. I'm hoping they'll all want to come play with fire whenever they have some free time." However, knowing that chefs' schedules stay pretty full, Martin is making plans to train another generation of apprentice pitmasters to man the smokers at all of his restaurants.
Smoking a whole hog over wood coals is as much an art as it is a skill or science, with experience and a sensitive touch being the most important attributes of a successful pitmaster. "It's the hard way to cook," says Martin. "We don't have any thermometers or thermostats. You need to be able to lay hands on the pit and know if it's running hot or cool. It's all on feel. There's no button to push or dial to turn."
A successful barbecue chef also has to weigh the desires of the customer against the difficulty of forecasting demand. "People are shocked when barbecue places run out of food," explains Martin. "But that's the point. We can't just put on another hog and cook it up real quick for them. We're cooking as much as we think we'll need, and if and when we run out, customers can always order our great burger, some fried chicken or catfish."
Martin grants his eight apprentices total veto power over anything dealing with the meat they smoke. "That's their job. They don't clear tables; they don't do French-fry prep. They concentrate on their tasks, and they're the only ones allowed to touch the meat. If there's a line out the door screaming for sandwiches and the guys think the hog needs more time on the pit, then the rest of the staff just has to deal with it!"
Martin sums up his hopes for his apprentice program this way: "My goal is to open new restaurants and send folks that can cook food up to my standards. I go to extremes to cook it the right way. To grow, you have to pass the skill set along." When asked if he is worried about his newly trained apprentices striking out on their own, he responds, "By the time they learn how to cook barbecue, they've had more than enough exposure to run their own place, and I hope they'll be at a Martin's. But even if they start their own places, I'll be glad to have been a part of it. You can't worry about who is opening new places and where they'll be. You just have to worry about what's going on inside your own four walls and get it right. If you can cook a whole hog, you can do anything!"