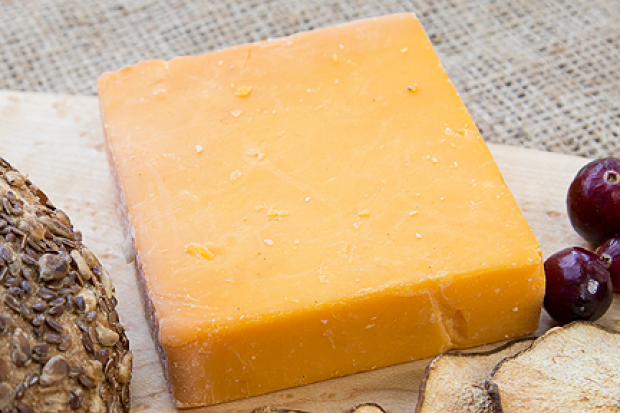 A cheese old enough to be halfway through with college was sold for $209 per pound this past weekend.
Hook's Cheese Co. in Mineral Point, Wisconsin, has produced 450 pounds of cheddar that has been aged over 20 years. Run by Tony and Julie Hook, the company has been selling a 15-year-old aged cheddar — that goes for about $50 per pound — since 2009. But this is some kind of record.
The cheese attracted enough preorders that only 20 pounds of it was left over after Tony had shipped the product to early birds. The remaining blocks were sold at the Hooks' shop last Friday and, to no one's surprise, sold out.
Tony told the Chicago Tribune that the 20-year-old won't taste too different from their teenaged cheese, but the difference is in the texture. Over time, cheese develops crystals of calcium lactate, which can give a slight crunch to the cultured goodness.
But don't think that the Hooks will be cashing in on all that cheddar: The Wisconsin State Journal reported that the couple plan to donate half the revenue made from the 20-year-old cheddar to the Center for Dairy Research and a building project at University of Wisconsin-Madison.
In the same cheese-loving state, a 40-year-old cheddar was "discovered" while cheesemonger Edward Zahn was clearing out his shop to close in 2012. The State Journal reported that Zahn found the old stinker in the back of his freezer and that the box had been "overlooked." He also found a 34-year-old and 28-year-old cheddar that day. The most mature cheese was sold in a shop in Milwaukee for $10 per ounce.
According to the International Dairy-Deli-Bakery Association, consumers were predicted to indulge in more aged cheeses in 2015. Thanks to the Hooks, that may be correct.
More cheesy stories on Food Republic: