Where To Eat Pizza In Naples, Italy, Pizza's Spiritual Home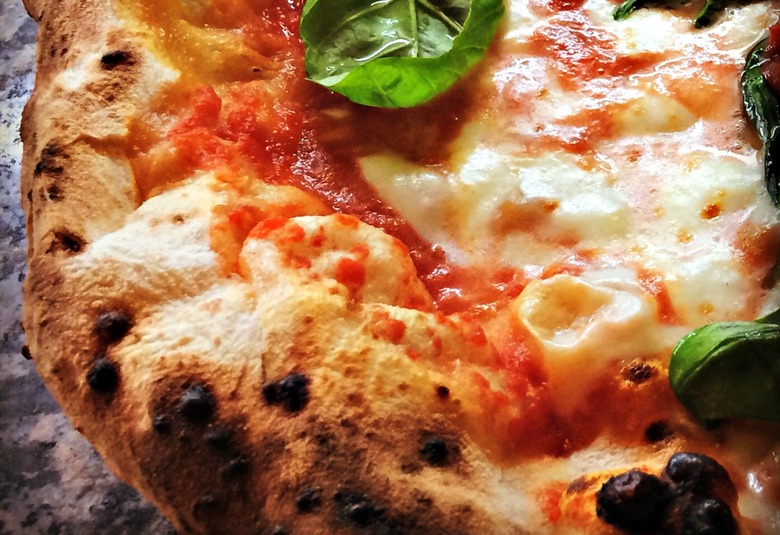 Celebrity pizza maker Gino Sorbillo's pizzeria sits in the very heart of the city cen
San Gennaro, aka St. Januarius, is the patron saint of Naples, a coastal Italian city of 950,000 located 140 miles south of Rome. Twice a year — on Gennaro's name day (September 19) and on the first Saturday of May — a glass vial containing what is allegedly his dried blood liquefies during a solemn ceremony in front of the crowd packing the city cathedral. Miracle! Of course, there's a scientific explanation for that: The relic dates back to the Middle Ages, and it contains a substance that liquefies when stirred, before it returns to solid form. This is oddly similar to what happens with something that's almost equally sacred for Neapolitans: pizza. Yes, maybe one can make sense of pizza just by science alone — the right flour, the right water-to-flour-to-yeast ratio, the right time and temperature to raise, the right oven. Yet the locals seem to think that the perfect pizza requires the sort of chemistry that is alchemic in nature. Pizza is magic!
Pizza is also a democratic food. In books written by 19th-century writer Matilde Serao, seamstresses chat away on their doorsteps while they wait for the pizza maker to bring them pizza topped with tomato sauce, olive oil and garlic — the simplest and cheapest version, and one of the most delicious at that. It is a royal dish, too: The Margherita was named after the Queen Margherita di Savoia — not that a pizza topped with mozzarella cheese and basil was previously unheard of, of course, but we all know how important the right brand is.
Pizza has no inventors and no fathers: It is the fruit of Naples' genius. Dressed simply with sauce and mozzarella, then cooked in under 90 seconds in a blistering oven, the classic Neapolitan pie is a marriage of charred crust, high-quality soft cheese and fresh basil. While, luckily, good pizza is becoming easier and easier to find all over the world, Naples is still the place to feast on it...for days in a row. Here are some of our favorites.
A classic pizza Margherita from Gino Sorbillo's pizzeria.
Pizzeria Gino Sorbillo
Gino Sorbillo is one of the few pizzaioli (Italian shorthand for pizza maker) to have gained celebrity status in the same way chefs have been doing for years. Good-looking and naturally charming, he's appeared in Italy and abroad on TV shows such as MasterChef to spearhead the cause of the real Neapolitan pizza. His beginnings, though, were humble: His father was 19th in a row of 21 children, who all went on to become pizzaioli. Back then, entrepreneurs from Northern Italy would go to Naples in search of pizzaioli to employ and would be directed to the Sorbillos' house, where for sure at least one of their sons would be available! His pizzeria sits in via dei Tribunali, in the very heart of the city center. The area makes for a very picturesque passeggiata while you're waiting for a table. Insider advice: To minimize the wait (which can be pretty long), try to go Monday through Wednesday, before 12:45 p.m. and either before 8 p.m. or after 10:30 p.m. Via dei Tribunali 32, 80138 Napoli; sorbillo.it
Pizzaria La Notizia 
Hospitality is not an empty word in Naples, as anyone who has gotten (semi-) lost around the city can attest: In less than a minute, someone is sure to walk up to you and volunteer to take you where you're going. At La Notizia, renowned pizzaiolo Enzo Coccia decided to show the importance of the guest by sticking half a chair up on a wall, because an empty pizzeria is just — you guessed it — half a pizzeria: only the guests can make it whole. Incredibly popular with the supporters of the soccer team Napoli, this is the place to go (or to avoid, depending on your idea of a fun night) after the team wins a match. Have the Pizza del Contadino, a calzone with endive, anchovies and Pecorino cheese. Via Michelangelo da Caravaggio 53, 80126 Napoli; pizzarialanotizia.com
The staff at 50 Kalò takes a break.
50 Kalò
Since the über-talented Ciro Salvo opened his own place, people queue up at all hours of the night for a slice of his delicious pizza, made with locally sourced, top-quality ingredients. His outstanding Marinara (tomato sauce, oregano and sliced garlic) shows why the simplest things are the hardest to make right. Your best chance to find a table for dinner is to go early, ideally before 8 p.m. Where does the name come from, you ask? Pizzaioli have their own obscure jargon: They use the Greek word kalò to say "good," and 50 is the number of bread, O' ppane, in the Smorfia, which could be described as a local version of Kabbala.
Neapolitans keep strong ties with the deceased, a relationship based on mutual favors: The living remember the dead in their prayers, and in return the dead visit their dreams with the right lottery numbers. They don't just flat-out say them, though — that would be a very lazy thing to do for a ghost. What happens is that you dream of something, and the Smorfia gives you a corresponding number. A bride? 63, 'a sposa. A dead man talking? That would be 48. Piazza Sannazzaro 201/B, 80121 Napoli; 50kalò.it
La Figlia del Presidente
In a field heavily dominated by men (being a pizzaiolo is back-breaking, exhausting work), Maria Cacialli is the exception to the rule. She, too, comes from a dynasty of pizzaioli — hence the name of the place, which means "the president's daughter," the president in question being her father, the late famous pizzaiolo Ernesto Cacialli. Her pizza fritta is one of the best in the city: Deep-fried in sunflower oil, the pie becomes golden and crunchy on the outside while ballooning up from the pressure of the steam. Inside, there's a gooey deliciousness of melted smoked provola cheese, ricotta, black pepper and cicoli (bits of pressed pork fat). Pizza fritta should be eaten in moderation, and by that we mean never. Just joking: While it's certainly heavy, it's so worth it. Via Grande Archivio 23, Napoli 
Giuseppe Vesi puts a twist on his pizza by using whole-wheat flour instead of the customary 00.
Pizza Gourmet Giuseppe Vesi
Neapolitans are very protective of their pizza, to the point of founding a nonprofit organization, the Associazione Verace Pizza Napoletana, that sets guidelines for a pizza to be considered authentically Neapolitan. Characteristics range from the flour used to the mozzarella and tomatoes, down to the very dimensions of the wood-fired oven.
So codified is the pizza recipe that when long-time pizzaiolo Giuseppe Vesi decided to give a twist to his pizza by using — lo and behold! — whole-wheat flour rather than type 00, this came as a shock to many. Much ado about nothing: The pizza in this pleasant venue in the Vomero district is delicious! While the ingredients are Slow Food-approved and sourced from small local producers, the dough — firmer and less elastic than the traditional one — is fragrant and tasty. Go for a pizza with Pomodorini Gialli del Vesuvio, a yellow variety of cherry tomatoes that comes from the Vesuvius. Viale Michelangelo 77/79/81/83, 80129 Napoli; pizza-gourmet.it
Da Attilio
The only things you need in order to enjoy a stroll in the heart of Naples are an empty stomach and comfortable walking shoes. While foreign tourists are, at times, wary of venturing inside the Quartieri Spagnoli (or Spanish Quarters, a name that stuck to this area following the Spanish domination), this maze of narrow alleys is perfectly safe as long as you use common-sense rules that apply everywhere, and it's a lot of fun to explore, too. Via Pignasecca is one of the most charming streets in the area and is filled with market stalls selling fish — think live octopuses, mussels, and miscellaneous fish "da frittura" ("to fry") — and boom boxes blasting Neapolitan melodic tunes. Stop at Da Attilio on your way and grab some pizza to go. Called pizza a portafoglio (wallet) or pizza a libretto (booklet), this supersoft pizza is folded in four, wrapped in wax paper and given to you to munch on while walking: a lovely, incredibly cheap lunch. Via Pignasecca 17, 80134 Napoli
Starita a Materdei
Located in the working-class Sanità district, Starita is more than just a pizzeria. It is a piece of Italian folklore, featured in a classic movie by Italian filmmaker Vittorio De Sica L'Oro di Napoli, in which a beautiful Sofia Loren plays the part of an adulterous pizzaiola. Since then, that very same oven has continued to turn out an average of 600 pizzas per day. The pizza, too, hasn't changed much, and its perfection is the best evidence of why Naples has always been adamantly against innovation when it comes to pizza. It's the best example of the "If it ain't broke, don't fix it" approach. Via Materdei 27, 80136 Napoli; pizzeriestarita.it
This post is brought to you by our friends at MasterCard Priceless Cities.
Check out these guides to Italian cities on Food Republic: