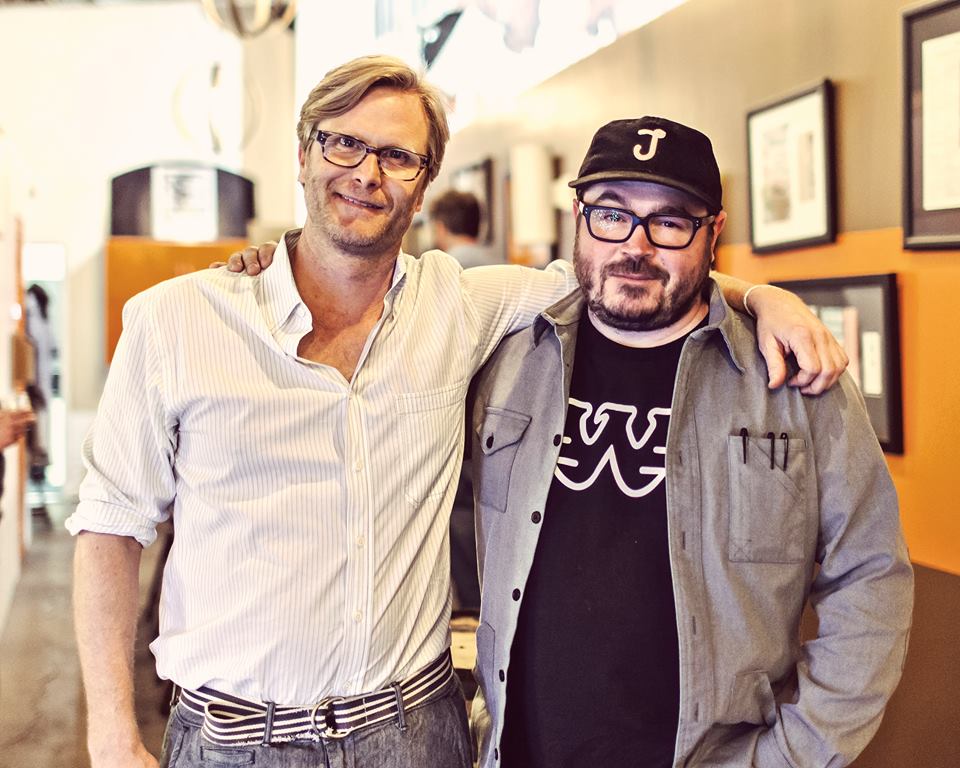 Nashville-based writer Chris Chamberlain profiles chefs and restaurants with particular talents for classic and reinvented Southern dishes. Now, he's taking his investigations another link up the food chain as he travels to visit with some of those chefs' favorite farmers, ranchers and purveyors from across the South. In the Food Republic series  Southern Grown , find out what makes these suppliers so special that chefs will go the extra mile to use these products in their kitchens.
Entrepreneur Matt Jamie never expected to get into the food business. As a grad student studying exercise physiology at the University of Florida and competing in triathlons in his spare time, he thought that his future would progress in a logical path toward athletics. But over a meal of beer and oysters at a Gainesville bar, he had an epiphany.
Enjoying the umami of the oysters and thinking about the process of craft-beer making, Jamie recognized the general trend toward artisanal products like coffee, chocolate, bread and olive oil. In a flash, he decided that he would open up his own soy-sauce microbrewery. "I thought that triathlons were my passion," says Jamie. "It turns out that food was my real passion, and the rest was just a hobby."
After a little research, Jamie discovered to his surprise that nobody else in the U.S. was making soy sauce. Armed with the knowledge gleaned from a YouTube video and a homemade cider press that he cobbled together with the help of his father, Jamie began brewing soy sauce in his basement.
He encountered an article in Condé Nast Traveler in which noted author Mark Bittman commented on the difference between soy sauces made in Japan and the generic Kikkoman preferences of the American market. So Jamie rang up the front desk at The New York Times, where Bittman was working, and the operator put him right through to the famous food columnist. "He was really helpful," Jamie recalls. "In the course of two hour-long phone calls, we basically defined the company."
In 2005, he moved home to Louisville, Kentucky, where he could take advantage of some unique aspects of the Bluegrass State. "Soy-sauce production is very regional in Japan, with each area making their own unique style of sauce," he explains. "Kentucky bourbon heritage is quite similar. Plus, I thought that opening in Kentucky would be sure to turn some heads since I expected somebody in California would already be doing this."
The same limestone-filtered hard Kentucky water that makes bourbon so special was also excellent as a base for Jamie's soy sauce, thanks to the way the mineral-rich water interacted with the yeast used in the brewing. "Our spring water is legendary," he says. The other main benefit of moving to Kentucky was the availability of used bourbon barrels. In Japan, soy sauce is brewed in tanks and then aged in porcelain, steel or wood barrels, but usually large cypress tanks, not of the oak of bourbon country.
In those barrels, Jamie found his hook. As the only soy sauce in the world aged for at least a year in repurposed oak bourbon barrels, his newly named Bourbon Barrel Foods immediately caught the attention of Southern chefs like Sean Brock, Edward Lee and Mike Lata. "When Sean opened Husk, his mantra was that if it didn't come from the South, it doesn't come through the kitchen door," Jamie says. "So my soy sauce was a real find for him."
A logical brand extension into a teriyaki sauce — branded "Kentuckyaki" — became a mainstay on the menu at Husk, as the sauce for Brock's popular fried pig-ear lettuce wraps. "His pig ears are the reason I had to start selling in gallon bottles," Jamie says. Chefs like Brock, Lee and Lata specifically called out the Bourbon Barrel Foods products on their menus, exposing potential retail customers and other chefs to the brand. "I can always tell when somebody has walked through Sean or Mike's kitchen and then calls me to place a huge stocking order," he says.
Jamie also gives back to those chefs in the form of a product that he used to throw away. After mashing the non-GMO soy beans and wheat in the press to squeeze the essence of the grains into his sauce, Jamie is left with pounds of spent mash in the bottom of the tank. After drying it in a smoker, he is left with what is basically an umami bomb of funky flavor. "Ed Lee was the first one to figure out how to make a stock out of the spent mash," Jamie says. "Now I give it away to nearby chefs for them to play with."
As his business grew, Jamie expanded into more space in Louisville's Butchertown Market building, where he worked and added a new press plus a demonstration kitchen. "It used to take me a week to press a barrel of soy sauce," he says. "Now I can do it in two days, but it's still an extremely manual process." Other products that Jamie added to the fold include a Worcestershire sauce, barrel-aged Madagascar vanilla extract and pure cane sorghum from Danny Ray Townsend, a local fifth-generation farmer who still harvests and makes his products by hand.
And the sorghum business is booming. "I started out buying one barrel per year from Danny," Jamie says. "Now I buy every drop he makes from 45 acres." With a barrel-aged sorghum in the works, that farmer might want to start shopping for more land.  Since Jamie purchases his aging barrels from Woodford Reserve after the woody containers have held the distillery's bourbon for seven years, it was logical for the two companies to join up in a marketing partnership.
Bourbon Barrel Foods produces an array of products for Woodford, ranging from Bourbon Cherries to Sassafras and Sorghum Bitters and Bourbon Smoked Simple Syrups for cocktails. Jamie also provides culinary products like smoked flavored salts, sugars and spices for Woodford, which can be purchased from his website, the distillery's site or retail locations including Bourbon Barrel Foods' first storefront, which opened in Louisville this past January.
Realizing the popularity of his smoked products, Jamie expanded his offerings by adding smoked pepper, salt, paprika and sugar, with sesame seeds and chocolate nibs in the pipeline for future release. Emphasizing his brand equity, Jamie purchases broken bourbon barrel staves to burn in Southern Pride commercial smokers to add the smoky aroma and flavors to his products. "They're designed to smoke meat, but we've got two of them going all day every day," he says. "And I could use two more."
All this labor-intensive production doesn't come cheap, and a business that started out employing a few of Jamie's family members and friends has expanded to a staff of more than 20 people. Not every chef or consumer can abide by the price of Bourbon Barrel Products. (A 100-milliliter flask of Jamie's Bluegrass Soy Sauce costs $7 online; a regular 10-ounce bottle of Kikkoman, roughly three times the size, costs about half of that.) "I'll visit a corner sushi joint and demo my soy sauce for them; they think it's neat, but they don't want to add the expense," Jamie says. "They've got to see the value in it."
Even McDonald's made an inquiry as part of a program to employ more local elements in the fast-food chain's menu. "They approached me about using my soy in a sauce for a special burger," Jamie says. "I was flattered, but I knew it would be too expensive for them."
One chef who is willing to pay for Jamie's artisanal products is Anthony Lamas of Louisville's Seviche Restaurant. "I can tell when a chef is going to get it," Jamie says. "It's usually the younger American chefs who are open to using soy sauce to add new flavors to their dishes. Anthony is great at integrating local products into his international cuisine."
Lamas returns the love: "I'm in love with his products! I use the soy in several dishes, from the Tuna 'old-fashioned' Ceviche to a red chile ginger soy butter, to making a soy powder with maltodextrin. I also use his sorghum mixed with chipotle and a touch of maple for pork belly and also to glaze quail or a pork chop."
Growing up in Central California, Lamas was exposed to amazing agricultural products at a young age. "I prefer using products that are close by and supporting local farmers and artisans," the chef says. "Specifically with regard to Bourbon Barrel Foods, I love the flavor that the charred bourbon barrels bring to the soy sauce."
With the wide scope of his Latin menu at Seviche, Lamas could source ingredients from all over the world, but his choice of Jamie as a purveyor is a very conscious one. "I appreciate Matt's dedication to sourcing local and using non-GMO soy beans; that means a lot to me," the chef says. "The passion he puts into his products is parallel to the passion I put into my food. Nowadays people want to make chefs out to be the rock stars, but I disagree. The farmers and artisans are the true rock stars!"
Considering the pace of his company's growth, Jamie might be glad that he has that background in distance running.
Read more Southern Grown columns on Food Republic: