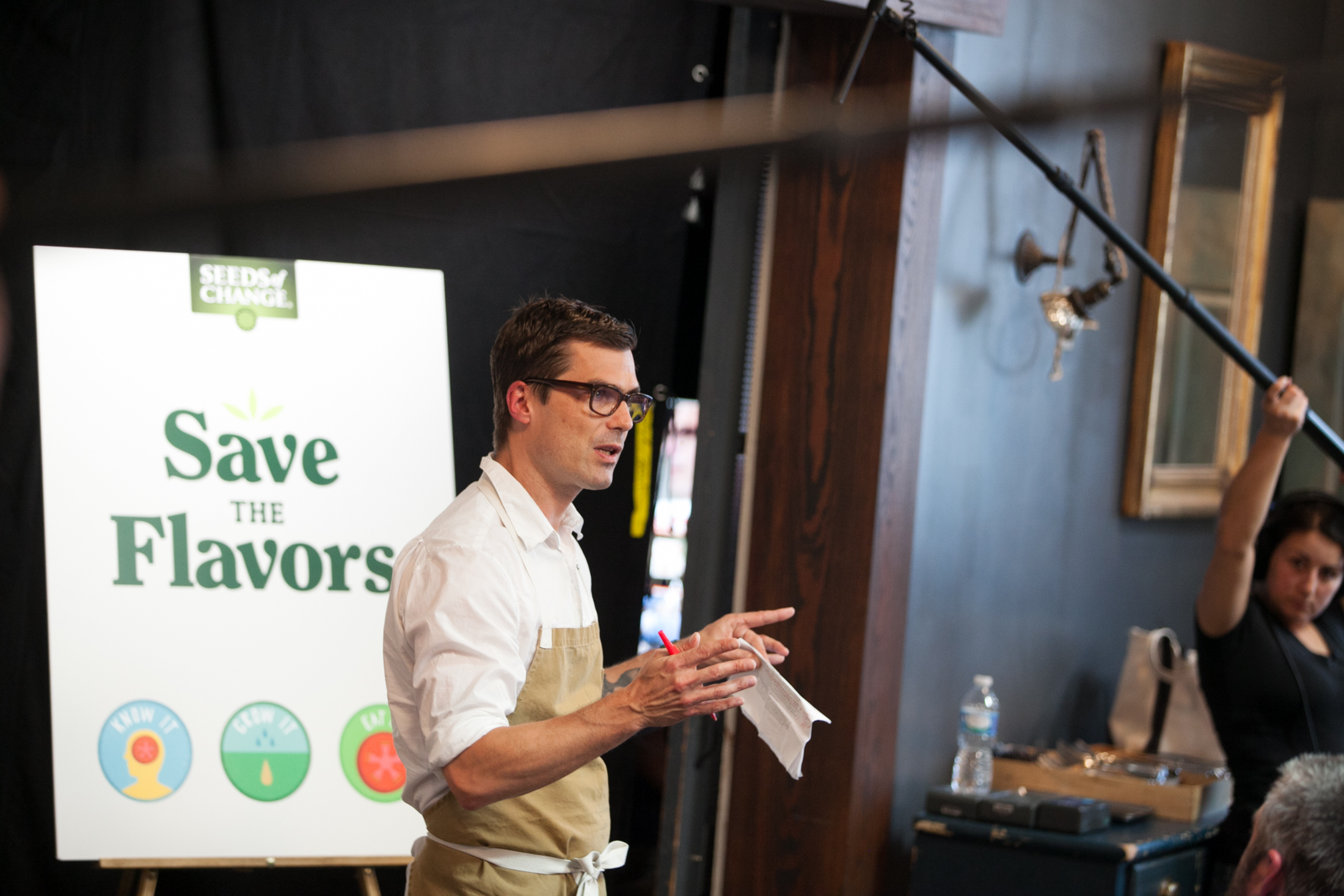 Georgia chef Hugh Acheson raised some hackles last week when he invited local diners to partake in a special lunchtime tasting that he called Endangered Eats. (You'll notice we didn't say he raised eyebrows. You'll find no lowbrow Acheson unibrow humor here, as we're big fans of the chef's mélange of Southern ingredients and European techniques, as well as his two well-written cookbooks.) But Acheson definitely got Atlantans talking and fuming when he described the event as "a one-day-only tasting menu featuring endangered species, hosted by celebrity chef Hugh Acheson at Empire State South in Atlanta. By eating these rare species, we can help save them."
Social-media response was rapid and mostly negative, with comments like "Is this some sort of a sick joke? WTF?" and "What kind of sick human being thinks this is a great idea?!" More-pragmatic commenters questioned why the event would take place at noon on a Wednesday and why there was no pricing listed on the invitation. Some recipients of the invitation forwarded the info to organizations like PETA and the ASPCA and to noted animal-rights advocate Ricky Gervais. But Acheson remained unresponsive to the online furor and let the vitriol flow in his direction.
Attendees had to fill out a questionnaire in advance that asked why they should be considered to receive a place at the table for the lunch. Organizers must have chosen wisely, because on the day of the event, there were no sign-wielding protestors waiting outside his Midtown restaurant, just a well-dressed throng of hungry diners.
Attendees had to sign a release after being informed that the event would be filmed and were then subjected to short interviews asking slightly inflammatory questions, such as "Would you be mad if you found out you had eaten a bald eagle?" and "Do you consider yourself to be opinionated?" After the questioning, patrons were released to snack on a couple of appetizers that were provocatively named Whisker Shooters and Dangerous Curds.
The crowd nervously sipped at the Whisker Shooter, a tomato-based soup, while they wondered aloud if there was lion in the broth. The three main dishes of the lunch also created some disquiet with their names: Thump in the Night, Fowl Play and Running Scared. One diner ventured, "Thump? Are we eating bunnies? I didn't even know rabbits were endangered."
Before the first main course came out, Acheson reassured the audience, promising, "Nothing you're going to be eating is unethical or illegal. This is a conservation effort." In the end, it was a pretty typical Empire State South meal, featuring beautiful plating and lots of fresh vegetables. If the event was really a made-for-television (or Internet video) event, the craft services for all those extras was pretty damned impressive.
A close reading of the initial invitation revealed that Acheson never mentioned "endangered animals," instead using the word "species." So that Thumper? It was beef heart. The Running Scarce protein that some diners surmised might be ostrich or emu? Just a regular pork tenderloin, albeit a very well-cooked pork tenderloin. Mr. Whiskers in the tomato soup was a strip of catfish belly.
Turns out the endangered species that Acheson was trying to draw attention to was the Cherokee Purple Tomato; he incorporated the ingredient in all five dishes. Like many heirloom tomatoes, the Cherokee Purple isn't impossible to find. It's just difficult since it is not widely grown commercially, so you're more liable to encounter one of these delicious fruits at a farmers' market than the corner grocery.
That situation is what Acheson wanted to draw attention to, and he has partnered with Seeds of Change, a supplier of organically grown seeds, to kick off a campaign called Save the Flavors. Acheson explained his intent: "Every chef wants to find and create new flavors to share with the world. However, when a species becomes endangered or extinct, we don't just lose that species. We lose that flavor. With Endangered Eats, I hope people develop a taste for endangered species, because we need to eat them to save them."
Average consumers recognize which species of animals are endangered, and it's pretty easy to find lists that keep up with the status of conservation efforts. Plants apparently do not have the same sort of lobbying prowess gorillas do, so Save the Flavors worked with Tufts University researchers to develop its own "Flavor Availability Index." Plant species are classified as abundant, common, limited or scarce. The Cherokee Purple Tomato falls right in the middle of the scarcity index, essentially extinct in the wild but available for purchase from specialty retailers.
The goal of Save the Flavors is to popularize some of these plant species by sharing seeds with consumers so that they can grow their own and thus create awareness and demand. If retailers begin to sense an upswell of demand, the idea goes, they will ask their suppliers for more of these varieties, which will in turn incentivize larger farms to introduce new products that stretch beyond your typical Beefsteak, Roma and Cherry tomatoes.
Acheson was certainly a good choice for the face of the campaign, as he is known for having a little edginess to his cooking and a sense of humor, plus he has broad enough shoulders to weather the brief firestorm of criticism from people who didn't or couldn't connect the dots in his intentionally cryptic Endangered Eats invitation.
"I want people to think about vegetables with the same level of care that we do for animals," summarized Acheson. "We're only truly bountiful with a diversity of products and flavors, and our mission is to preserve that variety and those flavors." Save the Flavors' mantra is "Know it. Grow it. Eat it." With the wide variety of heirloom seeds they offer for sale on the Seeds of Change website, they seem to be well on their way to spreading their gospel and their seeds across the country.