7 Urban Breweries To Visit Around America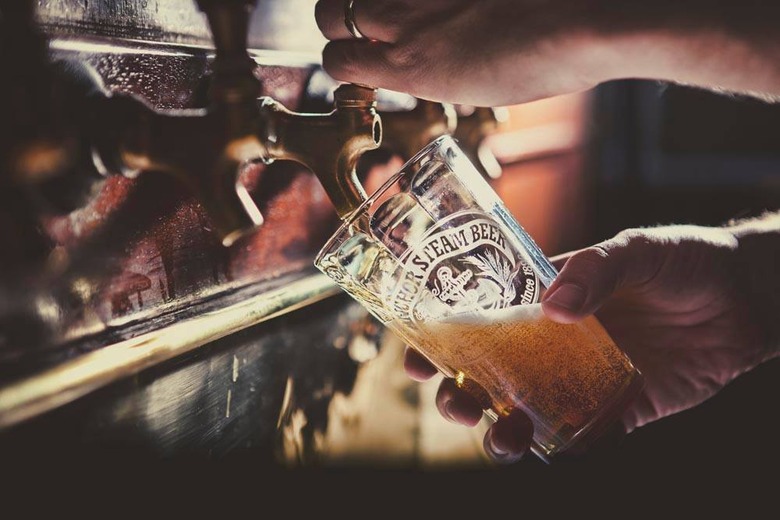 We may receive a commission on purchases made from links.
Craft breweries operating throughout the United States have forever altered the perception and reputation of American beer, and some breweries have altered their hometowns just as profoundly. As the summer travel season cranks into high gear, let us suggest a beer pilgrimage to one, or several, of these breweries located in urban centers across America.
San Francisco: Anchor Brewing Co.
The capo di tutti capi of American craft brewers, Anchor Brewing Co. has claimed six different addresses around San Francisco since 1896, and two since its modern iteration commenced in 1965 with appliance heir Fritz Maytag's rescue of the brewery (the event that kicked off this whole American craft-beer thing of ours). Its current location, in an old coffee grindery in the Potrero Hill neighborhood, dates from 1979 and has been a catalyst for the area's gentrification (there's a Whole Foods nearby — you don't get more gentrified than that). And amazingly enough, the brewery was the biggest manufacturing business in San Francisco by revenue as of 2011. Its tasting room is a cozy gem, and right beyond it, on full display, are the copper kettles of the brewhouse. Also, earlier this year, Anchor opened a beer garden in a lot adjacent to AT&T Park, home of Major League Baseball's San Francisco Giants. It includes Anchor staples as well as a rotating selection of more experimental brews.
3 Beers to Try
Anchor Steam: The ale brewed like a lager, emblematic not only of the brewery but of one of the very few beer styles developed in the United States. Anchor Liberty: A citrusy, bitter masterpiece; the first modern American IPA, debuting way back in 1975.
Anchor Porter: The first modern porter (Anchor has a lot of firsts); thick and silky.
1705 Mariposa St., San Francisco, CA 94107    
 Denver: Wynkoop Brewing
The Wynkoop Brewing Co., the oldest brewpub in Colorado, pretty much grew up with the neighborhood around it. John Hickenlooper, a struggling geologist (yup), and his partners opened the restaurant-slash-brewery at Wynkoop and 18th streets in downtown Denver in 1988; they had picked the down-and-out area, known as LoDo (as in Lower Downtown) because of its cheap rents. That same year, the city council designated the neighborhood a historic district, bestowing upon it certain protections and benefits. Hickenlooper, recognizing the area's potential, leased a home near his new business. He was right to have had such faith: LoDo boomed, retail-wise; the 1995 opening of the Coors Field ballpark on its northeastern edge solidified the neighborhood's arrival as a prime hangout spot.
Wynkoop burns particularly bright as a social nexus during the annual Great American Beer Festival, held every autumn at Denver's nearby convention center. The brewpub proved fortuitous for Hickenlooper as well: Twice elected Denver's mayor, he is now in his second term as Colorado's governor.
3 Beers to Try
Rail Yard Ale: A malty, sweet concoction; the brewpub's flagship.
B3K Black Lager: Creamy and rich, especially for a lager.
Mile HI.P.A.: A straight-ahead American-style IPA, meaning the citrusy bitterness does not disappoint.
1634 18th St., Denver, CO 80202
Boston: Massachusetts Bay Brewing Co. 
The city of Boston was all too happy to have the Mass. Bay Brewing Co. (aka Harpoon) set up shop in one of its aged industrial buildings on the South Boston waterfront in 1986. Now teeming with techies and fashionable restaurants, as well as multimillion-dollar condos, the waterfront 30 years ago was better known for mobster Whitey Bulger (think of the movie The Departed) and vast veldts of blocks that went dark after 5 p.m. Mass. Bay Brewing, the first commercial brewery to bottle its beer in Boston since the 1960s and the first craft brewery in the entire state, was instrumental to the area's turnaround. It's still a big draw, having opened a capaciously gorgeous new beer hall in early 2013, right off the working brewery (regular tours are offered). Bonus tip: The windows above the men's urinals offer one of the best views of Boston Harbor and downtown Boston in the entire area. Sorry, ladies.
3 Beers to Try
Harpoon Ale: The citrusy amber was the brewery's first commercial release in the 1980s.
Harpoon UFO: You'll smell the orange peel in this wheat beer right before you taste it.
Celtic Ale: A robust and peaty red ale in the finest Irish tradition (this is Boston, after all).
306 Northern Ave., Boston, MA 02210
Chicago: Lagunitas Brewing Co.
The mothership of the Lagunitas Brewing Co. is located off Highway 101 a little bit north of San Francisco, in the bedroom community of Petaluma. In early 2014, however, the 30-year-old brewery, probably the fastest-growing craft operation in the nation, launched a second brewery in an old steel plant in the Douglas Park neighborhood. (Lagunitas founder Tony Magee grew up in Chicago before splitting for the West Coast and his date with beery destiny.) A spacious taproom for tasting soon followed. It offers 360-degree views of the brewery as well as live music; Lagunitas staples are on tap alongside a rotating selection of seasonals. You can also tour the brewery. Interestingly, the Chicago spot makes Lagunitas the largest brewery operating in America's third-largest city. It bumped off the previous kingpin, Goose Island, which is controlled by Anheuser-Busch, makers of Budweiser.
3 Beers to Try
Lagunitas IPA: A paradigm of the ultra-hoppy West Coast style dating from the early 1990s.
Hop Stoopid: If the Lagunitas IPA is not bitter nor strong enough for you.
Brown Shugga': A personal favorite, it defies exegesis; strong in alcohol and taste, and, well, sugary.
1843 S. Washtenaw Ave., Chicago, IL 60608
Los Angeles: Eagle Rock Brewery
Eagle Rock Brewery launched in 2009, which makes it positively ancient for a craft operation in the nation's second-largest city, which has long played third fiddle in California to San Diego and, of course, San Francisco, birthplace of American craft beer. Eagle Rock was, in fact, the first craft brewery to make and package its wares in L.A. proper since the mid-1980s. Husband-and-wife team Jeremy Raub and Ting Su, along with Raub's father, Steve, planted their flag in a nondescript industrial space in a nondescript area of northeastern L.A., near Interstate 5. It has since become a beacon of beery hope for the City of Angels, inspiring several more craft breweries to open up. In late 2014, the Eagle Rock team opened a restaurant called Public House about four miles from the brewery. It serves noshes to go along with the beers crafted nearby.
3 Beers to Try
Solidarity Black Mild Ale: Exactly what it sounds like — dark, mild and not even 4 percent alcohol by volume; very drinkable.
Revolution Extra Pale Ale: Solidly citrusy, but not too bitter.
Populist IPA: The brewery's ultra-bitter nod to that most California of styles.
3056 Roswell St., Los Angeles, CA 90065
New York City: Brooklyn Brewery
Simply put, Brooklyn Brewery returned craft brewing to the nation's largest city. It was not the first new craft brewery since Prohibition — a small handful preceded its 1986 opening, though all went kaput — nor was it alone in bringing change to its surroundings (in Brooklyn Brewery's case, from an old matzo-producing factory in the fading industrial neighborhood of Williamsburg, on its namesake borough's waterfront). What founders Steve Hindy, a journalist with Newsday, and Tom Potter, an executive with Chemical Bank, did was make brewing cool in what's become, for better or worse, the capital of cool. Its beers and iconography, especially the Milton Glaser-designed logo, are everywhere in Gotham and increasingly beyond. Brooklyn Brewery now has production outposts in Sweden and Norway through partnerships with breweries there; closer to home, it's planning a massive new production brewery in Staten Island. Even closer, check out the tasting room in Williamsburg, which, in part thanks to the brewery, has gone from gritty to edgy to obnoxiously genteel.
3 Beers to Try
Brooklyn Lager: The brewery's flagship; magnificent in its malty flavor.
Brooklyn East IPA: A more balanced IPA than most.
Brooklyn Blast: The strong double IPA (is there any other kind?) goes down with dangerous ease.
79 N. 11th St., Brooklyn, NY 11249
Washington, D.C.: D.C. Brau
Craft breweries in Maryland and Virginia started to encircle Washington, D.C., in the early 1980s. After a while, it seemed like they were taunting the nation's capital for its lack of breweries (there had been brewpubs going back to the early 1990s, but that's not the same as a standalone operation pumping out its own brands). This dearth gave locals Brandon Skall, a restaurant-industry veteran, and Jeff Hancock, a brewer, an idea. On Tax Day in 2011, their D.C. Brau became the first brewery to open in the District since the struggling regional brewery Christian Heurich closed in 1956 to make way for what became the Kennedy Center (really). Media reports about its debut party at a local bar recounted lines down the block: Washingtonians wanted in on locally made beer. D.C. Brau's location on the District's northeastern fringe (that's where the industrial space was) has become a destination in itself, with tours, growler fills and now even the opportunity to sip a pint in the tasting room, thanks to local legal changes.
3 Beers to Try
The Public Pale Ale: A local favorite — seriously, it's like the Sam Adams of D.C., it's so ubiquitous; spicy and yet smooth.
The Corruption IPA: An ultra-bitter spin on the classic style.
The Citizen Belgian Ale: Lemony and sweet, a solid Belgian offering; D.C. Brau's strongest regular beer at 7 percent ABV.
3178-B Bladensburg Rd. NE, Washington, D.C. 20018
Tom Acitelli is the author of  The Audacity of Hops: The History of America's Craft Beer Revolution. His new book, American Wine: A Coming-of-Age Story, is available for preorder.
Read these craft-beer stories on Food Republic: