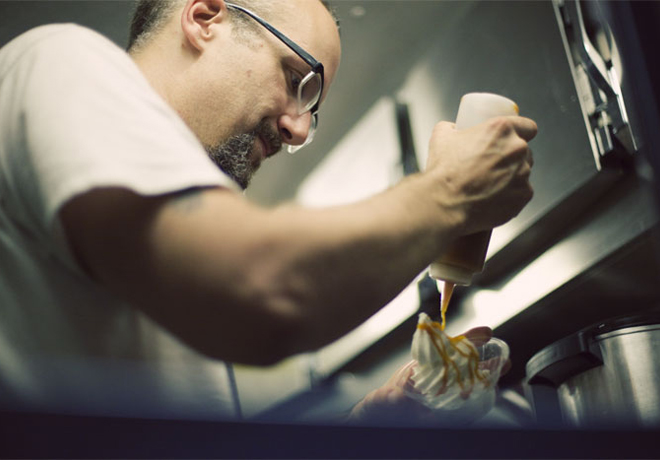 The hysteria over listeria in ice cream settled a bit when Jeni's Splendid Ice Creams reopened its shops nationwide last Friday. Pints of the Ohio-based company's ice cream, along with those from Texas's Blue Bell Creameries, were found to have been contaminated with the bacteria last month. This discovery led both companies to shut down operations and recall products. Blue Bell fanatics were so devastated over their ice cream-lacking lives that they turned to a black market — with pints going for obscene costs as high as $10,000 — to satisfy their cravings, despite the fact that they could risk their health or even die eating the sweet treat. (Three deaths have been connected to Blue Bell's listeria outbreak.)
But, hey, there's more ice cream out there! Some people are even concocting crazy innovations to help you cool down in the summer.
San Francisco's Humphry Slocombe, known for outlandish flavors such as prosciutto, Secret Breakfast (bourbon and cornflakes) and Jesus Juice sorbet (wine and Coke), recently combined the flavors reminiscent of the South in a scoop of Clyde May's and Boiled Peanuts. That one's pretty self-explanatory: The ice cream parlor mixed an all-American booze with an all-American snack for its latest alcohol-infused confectionary.    
Partnerships between breweries/distilleries and ice cream shops don't stop in California. Combining the perfect summer cocktail with the perfect summer dessert is a gin-and-tonic ice cream from Jude's in the United Kingdom. The award-winning Hampshire store paired up with London's Sipsmith to bring the refreshing creation to those across the pond.
Speaking of new products, Häagen-Dazs released a mochi ice cream earlier this year. We're not talking about the delightful, glutinous rice balls filled with ice cream — think even better than that. Packaged in a cup, the ice cream is topped with a layer of soft, stretchy mochi, which is then topped with a layer of kinako, or roasted soybean flour. In the center, tying together the complete mochi concept, is kuromitsu, essentially brown sugar in syrup form. As amazing as this dessert sounds, the cold hard truth is that you won't be able to find it here in America. We, do, however, hear that Japan is beautiful this time of year.
If you're looking for a sweet read instead, New York's Big Gay Ice Cream, where you can find cones of Salty Pimps and new twists on soft serve, released its first cookbook last month. With recipes and pointers for toppings, sundaes, floats and shakes, you may not even have to venture out to one of the brick-and-mortar locations. Then again, what fun would that be?
Big Gay Ice Cream also made some colorful waves in Ohio last Friday. A student wearing a shirt with the shop's rainbow cone logo at Coshocton High School was asked to cover up after it was deemed "inappropriate." Doug Quint and Bryan Petroff of Big Gay tweeted some fighting words at the school, calling them "so weak." Amen.
More about ice cream on Food Republic: