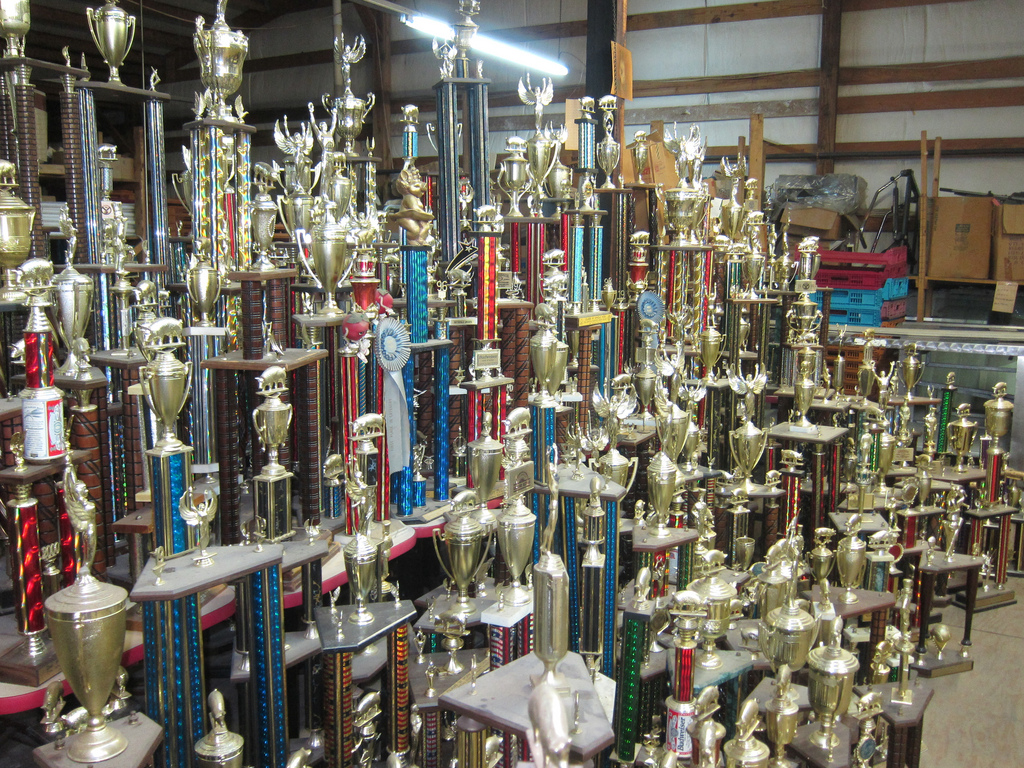 In some ways, the world of competitive barbecue is a lot like NASCAR. Well, actually, if you look at the fans, it's just like NASCAR. As with the run-up to the Daytona 500 in February, barbecue frontloads its competition season — its version of the Super Bowl took place last weekend, with the Memphis in May World Championship Barbecue Cooking Contest. But fret not, barbecue fans. There are still plenty of opportunities to travel to see the world's best smokers go pit to pit. Consider some of these notable competitions and festivals as you plan your culinary calendar for the rest of the year:
June 12-13: South Texas Pitmaster 2015 Shoot Out
Kingsville, TX
Considering the recent unfortunate events in Waco, the International Barbecue Cookers Association might want to reconsider the name of this South Texas cookoff, but this is exactly the sort of down-home event that can restore your faith in humanity. There's even a BBQ church service at 6:45 on Saturday morning for competitors who are early risers. Or still awake from the night before.
June 19-21: Jack's Old South Cooking School
Unadilla, GA
This isn't a competition per se, but rather a cooking school that teaches pitmasters how to make entries that judges will love. Irascible television barbecue celebrity Myron Mixon leads the classes, and whether you love him or hate him from his multiple network appearances, the man knows what he's talking about. His presentation of precious little "muffin tin" chicken thighs has become de rigueur in the poultry category of most competitions.
June 20-21: Italian Barbecue Championship
Precosa Verde, Perugia
If you've ever traveled to Italy during the summer, you have probably noticed that there are hardly any Italians there during June and July: They all the heat to cooler climes around the Mediterranean. Some of them might want to stay home a little later to take part in this championship, which is part of the European BBQ Championship Cup series. Kansas City Barbecue Society representatives will travel over from the States to officiate and keep everything legale.
August 1-2: Canadian National BBQ Championships
Whistler, BC
Can you think of a better place to spend the beginning of August than at one of Canada's most famous ski resorts watching the country's best pitmasters at work? What if I told you there's a hog roast on Saturday night with all the fixins for just $20? Buy a ticket, eh?
August 27-29: Music City Festival and BBQ Championship
Nashville, TN
Nashville is definitely an up-and-coming "it" city when it comes to the culinary scene. They're mighty proud of their barbecue prowess, too, and this competition is one of the rare ones that is sanctioned by both the Kansas City Barbecue Society and the Memphis Barbecue Network. Twice the cooking = twice the fun!
September 4-6: Finger Lakes Fire & Smoke BBQ Competition
Geneva, NY
It's gonna get smoky around the Finger Lakes this Labor Day weekend as competitive teams descend upon the hamlet of Geneva, New York. Swine and wine go together fine!
September 18-20: Beak Week BBQ Challenge
Goldsboro, NC
Chicken is usually an afterthought in the barbecue world, with pork and beef getting all the attention. In Goldsboro, North Carolina, however, it's all about the pullet during the big Poultry Festival. Teams compete for a $20,000 payout during several events over the course of the week.
September 25-26: Murphysboro BBQ Cook-off
Murphysboro, IL
Another dual-sanctioned KCBS/MBN event, this competition is the pet project of Mike "the Legend" Mills of 17th Street Barbecue fame. Rather than just hosting, the Legend has come out of retirement to cook at several national events lately, so you young bucks better be looking over your (pork) shoulders!
October 3: Hot Q's and Cold Brews BBQ Championship
Oroville, CA
I have nothing to say about this first-year event other than the name of the competition makes me want to travel to deep in the middle of nowhere in Northern California between Sacramento and Chico.
October 3-4: World Series of Barbecue American Royal
Kansas City, MO
The American Royal is one of the big daddies of the competition circuit, with hundreds of teams and tents full of judges gathering to determine the best of the best. It's also one of the competitions where an upstart team often comes out of nowhere to establish its reputation as a new champion.
October 10: Sam's Club National BBQ Tournament
Bentonville, AR
Over the course of the year, more than 750 teams will compete in 25 local cook-offs and five regional finals to reach the championship. With a half-million dollars in total prize money, it's not a bad way to make a living.
October 24: Jack Daniel's World Championship Invitational Barbecue
Lynchburg, TN
Twenty-five thousand visitors quadruple the regular population of Lynchburg, Tennessee, every October for this huge competition, colloquially known as the Jack. Participants have to qualify by winning a sanctioned state championship, and then they still have to be lucky enough to win a lottery of qualifiers to get in. Luckily, Lynchburg has another famous product to help console the losers.
November 3-10: World Food Championships
Kissimmee, FL
After three years in Las Vegas, the World Food Championships are taking their talents to South Beach. Well, actually, South Orlando in Kissimmee, Florida. Barbecue teams from across the country will compete to qualify in regional events for the chance to win $10,000 as the BBQ champ, and then the opportunity to compete against winners from other WFC categories such as burgers, sandwiches, desserts and chili at the Final Table to be named the World Food Champion and take home an additional $100,000 in prize money.
Read these barbecue stories on Food Republic: