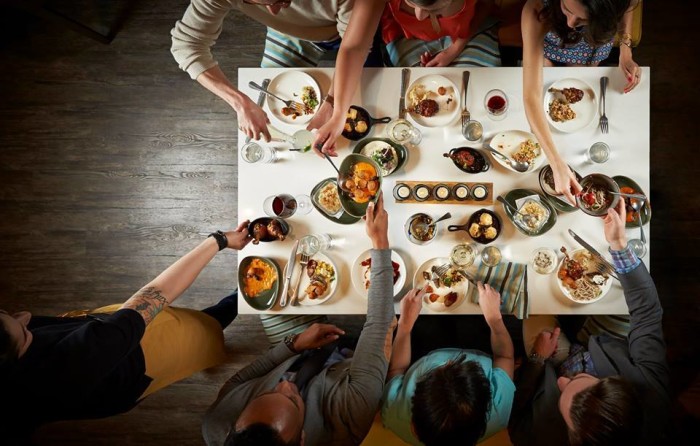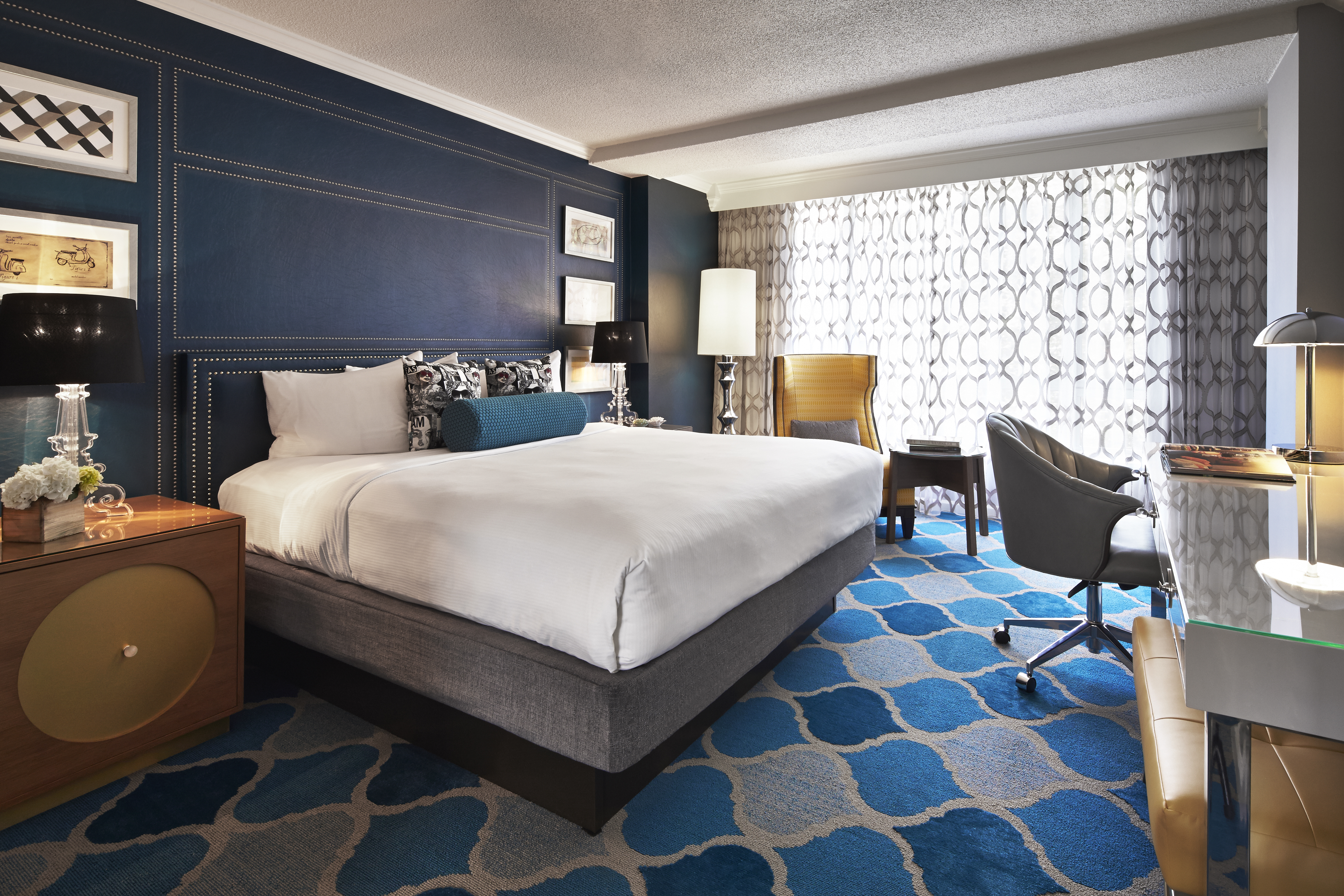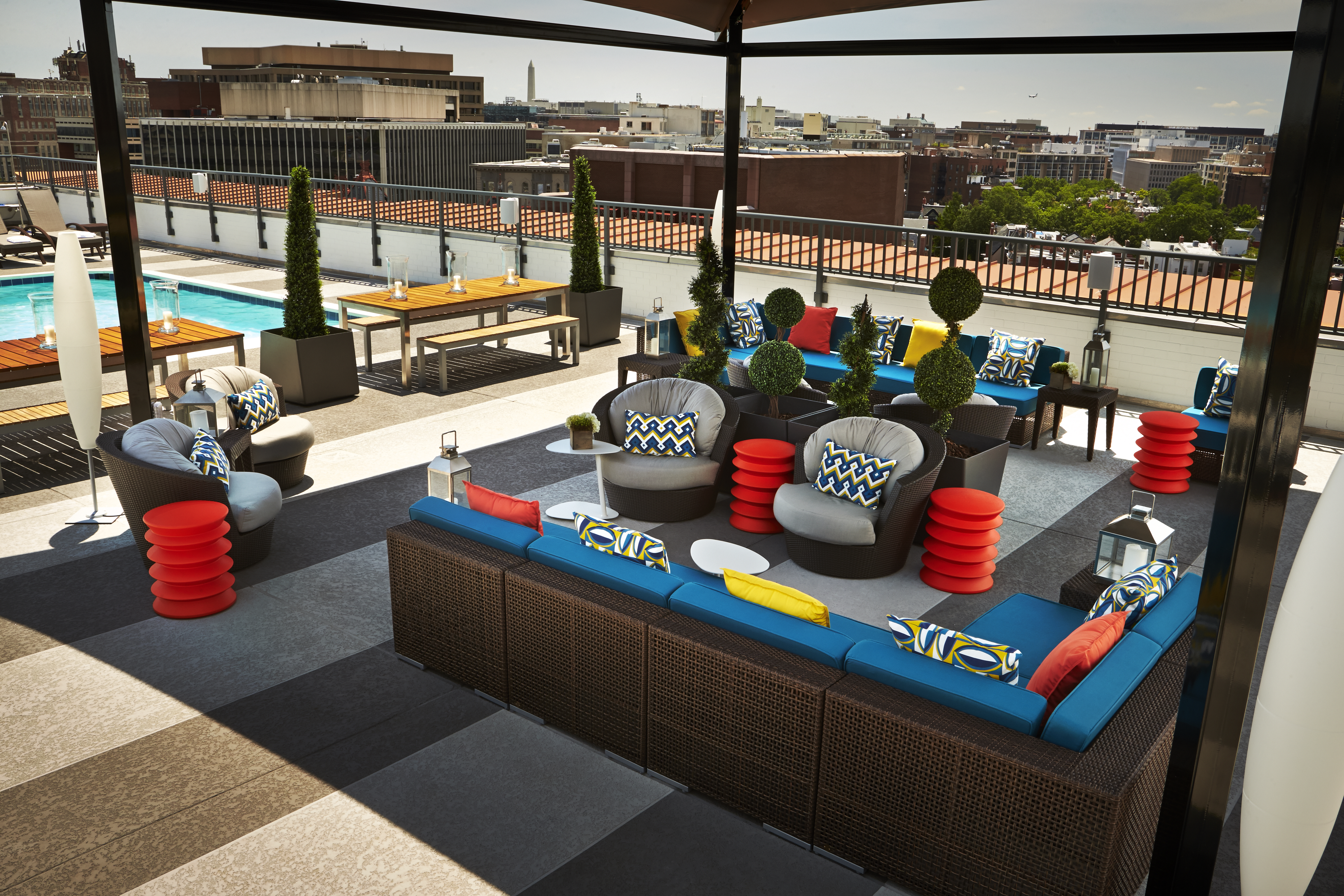 In Hungry Concierge, we travel the world to spot hotels that operate with their guests' food and drink needs squarely in mind — hotels, both big and small, that are located in neighborhoods rich with bar and restaurant options. Because there's nothing worse than having your trip derailed by crummy room service. 
When I first started making regular pilgrimages to Washington, D.C., to gawk at the Thomas Jefferson Memorial and feast on crispy spinach at Rasika, tony Dupont Circle was the neighborhood of choice for tourists and locals alike. The cluster of embassies, picturesque row houses and culinary institutions like Restaurant Nora and the Tabard Inn all helped instill a sense of well-deserved, buzzy grandeur.
Well, that was a long time ago. Last summer, I moved to the nation's capital for a two-and-a-half-month sojourn, and what I discovered to my delight is that once-shunned areas such as Shaw, Columbia Heights and H Street are the ones that now crackle with the most energy in a city largely known for its conservative, buttoned-down vibe. U Street and Petworth are where you'll find the amaro cocktails and funky coffee shops these days.
Despite the competition that now permeates the District's eating and drinking scene — it's no longer solely José Andrés country — historic Dupont Circle remains a lively haven with a few timely infusions of modern appeal. One such example: the recent $15 million revamp of the circa-1970 Embassy Row Hotel by Destination Hotels & Resorts. Many of Dupont Circle's other accommodations have grown weary, and so the Embassy Row's contemporary new look is a refreshing jolt.
Station Kitchen & Cocktails is its bustling anchor. In the morning, it's a prime spot for business-meeting americanos from local roaster Compass Coffee. In the evening, it morphs into a comfortable spot for lacquered Korean fried chicken (called Korean Caveman Pops) and meatball Wellingtons encased in flaky pastry. Dusk calls for a stiff drink — the imaginative Hazel, for instance, marries scotch and herbal genepy with a smoked egg white and a dusting of Meyer-lemon charcoal and is best savored from the sofa-lined patio overlooking Massachusetts Avenue. But there's more going on here than a decent restaurant.
The Rooms: Each of the hotel's 231 guest rooms is dominated by a hushed palette of grays and blues. Pops of color come in the form of sunny yellow chairs, while leather headboards and bathrooms stocked with L'Occitane products add a luxe touch. Commodious desks, for guests like myself who spend as much time working as prowling about town, are another boon.
The Look: A collaboration between Jonathan Nehmer + Associates and HVS Design, the Embassy Row Hotel's makeover is bright and shiny. Climb the cherry-blossom-lined staircase to the light-filled lobby, where you find ample seating, including banquettes you might find in a nightclub and cozy chairs that look as if they were plucked from an amusement park's Tilt-A-Whirl. Behind the curvy check-in desks, the wall flaunts a collage of silhouettes honoring Washington power players like JFK. The hotel's most alluring feature, however, is the aptly named Rooftop, making its stylish debut this coming Memorial Day weekend. The tenth-floor reprieve is home to a saltwater pool, cabanas and a wall of grand mirrors set against greenery that feels a little Alice in Wonderland. Order a daiquiri from the alfresco bar, and the Washington Monument looming in the distance is about the only reminder that you're not in South Beach.
The Neighborhood: Fellow bibliophiles will take joy in the close proximity to Kramerbooks & Afterwords Cafe, and museumgoers won't want to miss the impressive Impressionist works on display at the intimate Phillips Collection. Perhaps overshadowed by more cutting-edge neighborhoods, Dupont Circle has some wonderful spots if you'd rather not descend the steep escalator into the nearby Metro station. Stellar French-press coffee awaits at Filter, as does blood pudding at London-inspired hangout Duke's Grocery. Acclaimed chef Johnny Monis's wait-in-line-for-it Little Serow remains the city's most sought-after destination for vibrant Thai feasts, and perching on the gorgeous patio at Iron Gate, a one-time stable, is only heightened by executive chef Tony Chittum's deft Mediterranean cooking.
Embassy Row Hotel 
2015 Massachusetts Avenue NW, Washington, D.C.
embassyrowhotel.com 

Rooms start at $179 per night
Read more Hungry Concierge columns on Food Republic: