Homemade Almond Milk Dos And Don'ts. Do: Make A White Russian!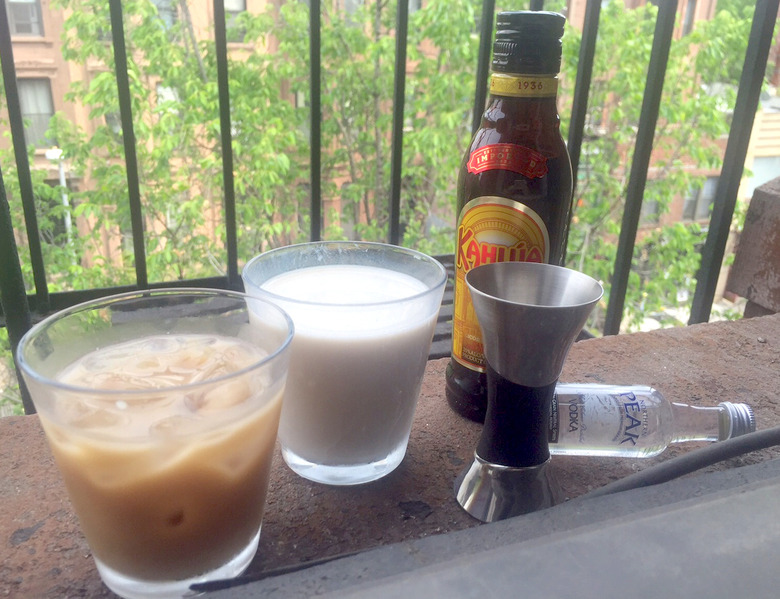 I love high-quality almond milk, but I'm not a fan of $10 quarts regardless of how artisanal/hipster/organic/trendy/local they are. It's surprisingly simple to make fresh almond milk at home, and you'll still have money left over for bottom-shelf bourbon!
Nut milks as a whole are fantastic alternatives to cow's milk. Almonds in particular are a good source of healthy fats, vitamins, minerals and plant-based protein. Plus, almond milk is delicious and lacks the occasional chalkiness of cashew milk. Depending on the application, almond milk is a worthy substitute for dairy, but it does tend to separate, which can make it a bit unwieldy. Cooking can intensify the nuttiness, which will throw off the flavor profile of, for example, a luxe béchamel.
Related: 5 Milk Alternatives — The Good, The Bad and The Shockingly Creamy
Point of the story: Pull out your blender and some cheesecloth, because homemade almond milk is rich and silky, and the freshness is undeniable. Making it yourself means you can customize it to your taste. I prefer mine unsweetened with just a dash of freshly zested nutmeg, for instance, but cinnamon and vanilla bean are worthy additions, as are natural sweeteners like agave and maple syrup.
For this recipe, I used an archaic food processor with great success, although if you're fortunate enough to own a Vitamix, I suggest using that. The result is an exceptionally creamy milk with less residual pulp. Many recipes recommend using a nut milk bag (no jokes, please) to better strain the mixture. Cheesecloth works just as well for half the price and helps tone those biceps in the process.
This past weekend I was a bit overzealous and ended up with more milk than I could possibly finish on my own. I did the only reasonable thing I could: hosted a Big Lebowski party. If you haven't enjoyed a dairy-free White Russian in your bathrobe and slippers, then you aren't living, man. Truthfully, though, the finished product will be a little paler than the traditional version — traditional White Russians call for heavy cream — so I'm calling this a Tanned Russian. This one's not only deliciously dairy-free, but lower in fat and calories. Note: Fresh almond milk is prone to separating (totally normal), so be sure to shake first...and drink efficiently.
For the almond milk:
1 cup raw unsalted almonds
2 to 3 1/2 cups filtered water*
Optional: dash of fresh nutmeg, cinnamon and/or beans scraped from fresh vanilla pod
Optional: 1-4 tablespoons of natural sweetener, to taste
Soak almonds in two inches of water overnight, up to 2 days.
Rinse almonds. Combine with two cups filtered water in food processor or blender.
Blend on high for 3-5 minutes until fully pulverized.
Sieve almond mixture through cheesecloth into a bowl — really put some muscle into it — until only damp almond meal remains. This leftover meal makes a hearty addition to baked goods or can be dried out in the oven for pseudo-oatmeal!
Clean blending container and pour milk back into blender. Add spices and sweetener, if desired. Blend for additional 30 seconds to incorporate.
Refrigerate in a tightly sealed container for no more than two days.
*2 cups of water yields just under two cups of thicker milk; for a thinner milk, increase water ratio
For the Tanned Russian:(makes one cocktail)
1 ounce coffee-flavored liqueur, such as Kahlua
2 ounces high-quality vodka, such as Ketel One
Splash of homemade almond milk, to taste (approximately 1-2 ounces)
In a rocks glass, combine vodka and liqueur. Add ice.
Gently pour almond milk over the ice — "float" it — so that it slowly flows down the glass without fully incorporating.
Take a moment to appreciate this visual splendor.
Stir and enjoy, preferably in slippers, with sunglasses on.
More ways to improve your drinking experience on Food Republic: