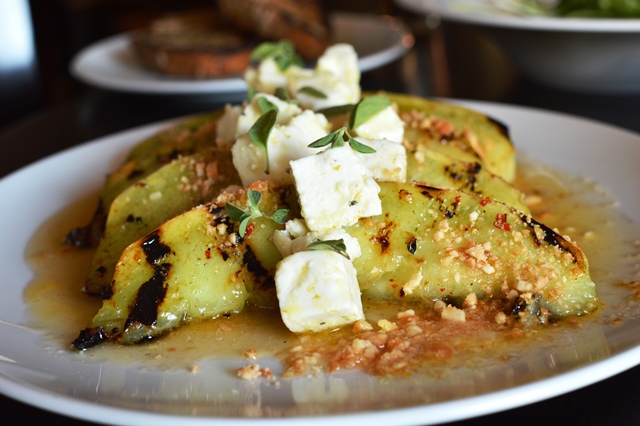 While it's true that Houston offers a fine selection of steakhouses, Tex-Mex joints and Southern-styled restaurants, this city of more than 2 million residents is also one of the most ethnically diverse communities in the United States, meaning all sorts of culinary influences are in play. Moreover, the strong economy, healthy job market and low cost of living mean people have extra cash to spend on dining. In fact, an analysis by Zagat found that Houstonians dine out about 25 percent more often and spend more on their food than the national average. It's this type of booming environment that is luring chefs and forward-thinking restaurateurs from out of state and, in many instances, from out of the country to come in for a landing in Space City. Here are 10 new and notable restaurant openings to check out in Houston.
Peska Seafood Culture
Siblings Maite and Diego Ysita, proprietors of the successful La Trainera restaurants in Mexico City and Acapulco, chose Houston for their first U.S.-based venture. The result is this restaurant-slash-seafood market. Pick your dinner from the pristine seafood display up front, piled high with whole fish, king crab and clams. Or simply select from the formal restaurant menu, created by Peska's 20-year-old executive chef, Omar Pereney. A TV personality in Latin America, Venezuela-born Pereney has been cooking since age 12; he secured his own cooking show at age 15. He joined the Ysitas as a consultant for La Trainera, and now helms the modern 6,000-square-foot Peska, where he serves up fresh chopped ahi tuna in the style of Hawaiian poke, Greek-inspired pesce a la sale (salt-baked fish), Peruvian-style octopus and mahi mahi ceviche and whole fried grouper served with Mexican adobo sauce. 1700 Post Oak Blvd., Ste. 1-190, Houston, TX 77056, 713-961-9229; peska.us
Oporto Fooding House
Rick diVirgilio was traveling in Portugal when he came upon a little place called Le Fooding Cafe. In the morning, there would be breakfast items and coffee, afternoons would be a simple lunch, and then dinner would be more romantic with paellas and wine. The little café served as the basis for his stylishly appointed new Midtown restaurant, Oporto Fooding House, which sounds a bit kitschy but is actually very elegantly executed. "A fooding house is a mashup of a restaurant, café and bar where everything is made in front of you," explains Ryan Snyder, diVirgilio's business partner and friend, who runs the front of the house. In the back, a long communal table overlooks the open kitchen. To the right, there's a wood-fired oven churning out house-baked bread and pizzas. The menu skews modern Portuguese, with influences from diVirgilio's Indian wife, Shiva, and an emphasis on petiscos, small Portuguese plates like polvo com batatas (wood-grilled octopus with potatoes in spicy sauce) and chicken curry empanadas. 125 W. Gray St., #500, Houston, TX 77009; 713-528-0115; oportomidtown.us
Pax Americana
Since it opened last August, the 72-seat Pax Americana has been recognized locally and nationally for its weekly changing menu of locally sourced, affordable small plates. "I wanted people to be able to come in every week and have something new and exciting to eat — something that would maybe challenge them and maybe comfort them," says chef Adam Dorris, who is finally running his own kitchen after stints as chef de cuisine at both Stella Solla and Revival Market. His approach is heavily focused on seasonal ingredients. Smooth, salty feta from Pure Luck Farms serves as the inspiration for Dorris's grilled honeydew melon and hazelnut appetizer. Local organic herbs find a home atop farm-fresh eggs with sriracha mayo, or a house-smoked brisket tinged with nine spice and black garlic. It's not all small plates, though. For $100, you can get a truly Texas-sized two-pound, dry-aged boneless akaushi steak with sides. 4319 Montrose Blvd., Houston, TX 77006, 713-239-0228; paxamericanahtx.com
BCN Taste & Tradition
Barcelona-born executive chef Luis Roger was working as a private chef in Spain's Costa Brava when Houston-based businessman Ignacio Torres approached him with a proposition: "If you ever want to open your own restaurant, give me call." Years later, they partnered up to do just that. Inside this intimate, renovated 1920s Mediterranean mansion, adorned with works by Spanish artists Miro and Picasso, dishes arrive on pristine white porcelain. The primarily Spanish wine list marries well with Roger's cuisine, as does the excellent selection of gin and tonics, with flavors ranging from blood orange to rosemary lavender. Graze on a selection of appetizers, including jamon de Iberico de bellota (the most prized ham from Spain), boquerones en vinaigre (fresh pickled anchovies) and pulpo a la "gallega" (Spanish octopus). Or opt for something heartier, like black Bomba rice colored with cuttlefish ink and cooked with clams, mussels and scampi. 4210 Roseland St., Houston, TX 77006, 832-834-3411; bcnhouston.com
Weights + Measures
You could probably hang out all day inside this massive 5,000-square-foot warehouse, which is essentially four concepts in one: bakery, café, bar and lounge. Start with a grab-and-go pastry or donut at the Slow Dough Bakery counter just inside the entrance. Lunch is a stylish but stripped-down affair of simple sandwiches on house-made bread, Neapolitan-style pizzas, house-made charcuterie, soups and salads. A killer hamburger is available if you want something more substantial, and dinner is more of the same, with entrees thrown in. Bar dining is also available at Love & Squalor, which serves hundreds of beer by the bottle, wines from small and family producers and a range of classic and contemporary cocktails. Order a Harvey Wallbanger Strikes Again for a modern version of the orangey 1970s-era libation with gin instead of vodka, as well as vanilla and house-made marmalade thrown in for some extra flair. Try one of the bread courses with toppings such as pressed eggplant tapenade and ricotta, or the colorful roasted-carrot pizza with redneck cheddar and dukka. 2808 Caroline St., Ste. 101, Houston, TX 77004, 713-654-1970; weights-measures.com
Anejo
Until recently, you could easily find Tex-Mex fare in just about every neighborhood in Houston but one: the Galleria. That all changed with the arrival of this latest concept from the operators of Max's Wine Dive and Tasting Room. "It's elevated Tex-Mex," says chef Michael Pellegrino. No ground beef or processed ingredients here. Salsas and tortillas are hand-made, and only premium meats and seafood are used (prime cuts of rib eye, rack of lamb, wild boar, prime steak, Gulf Coast fish and shellfish, cold-water lobster). Those high-quality cuts mean Texas-sized prices: Sixteen ounces of beef fajita costs $49. Pellegrino says the quality is worth it. For extra extravagance, order the El Capo, a pound of fajitas, a cowboy rib eye or bone-in filet, a half rack of lamb and a lobster tail, finished off and sliced tableside over a sizzling platter, all of which arrives on a custom-made grill on wheels. 1180-1 Uptown Park Blvd., Houston, TX 77056, 713-963-9032; anejotexmex.com
Radio Milano
Jose Hernandez burst onto the Houston culinary scene a decade ago as pastry chef at the now-defunct DB Bistro Moderne. He did stints in New York and played a myriad of other roles in pastry before ultimately landing at this contemporary Italian restaurant inside Hotel Sorella in Memorial City. It's a role that fits the intense Hernandez well. Houston Chronicle restaurant critic Alison Cook awarded Hernandez three out of four stars for his well-executed cuisine. Highlights include his veal vincigrassi, a white lasagna made of thin layers of pasta piled high like a mille-feuille; fried sweetbreads with chestnut mousse and saba vinaigrette; and tagliatelle with lobster and uni cream. And the immensely pleasurable dessert menu contains masterpieces like Hernandez's bulbous tartufo (essentially, an oversized truffle filled with pistachio semifreddo and cherry center). 800 Sorella Ct., Houston, TX 77024, 713-827-3545; radio-milano.com
Prohibition Supperclub & Bar
Shuttered for more than a decade, Houston's Isis Theater was just waiting to be restored to its original glory. Enter Anh Mai and Lian Pham, who were looking for a new location for their Galleria-area bar, Prohibition. Their idea: open a restaurant, bar, and supper club where patrons could come for dinner and a burlesque show. The dining exudes a bygone glamour, with dark wood paneling, Art Deco-style mirrors and a glinting chandelier. Staffers maintain the theme by wearing period uniforms — guys in vests, gals in flapper-style dresses. The menu is thematically nostalgic and decadent, with Gulf Coast-inspired fare by executive chef Ben McPherson: fresh oysters, small plates like Thai-style papaya salad, and large-format dishes, including an unforgettable "Lobster Houston" platter tossed in Viet-Cajun spices. Cocktails further expound on the Prohibition theme, with sips like the Fred Astaire (Old Forester bourbon, reposed tequila, sherry, Cointreau and coffee bitters). 1008 Prairie, Houston, TX 77002, 281-940-4636; prohibitionhouston.com
Commonwealth
Michael Sanguinetti has been busy. After leaving his post as sous chef at Artisans French Restaurant, he consulted on the menu at Revelry on Richmond, and he's now in charge of two concepts. The first, Commonwealth, opened approximately a month ago on the Washington Corridor. The menu is New American sprinkled with Cajun, French and Southeast Asian flavor. His seafood gumbo is a must-have. Small plates include foie gras grilled cheese, Scotch quail eggs made with Texas sausage, avocado and prawn lumpia (Filipino-style egg rolls), and a raw and char-grilled oyster selection. Entrees are more refined and clue you into Sanguinetti's fine-dining background: Gulf prawns over sweet-pea pasta with tomato cream, root-beer-braised short ribs, and large-format roasts of center-cut tenderloin or pork rack. On the dessert front, a milk and cookies entremet with brownie batter and torched marshmallow highlights the playfulness of pastry chef Kelly Aslobrook's talents. 4601 Washington Ave., Ste. 130, Houston, TX 77007; commonwealthhouston.com
Davis St. at Hermann Park
A private chef and caterer prior to his debut at Davis St., Javani King beat out approximately 60 entrants at the Houston Rodeo Best Bites Competition earlier this March, taking home two prizes for his Crispy Thai Shrimp, a Texas-style play on the classic Thai shrimp appetizer. His menu is Southern eclectic and done with big, bold Texan flair. Chicken wings are doused in red curry coconut sauce; quarter legs of duck confit are glazed with cayenne maple and served atop waffles; double-cut bone-in pork chops are grilled and served over balsamic reduction and whipped potatoes. King also designed the contemporary restaurant, which features a glass-enclosed wine cellar functioning as a partition between the main dining room and the lounge, a full-service bar, lime green hand-blown glass chandeliers, and textured, stone-colored walls set against black granite and leather elements. 5925 Almeda Rd., Houston, TX 77004, 844-328-4778; davisstreet.com
This post is brought to you by our friends at MasterCard Priceless Cities.
  More city guides on Food Republic: