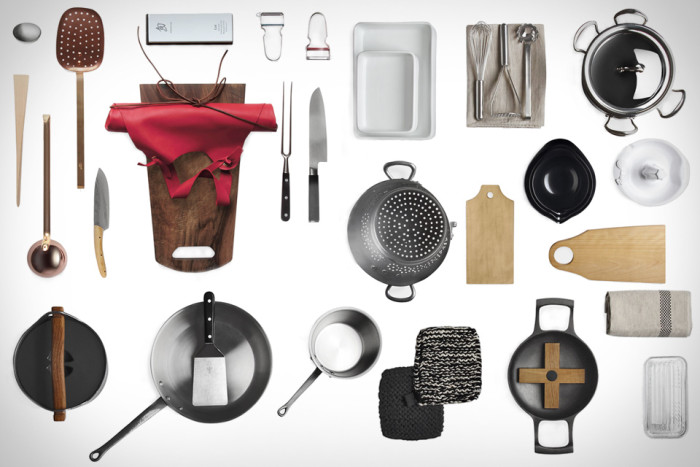 While scoping out the sleek goods on display in the MoMA Design Store, the Malle w. Trousseau Kitchen Set, filled with over 40 handcrafted utensils cleverly packaged in a wooden-framed cardboard "trunk," is sure to catch the eye. The idea of splurging on, say, a Danish-made maple spatula or steel Japanese shun knives inspired by samurai swords instead of settling for more-affordable, less-eye-catching versions found at Target may certainly arouse skepticism. Yet upgrading the quality of one's kitchen tools — like those curated by Isabelle Mathez and Frédéric Winkler, the French couple behind Malle w. Trousseau — truly leads to better cooking.
This topic of the importance of aesthetically heightened utilitarianism will be explored during "Design in the Kitchen," a dialogue and demonstration held in the showroom of luxe Italian cabinet brand Effeti this Sunday, May 17, from 5 p.m. to 6:30 p.m., as part of the weekend's engaging WantedDesign NYC lineup.
Food Republic editorial director Richard Martin will moderate the panel, which will feature Mathez as well as Lisa Giffen, the chef of Brooklyn hot spot Maison Premiere, and Tilit Chef Goods founder Alex McCrery. The conversation will examine the value — in both home and restaurant kitchens — of choosing well-designed culinary tools that straddle the line between good-looking and functional. After all, no one wants to fork over good money for a lustrous glass cutting board that dulls even the most durable of knives after a few carrot chops.
You may not walk away with one of Malle w. Trousseau's two-part cast-iron spice grinders, which thoughtfully double as a storage unit for the likes of unused cloves, but attendance will lead to the slurping of Massachusetts oysters from Island Creek, washed down by gratis quaffs thanks to Wines of Corsica. You can register for free tickets here.
The set is available for $5,800 online at the MoMA store.