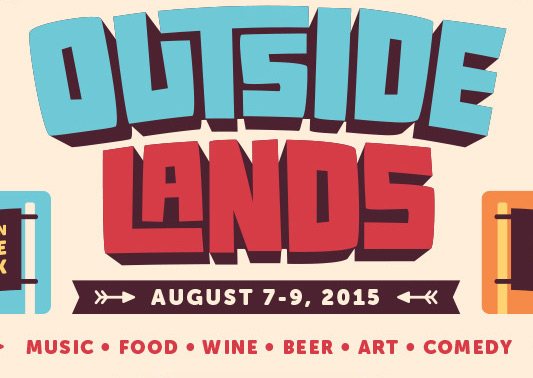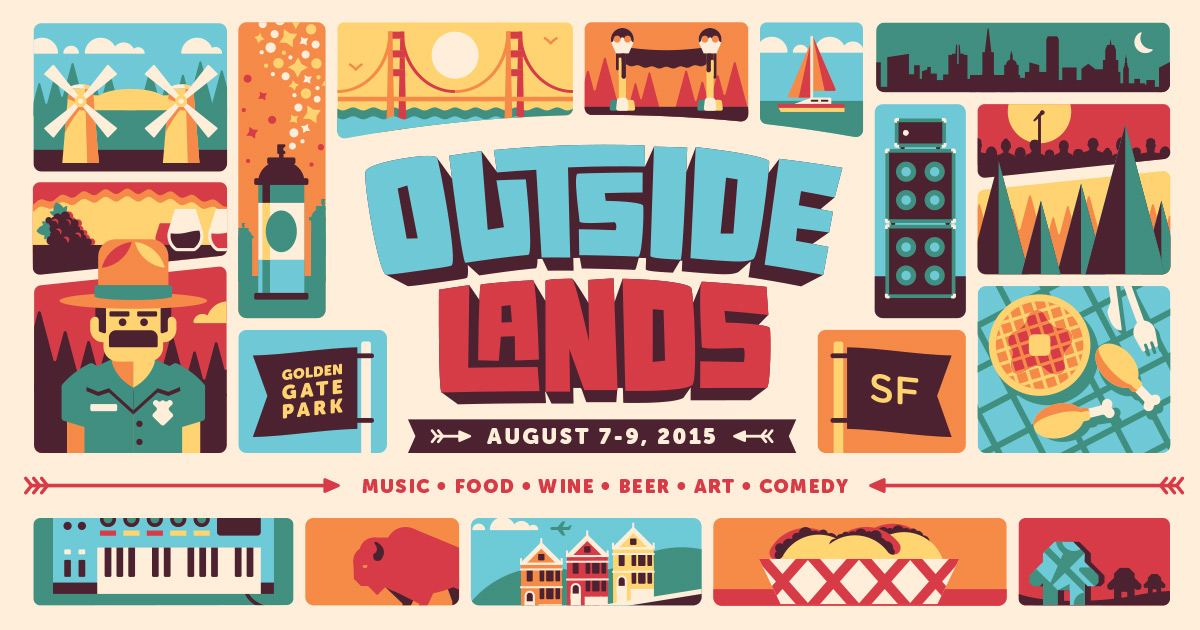 San Francisco's Outside Lands Music & Arts Festival blends local food and drinks with music, art and comedy. This edition's musical lineup features some serious talent in for the event's eighth year. Headliners for the festival — taking place in historic Golden Gate Park from August 7-9 — include Elton John, Mumford & Sons, the Black Keys, Sam Smith and Kendrick Lamar, among others. Just as impressive, however, are the 200-plus menu options found within six unique culinary experiences. All in all, there are 78 local restaurants, 37 wineries and 32 breweries represented at the three-day festival.
The vendors are divided into several categories: A Taste of the Bay Area, Wine Lands, Beer Lands, Choco Lands and Cheese Lands, all of which are pretty self-explanatory. GastroMagic, a sixth section introduced last summer, features a fully programmed stage devoted to fantastical culinary entertainment. Take a look at the (still incomplete!) list of participants below, announced earlier today. We're already taking a look at direct flights to SFO.
Food Vendors
4505 Meats
Alicia's Tamales Los Mayas
AQ
Azalina's
Beast and the Hare
Big Chef Tom's Belly Burgers
Charles Chocolates
Chino
Curry Up Now
Delessio Market & Bakery
Delfina
Earthly Delights
El Huarache Loco
Endless Summer Sweets
Escape from New York Pizza
Event Specialists
Freshroll Vietnamese Rolls & Bowls
Full Belly Farm
Glaze Teriyaki
Humphry Slocombe Ice Cream
Il Cane Rosso
La Urbana
Little Skillet
Living Greens Juice
Long Meadow Ranch
Loving Cup
Lucca Foods
Merigan Sub Shop
Michael Mina's Tailgate
Namu Street Food
Nojo
Nombe
Pacific Catch
Pica Pica Arepa Kitchen
Precita Park Café
Proposition Chicken
Raj + Singh
Rich Table
Rocko's Ice Cream Tacos
Rosamunde Sausage Grill
Sababa
Sabores Del Sur
Sataysfied
Sightglass Coffee
Southpaw BBQ & Southern Cooking
Spicy Pie
Spin City Coffee
Split Pea Seduction
Sprogs
Stones Throw
Straw
Sugar & Spun
Suite Foods Waffle Shop
Tacolicious
The American Grilled Cheese Kitchen
The Butcher's Daughter
The Creme Brulee Cart
The Little Chihuahua
The Monk's Kettle
The Pizza Place
Three Babes Bakeshop
Three Twins Ice Cream
Up & Under Pub and Grill
Wise Sons Deli
Woodhouse Fish Co.
Food Trucks
Bacon Bacon
Del Popolo
Señor Sisig
Seoul on Wheels
The Chairman Truck
The Rib Whip
Those Fabulous Frickle Brothers
Choco Lands 2015
Candybar Dessert Lounge
Epic Cookies
Guittard Chocolate Company
Kara's Cupcakes
Sharona's Chocolate Shop
Beer Lands 2015
21st Amendment Brewery
Ace Cider
Almanac Beer Company
Anchor Brewing Company
Anderson Valley Brewing
Bear Republic Brewing Company
Bulmers Cider Company
Calicraft Brewing Co.
Drake's Brewing Company
Faction Brewing
Fieldwork Brewing Company
Firestone Walker Brewing Co.
Fort Point Beer Company
Golden Road Brewing
Half Moon Bay Brewery
HenHouse Brewing Company
High Water Brewing
Iron Springs Brewery
Linden Street Brewery
Local Brewing Co.
Lost Coast Brewery
Mad River Brewing Company
Magnolia Brewing Company
Mendocino Brewing Company
Napa Smith Brewery
North Coast Brewing Company
Sierra Nevada Brewing Co.
Social Kitchen & Brewery
Sonoma Cider
Speakeasy Ales & Lagers
St. Florian's Brewery
Triple Voodoo Brewing Company
Wine Lands 2015
AP Vin
Banshee
Bluxome Street Winery
Broc Cellars
Buena Vista
Calder Wine Co.
Chateau Montelena
Claypool Cellars
CrossBarn by Paul Hobbs
Dashe Cellars
Ghost Pines
Hess Collection
Hobo Wine Co.
Idell Family Vineyard
Idelwild / Ryme / Jolie Laide
Jaffurs Wine Cellars
Jamieson Ranch Winery
Long Meadow Ranch
Medlock Ames
Menage a Trois
Mouton Noir
Navarro
Pellegrini Wine Company
Preston Farm and Winery
Prisoner Wine Company
Qupe-Verdad
Red Car
Ridge Vineyards
Robert Sinskey Vineyards
SakéOne
Scharffenberger Cellars
Scribe
Swanson
Tin Barn
Turley Wine Cellars
Union Wine Co.
Wind Gap