7 New Books About Craft Beer And Spirits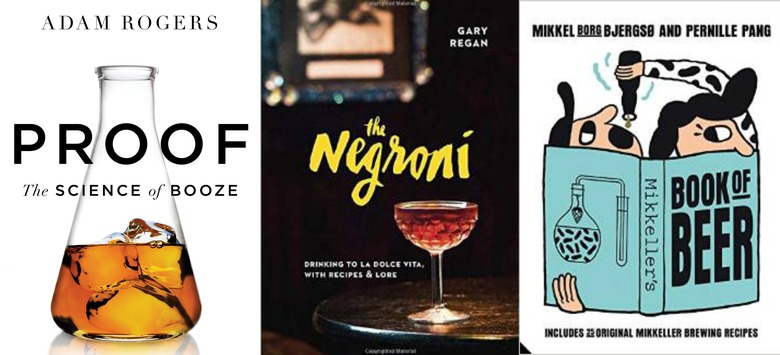 We may receive a commission on purchases made from links.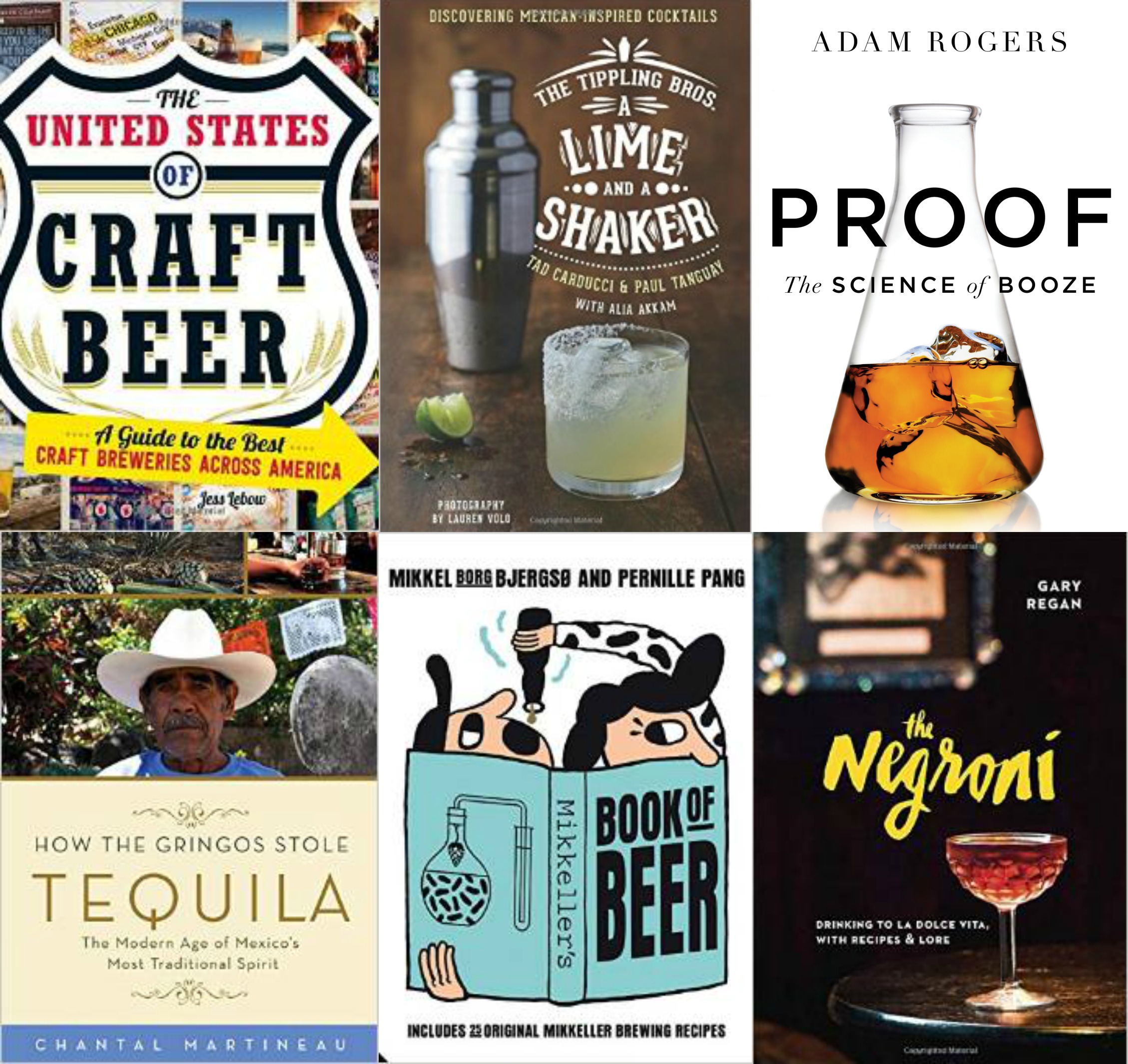 Here's a roundup of some recently published books on one of our favorite topics: the history, buying and consumption of alcohol.
If you're looking for an academic study of your favorite subject, look no further than Proof: The Science of Booze by Adam Rogers, an editor at Wired magazine. (Read our previous interview with Rogers here.) Recently released in paperback, this book was named Best Science Book by Amazon, Wired, the Guardian and NBC and was the winner of the 2014 Gourmand Award for Best Spirits Book in the United States. Perfect for the whiskey nerd in your life, Proof takes a scientifically rigorous look at the physics, biology and chemistry behind the fermentation and distillation process. Rogers also explores the neurological reasons you crave alcohol. At the very least, readers will come away with a few facts to quiet down that know-it-all mixologist who revels in demonstrating how smart he is.
Two bartenders who may indeed know it all, but are thankfully not all douchey about it are Tad Carducci and Paul Tanguay. Collectively known as the Tippling Brothers, Carducci and Tanguay are sought-after consultants and educators in the beverage industry and founders of NYC's the Tippler. The pair has collaborated with Food Republic contributor Alia Akkam to write A Lime and a Shaker, an entertaining study of Mexican cocktail culture and the boom in tequila and mezcal, particularly as ingredients in new craft cocktails. Filled with recipes, vibrant illustrations and plenty of historical nuggets about agave-based spirits, A Lime and a Shaker aims to take away any residual fear that might be lingering in your subconscious from one (or five) too many tequila poppers at that frat party.
Wine and spirits expert (and fellow Food Republic contributor) Chantal Martineau also explores the world of tequila in her new book, How the Gringos Stole Tequila, a story of the social history of Jalisco's most famous product. Martineau spent years traveling the Tequila Trail, visiting with agave growers and distillers as well as interviewing academics and mixologists who study tequila and mezcal. The resulting book traces the progression of tequila from a cheap party drink to the sort of spirit that connoisseurs sip out of Riedel snifters. In addition to offering tasting notes on some of her favorites, Martineau also shares cautionary tales about the potential sustainability issues that surround slow-growing agave plants thanks to the recent spike in demand.
As the author of the San Francisco Chronicle column The Cocktailian, Gary Regan is an acknowledged expert in the field of mixology. The author of several books about martinis, bourbon and classic cocktails, Regan has now turned his attention to one of the simplest and most elegant drinks around: the Negroni. In The Negroni: Drinking to La Dolce Vita, With Recipes & Lore, Regan shares the story of this cocktail's journey from an obscure Italian aperitivo to an omnipresent part of the cocktail menu at every craft bar that has access to a bottle of Campari. In its most basic form, made with equal parts gin, sweet vermouth and Campari, the Negroni is a wonderful balance of bitter, sweet and botanical. But Regan doesn't settle for just that simple recipe, sharing 60 variations on the classic cocktail, some created by his mixologist friends, such as PDT's Jim Meehan.
If you're a home mixologist seeking a guide to serving the perfect cocktail for every occasion, Julie Reiner has got you covered. Reiner is a co-owner of the Clover Club in Brooklyn and the Flatiron Lounge in Manhattan and has partnered with Kaitlyn Goalen to write The Craft Cocktail Party: Delicious Drinks for Every Occasion. Organized around seasonal themes and specific special occasions, this guide offers recipes for almost any kind of party, along with tips, tricks and techniques to make you look like a real pro.
Beer lovers need not feel left out this spring, because there's new reading material for the taproom as well as the cocktail lounge. Home brewers should be particularly excited about the new Mikkeller's Book of Beer from Mikkel Borg Bjergs, the founder of one of Denmark's pioneering microbreweries. Bjergs was a professor of mathematics and physics, and he has used his scientific acumen to build a world-class brewery and expand his operations to bars and beer shops around the globe. In Mikkeller's Book of Beer, Bjergs shares tecniques and recipes for home brewers who would like to attempt to replicate some of  Mikkeller's most acclaimed brews.
Even if you're not into the participatory aspects of beer and would prefer that someone else do all the hard work of brewing up the stuff, there's still some good advice out there for you. The United States of Craft Beer: A Guide to the Best Craft Breweries Across America is exactly what it describes itself to be: a road map to great drinking all around the country. Author Jess Lebow has spent much of his life selling and drinking beer around the Pacific Northwest, and his knowledge stretches across the map. From Maui Brewing Company in Hawaii to multiple microbrewery stars in New England, Lebow lays out a brew-tinerary, with profiles of suggested stops along the way. Grab a copy, gas up your car and hit the open road. Oh yeah, and pick up a designated-driver hitchhiker along the way if you get a chance.
More books to devour on Food Republic: