Jimmy Carbone: Craft-Beer Hype Man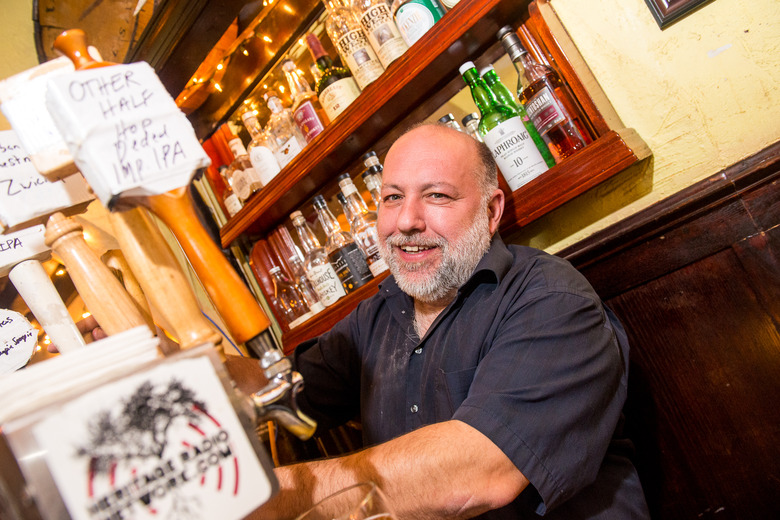 "I can't remember a damned thing from the past few weeks."
Jimmy Carbone, one of New York City's greatest craft-beer advocates and owner of influential East Village lager locker Jimmy's No. 43, has written me an email about a fortnight to forget — one that started with a blast and ended with a bash.
On the afternoon of March 26, Carbone was at the bar beginning to set up for a happy hour when he heard an explosion and then felt a vibration pass through his body. "It was like one of those apocalypse movies," he recalls of the end-of-days scene unfolding on the streets above his East 7th Street bar. A gas pipe had exploded in the basement of a red-brick building around the corner at 121 Second Avenue, setting the five-story tenement ablaze and eventually destroying two adjacent buildings. Two men died, and nearly two dozen people were injured.
Carbone is fast to give credit to the New York City Fire Department for its quick response and wits, the first responders having saved his building from raging flames by quickly setting up a fire wall. Still, the damage was done, and his once-peaceful block was soon closed to traffic and choked with emergency vehicles. Jimmy's No. 43, a decade-old palace of craft Indiana pilsners and Belgian lambics, was effectively on an indefinite vacation.
Two weeks after the explosion, Carbone and I are sharing a plate of chorizo tacos in the darkened bar of Taqueria Diana, a neighborhood favorite that was able to reopen shortly after the explosion. The same could not be said for Jimmy's. He's already apologized a few times for being slightly out of it; for the past few days, he's been waiting patiently for an inspector to give him the nod to open up the tap lines once again. Later that evening, the final box was checked and Jimmy's No. 43 was back in business. Regulars poured in, and things went pretty late. The next morning, Carbone — a seasoned pro — slept until ten.
When planning our recent Craft Beer & Spirits Week, I had originally intended to talk to Carbone about his bar's special place in the New York City scene and his growing interest in New York state spirits. Then, the blast. And while his eyes dart between a perpetually buzzing iPhone and any movement around the bar's door, we still get down to business.
"It's been in the back of my mind for a while," he says of a recently acquired liquor license that went into effect in January, allowing the bar to pour and mix cocktails with Tuthilltown apple vodka and Finger Lakes rye in addition to its usual offerings of beer and wine. He says the ethic with spirits is the same as what he's done with craft beer and cider: representing the best products being made on a local level. "And they are crazy expensive, too!"
Carbone fully admits that he doesn't know if this entry into spirits is going to succeed — he's been losing private parties for years because of his prior beer-and-wine-only policy, so this is a step toward appeasing that crowd. He also plans to launch a monthly pop-up menu that will bring in chefs like Cathy Erway (June 6) and King Phojanakong (later this summer) to cook dinners to be paired with craft-spirited cocktails. And there will be beer. Oh, yeah, beer is still the focus.
Carbone is not just a walking craft-beer encyclopedia — he'll break down the latest releases from Stillwater Artisanal Ales in manic bursts about hops and notes of lemon peels — but also a packed Rolodex. Over the years, he's made countless connections: a passionate home brewer with an eager journalist, a thirsty customer with an obscure German altbier. And a visit to Jimmy's (especially when Carbone is pacing the house) can shift from happy-hour drinks to three hours of countless pours and tastes, maybe a little food and stories from the front lines of craft brewing. He's got so many stories, in fact, that he hosts a weekly show on Heritage Radio called "Beer Session Radio," which is one of the longest-running programs at the Internet station — some 270 episodes and counting.
The packed keg room at Jimmy's No. 43.
"Jimmy leads by example, and the example he sets is no bullshit: Is the beer good or not?" says Travis Kauffman, owner of upstart Brooklyn brewery Folksbier and a frequent guest on Carbone's radio show. "Jimmy is a huge advocate for the craft-beer scene in New York and has been for years and years, before it was as popular as it is now. He has his finger on the pulse of the industry and focuses on quality beers that are unique and well crafted." Kauffman recalls the first time he appeared as a guest on Carbone's show, which led to the young brewer soon selling out of all of the beer he could make. It's a credit not just to the show's popularity but also to Jimmy putting his money where his mouth is. Jimmy's No. 43 currently carries Folksbier Echo Maker and has bought several kegs over the past year, including the favorite Morning Dew Blonde Ale. Kauffman's story is not unique.
When I rode around with Carbone in early 2013 for a story about nanobreweries, he took me to several small, ambitious enterprises, including Bridge and Tunnel Brewery and Rockaway Brewing Company, which have since expanded their operations. B&T, for instance, plans to open a new, expanded brewery in Ridgewood, Queens. But with the meteoric rise in the popularity of craft beer, a great many have jumped on the bandwagon. That places even more emphasis on guys like Carbone, who can suss out the good from the bad.
"My beer is different then most of the craft beer out there," says Kauffman, who primarily focuses on little-seen German styles mashed up with American sensibilities. The beers are lighter and more malt-focused than most in the NYC beer scene. "At a time when I was having trouble getting people to understand what I was doing, making not-so-hoppy, refined, clean and light beers in a scene where the norm is high ABV/IBU beers and flavor bombs, Jimmy got it immediately," he says. "If it wasn't for his affirmation and encouragement, I seriously might have given up early. Now, I happily make my puddle of beer and constantly work to make more, always focusing on quality and refining my craft."
You'll find Kauffman's quality craft brews with the rest of the good stuff, once again flowing from the taps at Jimmy's No. 43.