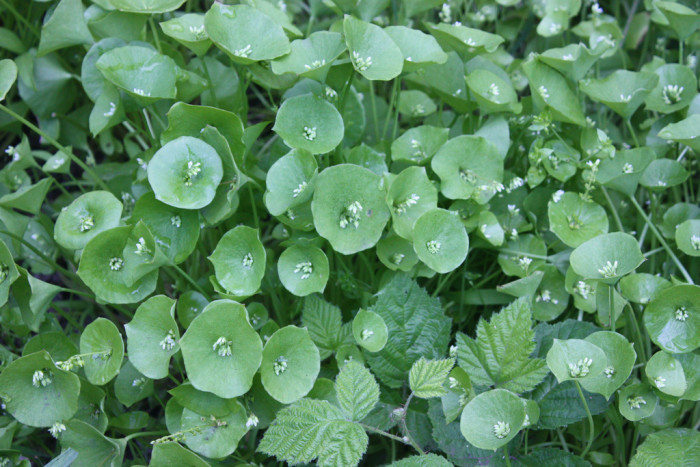 Spring is ramping up, and ramps have finally hit the market. But let's not bludgeon those tender shoots to death. Instead, get excited about other vegetables, lettuces and herbs making the scene at local farmers' markets. "It's nice because three weeks ago all you saw was root vegetables, and now you see asparagus and all sorts of things," says David Nichols, chef at the newly opened seasonal restaurant Irvington in Manhattan. This includes fresh parsley (which Nichols attests is more than just a garnish; see his recipe below), tender morel mushrooms and delicate stems of miner's lettuce.
Miner's Lettuce
This tender microgreen is properly called Claytonia perfoliata, but it goes by many names, including Indian lettuce, spring beauty, winter purslane and, most commonly, miner's lettuce. "It's almost like watercress and has a peppery flavor," says Nichols, who buys his at the Union Square Greenmarket. You can spot the emerald-green plant by its small heart-shaped leaves. It has a nice crunch and a texture that makes it a shoe-in for spring salads like the ones Nichols makes at Irvington. Top your burger with it, sprinkle it on flatbread or serve it alongside grilled fish. It's chock-full of nutrients, too. A third of your daily vitamin C, plus vitamin A and iron, is packed into about a salad's worth of miner's lettuce.
No longer just a garnish, parsley can be the basis for whole meals. "It's one of those herbs that people are like, 'Oh, it's just parsley,' but instead of chopping and putting it on things, I like to use it as a main ingredient," says Nichols. For him, parsley is the perfect substitute for basil in pesto (recipe below). He makes his fresh, sans pine nuts, and uses it to top house-made wild boar sausage. In the market you'll find two types: the curly parsley and the flat-leaf variety, also called Italian parsley, which is the better one to cook with. Make a classic gremolata sauce (parsley, garlic and lemon zest) for your grilled or braised meats, or spruce up a vegetable soup with a dash of Italian salsa verde, a condiment that includes anchovies, vinegar-soaked bread, garlic and capers. Look for dark green bunches that don't have any blemishes, and once you bring it home, make sure to wash it well, as this plant tends to get sandy.
Morel mushrooms
These porous fungi make quite a statement when you see them in the market; after all, they somewhat resemble an old brown sponge. Get them now, since the season for morels is notoriously short — one of the reasons for the heavy price tag. But don't let that dissuade you. This tasty mushroom is worth every penny and prized by cooks all over the world (take that, truffle!) for its nutty, meaty flavor. You can stuff the caps with anything: savory mousse, sizzling herbed sausage, cream-soaked walnuts. Chop the mushrooms to make a bisque, lightly sauté the whole piece in olive oil and garlic or stuff them inside a chicken and roast them. When choosing morels, look for ones that smell like fresh earth and don't have any bruises, decay or soft spots. Once you get them home, store them in a paper bag, unwashed, in the fridge for up to three days. When you are ready to use them, wipe them gently with a damp cloth and make sure to keep them fairly dry.
Parsley pesto, courtesy of David Nichols of Irvington
Ingredients:
½ cup grated Parmesan cheese
Zest and juice of two lemons
Olive oil as needed, approximately 1/2 cup
Directions:
Add all ingredients except olive oil to food processor and puree.
Slowly incorporate olive oil until a paste forms.
Season with salt and pepper to taste.
More seasonal spring dishes on Food Republic: