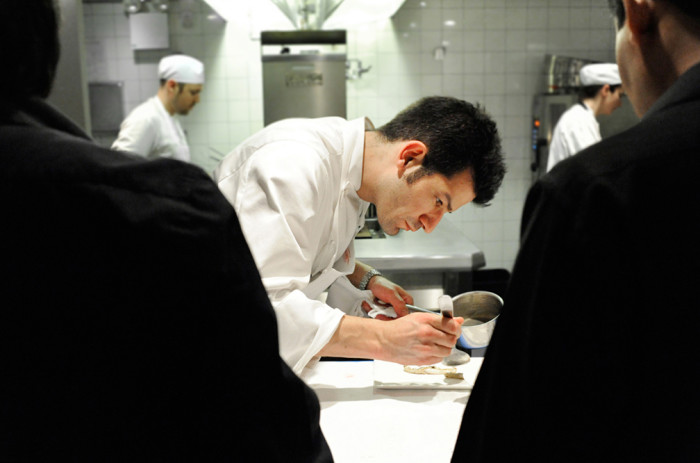 George Mendes has been cooking Portuguese food in New York City for more than half a decade. His first solo project, Aldea, has been awarded a Michelin star every year since 2011. And while the restaurant has dished out consistently excellent cuisine inspired by the Iberian Peninsula with a modern, seasonal approach, its prix fixe and tasting menus have kept dinner more in the category of a special-occasion meal than accessible neighborhood dining. The Portuguese-American chef is hoping to achieve this latter status with the opening of his second city establishment, Lupulo.
Open for just over two weeks for dinner on the corner of 29th Street and Sixth Avenue in the increasingly desirable NoMad micro-hood, Lupulo is, quite simply, "a more casual restaurant," according to Mendes, who struts into his new digs at 10 a.m. sharp on the day of our interview, meeting with a couple of construction workers and stepping into the kitchen to offer a few words of advice to his staff before sitting down at a table to chat. "I want it to be a place where people come after a hard day of work or after a game. Just roll up, sit on a stool and have a very casual bite to eat, or grab a table and have dinner." It's already attracting a large Portuguese clientele, both from a sizable population in nearby Newark, New Jersey, and locally — a significant achievement that has the chef remarking he has seen "more and more Portuguese people come out of the woodwork" over the past two weeks, even while Aldea has been open for six years. The rustic, tavern-like vibe and affordable prices — not to mention the traditional Portuguese comfort food coming out of an open kitchen complete with a wood-burning oven — have seemed to resonate quickly with this crowd.
Early reports on Lupulo (which means "hops" in Portuguese) have mentioned that the restaurant is modeled after the beer halls, or cervejarias, of Lisbon. But don't tell that to the chef. "I really can't use the name 'beer hall'; it just hurts me. I think of a beer hall as being a German institution, with the boots and the big, long tables." Cervejarias are primarily Portuguese breweries that serve some food, along with a couple of beers — typically a Sagres and a Super Bock, the country's two most mass-produced lagers. Mendes will be serving these beers alongside dishes like borrego com feijão (lamb leg cooked over charcoal with red peas and tomato) and amêijoas à bulhão pato (Manila clams with Vinho Verde, garlic and cilantro) in New York. The chef goes on to explain that craft beer hasn't quite caught on in Portugal just yet. "There are shippers working on bringing in more artisanally made craft beers in Portugal that may eventually make it to the U.S.," he says. He cautions, however, that it's still "a very small market.".
And yet, beer (cerveja) is one of the main focuses at Lupulo. Mendes has hired Ryan Mauban, a self-described "beer nerd" who cut his teeth at Brooklyn's acclaimed boutique beer bar Tørst (where he claims he has touched every one of the roughly 3,000 different bottles in the cellar), to head up the beer program. There is a heavily rotating list of a dozen beers on tap, encompassing an eclectic mix of styles. Right now, for example, there's a cask-aged cider blended with peach wine from Maryland, a doppelbock made by Benedictine monks from Germany and a fermented sour ale made with Barbera grapes and aged in oak barrels from Italy. And of course, there's Sagres, which has been selling exceedingly well in the first couple of weeks.
"I've told Ryan he has a completely blank check for beers to put on the list, but he's got to have Sagres," Mendes says. "Our priority is showing off what we're doing in the U.S. — the U.S. is definitely the craft-beer center, and Europe is two or three years behind," he continues. The duo plans to introduce more Portuguese beers, either draft or bottled, as the country's craft-beer movement continues to get off the ground.
Each of the 12 beers is offered as a 5-, 9- or 14-ounce pour, with the hope that guests will pair different styles with various dishes. "There are not a lot of people who can say, 'This is what an IPA would taste like with chicken made with piri-piri.' They're not two flavors that have really met before, and that's what we're doing in this space," says Mauban. So why is Lupulo calling all this attention to beer and not more traditional wine pairings? "Because there are too many wine bars!" laughs chef Mendes. "I love wine, but I've just grown to love beer more. I like the casualness of it…. [Growing up,] my dad and I would go mow lawns or work construction, break for lunch and go to this spot for lunch and have a steak sandwich and a Miller High Life. So it came from that culture, that upbringing."
That's not to say that you won't find wine on the menu at Lupulo. Quite the contrary. Aldea sommelier Doreen Winkler has compiled an impressive list of 13 white, red, rosé and sparkling wines, all indigenous to Portugal. The country's wines have seen a recent uptick in popularity overseas. There has been a wave of focus on small producers and natural wines, which reflects the current choices of bottles (all also offered by the glass) at Lupulo.
In the end, though, it's the diverse selection of craft beers that best exemplifies Lupulo's casualness. The rotating tap pours are perfect complements to Mendes's homage to his native country's classic cooking, and people — many of them Portuguese — are already taking notice. Perhaps the cavernous, blue-and-white-tiled restaurant is a harbinger of the growing craft-beer movement in Portugal. Perhaps Portugal's cervejarias (and Europe's beer halls as a whole) are, as the chef insinuated, some two to three years away from adopting similar ideas. Whatever the case, we're certainly enjoying our frango piri-piri alongside a hoppy Brooklyn Other Half IPA in the meantime.
Read these stories about Portugal on Food Republic: