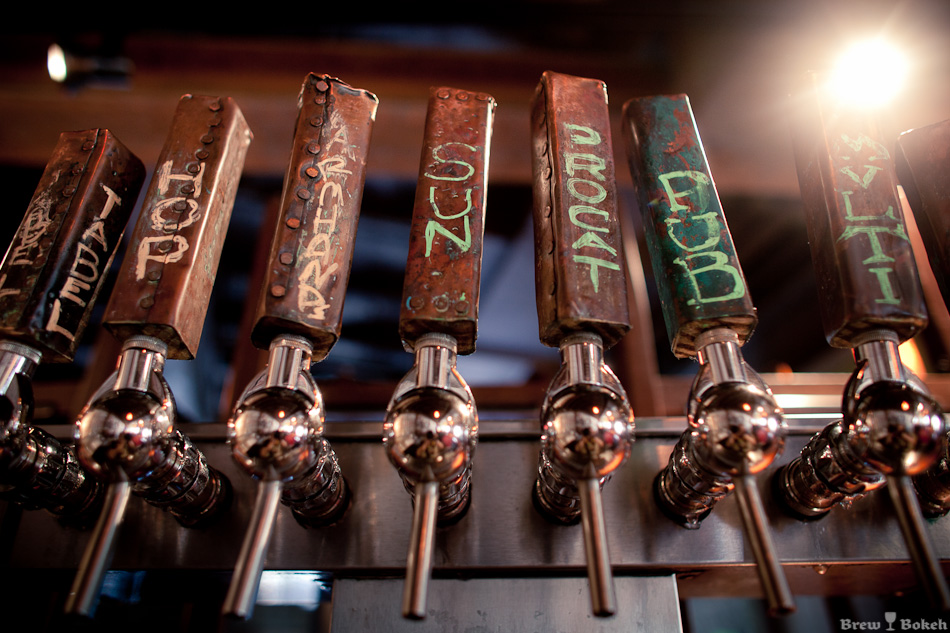 While cities like San Francisco, Denver and Portland squabble over the "best beer city in America" crown, Philadelphians sit back with a pint or six and chuckle. Superlatives are sweet and all, but anyone who's spent a night drinking around the city — ideally with a high-tolerance tour guide — can speak to the city's distinct craft-beer prowess. It's not just the region's wealth of nationally recognized local breweries, or capstone events like Philly Beer Week, the annual brew lovers' bacchanal that happens every June. It's the bars themselves. The personalities behind them and what they're pouring — deep publican relationships with breweries, both in the states and abroad, means the city gets kegs no one else gets. (Check out Philly Tap Finder, an invaluable tool for those looking to maximize their glass-draining.) Here are 15 of the dozens of Philly beer bars worth a long session.
Forest & Main Brewing Company
For superior beer in Philly's northern suburbs, walk a straight line to the corner of Forest and Main in Ambler, where a brewpub by that name is making beer far more left-field than its unassuming coordinates suggest. Though it looks like Ralphie's house from A Christmas Story, this charming old Victorian is home base for brewer-owners Daniel Endicott and Gerard Olson, who spend their time crafting subtle English cask ales and funked-out Belgian-style offerings for crowds thirsty for something different. That includes collectors. Every so often, they release limited-edition bottlings specifically calibrated for the cellar. 61 N. Main St., Ambler, PA; forestandmain.com
Local 44
Prolific publicans Brendan Hartranft and Leigh Maida have boozy holdings in multiple Philly neighborhoods (Memphis Taproom, Strangelove's) but Local 44, which they run with Brendan Kelly in the leafy West Philly enclave of Spruce Hill, might provide their most value-packed beer-geek experience. That's because the friendly neighborhood pub, pouring 20 beers between the draft lines and the beer engines, also boasts an attached bottle shop, and DWB (drinking while browsing) is encouraged. Chef Justin Bennett's menu scratches all kinds of itches, from classic bar fare to creative vegan. 4333 Spruce St., Philadelphia, PA 19104; local44beerbar.com
2nd Story Brewing Company
For all its history, Old City has a reputation for getting a little wacky at night. You might need a place to hide. Where better than a bilevel brewpub with viable options for every pint-glassed proclivity? A short walk from all the attractions, 2nd Story is an inclusive place that takes its beer seriously. House pours, like a drinkable English mild and an aggressively hopped American IPA, join a rotating seasonal lineup of brewed-on-premises beers. To watch them being made, take a sip and look up. Head brewer John Wible's tanks are all situated in a glass enclosure looming over the main bar. 117 Chestnut St., Philadelphia, PA 19106; 2ndstorybrewing.com
Forgotten Boardwalk Brewing
Though it's a bit of a drive from the Jersey Shore, Cherry Hill's Forgotten Boardwalk has got the celebratory part of a beach visit down. Check out the dueling Skee-Ball machines, technicolor Monty Hall doors and clicking prize wheel in the spacious tasting room. Hanging at an actual brewery and enjoying a beer is a relatively new luxury in the Garden State — it was illegal in Jersey as recently as three years ago — and visitors to the Boardwalk are taking advantage, enjoying one-offs and variations on site (nitro Funnel Cake ale!) and taking flagships home in six-packs. 1940 Olney Ave., Cherry Hill, NJ; forgottenboardwalk.com
Tria Taproom
The fermented threesome of wine, beer and cheese is the backbone of the Philly's multiple Tria locations. But the Taproom, looking out onto Rittenhouse Square, is of particular note for beer fans — especially techie ones. The internationally inclined 25-beer lineup updates live online. And when you're on the premises, bartenders provide drinkers with menu tablets built up with vital info, including how much liquid is left in each keg. That's plenty of power in your hands, but don't panic if the Wi-Fi gets zapped by a rogue electromagnetic pulse. (Don't you hate that?) The freakishly informed Tria staffers know their stuff to a scary degree. 2005 Walnut St., Philadelphia, PA 19103; triataproom.com
Grey Lodge Pub
The collection of neighborhoods a quick zip up I-95 from Center City Philly offers many things in abundance: loony traffic patterns, ethnic groceries, Russian supper clubs, Irish pubs. But the Great Northeast underperforms in the craft-beer category, with one major exception: the Grey Lodge. Located on the same Tacony block as a Catholic schoolgirl uniform outlet, Grey Lodge is an oasis for Northeast beer geeks. The wood-paneled, sporadically mosaicked bilevel bar is staffed by spunky pint pourers who aren't afraid to toss you a little salt with your saison. Local breweries, like Yards, Sly Fox and Weyerbacher, are always repped among the dozen taps, but there's room for out-of-town picks, too. High-ABV hitters like Allagash Four and Unibroue La Terrible both appeared recently. Superstitious drinkers should plan a pilgrimage around any Friday the 13th of the calendar year. On those days, dubbed "Friday the Firkinteenth," owner Mike "Scoats" Scotese hammers open a battery of ultrarare cask ales he hoards in the cellar like pirate treasure. The next one's in June. 6235 Frankford Ave., Philadelphia, PA 19135; greylodge.com
Tired Hands Brewing Company
A conceptual outlier in the moneyed Philly suburb of Ardmore, Tired Hands has built a reputation on eccentricity. In the past few months alone, they've brewed an ale with pizza toppings and named a beer after a phrase from a negative Yelp review. But cerebral brewer Jean Broillet's approach is defined by much more than novelty. His thoughtfully appointed bilevel brewpub, which looks like it's housed several generations of the Baggins clan, distinguishes itself with an ever-rotating roster of eight drafts, tending toward complex saisons and hophead-friendly IPAs. Broillet's mitts are now even more enervated, as he and the Tired Hands team have introduced Fermentaria, a bar, restaurant and production facility. 16 Ardmore Ave., Ardmore, PA 19003; tiredhands.com
Alla Spina
To illustrate the contrast between chef Marc Vetri's famous fine-dining restaurant and his hoppy, hopping Italianate beer bar, consider the illustrations. On the outside of Vetri: a pastoral Tuscan mural, complete with a Vetri-like figure toting a pot of polenta. On the corrugated metal walls of Alla Spina ("from the tap"): lively, and legal, graffiti from local writers. The North Philly destination's youthful vim extends to its playful, pork-centric menu, too, but the beer selection is all business in the best way. Bottles and cans touch on beer scenes ranging from Scandinavia to Lombardy; the tap list accommodates both hyperlocal drinkers (Dogfish Head Aprihop) and Italophiles (Ducato's Kiss Me Lipsia, a blended sour ale with Himalayan pink salt). 1410 Mount Vernon St., Philadelphia, PA 19130; allaspinaphilly.com
Monk's Cafe
Painted up and down with the Belgian tricolor, complete with an eye-catching "BEER EMPORIUM" neon that turns the Center City sidewalks Chimay red, Monk's is not subtle about its strengths. Hard to be, when you're working with 20 drafts, 300-plus bottles and a national rep as a Euro-beer pioneer. Open since 1997, Monk's is the bar many beer scenesters credit with decoding the idiosyncrasies of Belgian beer for an American audience. Fans, who can often be found lining up out front, Apple Store style, on special release days, look to the quick-witted staff and "Beer Bible" menu for guidance. The best place to hunker down: the dimly lit back bar, its walls festooned with cathedral mirrors and medieval tapestries meant to coax out your inner Walloon. 264 S. 16th St., Philadelphia, PA 19102; monkscafe.com
12 Steps Down
To paraphrase Cedric the Entertainer, you must now exit Earth's atmosphere if you wish to smoke a cigarette. That, or you could trip it down to the Italian Market, locate the green sign next to the green awning and descend a dozen steps into Ninth Street's hazy, heavenly shot-beer-and-butt club. Those sensitive to smoke should stay far away, but anyone looking to pair their P-Funk Light with a pint will discover a subterranean haven brimming with their kind. All the macro brews are available, but 12 Steps' craft selection is sneaky-formidable, with recent draft picks like Ballast Point Sculpin IPA and Bell's Two-Hearted and a big-ass international bottle/can list that can be smartly broken down by style. 831 Christian St., Philadelphia, PA 19147; 12stepsdown.com
Dock Street Brewing Co.
Slaking thirsts from a photogenic firehouse that serves as the centerpiece of diverse Cedar Park, Dock Street was a way-early entry — like 1985 early — on the American craft-beer timeline. This location, open since 2007, combines ambitious on-site brewing with wood-burning pizzas to produce a catch-all gathering place for this kinda-crunchy, always-cool section of West Philly. Brewmaster Vince DesRosiers dedicates ample tank space to draft flagships, like the Czech-style Royal Bohemian Pilsner and the robust Rye IPA. But there's room to run deep left field, too — in honor of The Walking Dead, the brewers released a pale stout brewed with organic cranberries and and smoked goat brains. 701 S. 50th St., Philadelphia, PA 19143; dockstreetbeer.com
Fountain Porter
It's difficult to pinpoint exactly what makes Fountain Porter, open since 2012, seem like it's been around for two decades. It could be the 20-tap tavern's ketchup-and-mustard-hued neon signs, beckoning drinkers to this nondescript South Philly corner. It could be the all-vinyl playlist, snap-crackle-popping in a way sterilized Internet radio never could. But it's probably the people — friendly neighbors who gather along the picnic benches or hug the window rail up front, draining glasses of Jolly Pumpkin Fuego and Gavroche Red and decimating five-buck burgers. It's the best-realized neighborhood bar in a neighborhood filled with them. 1601 S. 10th St., Philadelphia, PA 19148; fountainporter.com
Brauhaus Schmitz
For the cranked-to-11 Brauhaus Schmitz experience, drop by the stalwart South Street beer bar on a Bayern Munich or Borussia Dortmund game day, pick a side and prepare to freak out every time any ball smacks the back of any net. On slower evenings, however, there's more time and more room to fully appreciate what might be the broadest, and best, Teutonic tap selection in the States. Nearly all of Brauhaus' 30 lines, split between two bars, are Germanic in origin, their passports stamped thanks to owners and staffers with deep connections in Alemania. Just recently, they threw on fresh kegs of grapefruity Schöfferhofer Weizen, a ubiquitous wheat beer synonymous with spring. Yes, they offer pilsner-filled boots, and no, you don't have to crush one to have a good time. 718 South St., Philadelphia, PA 19147, brauhausschmitz.com
Kraftwork
Over the past decade, the working-class neighborhood of Fishtown has transmogrified into one of Philly's most commercially progressive ZIP codes, eliciting delight from some and abject horror from others. Looks-wise, no one nails the area's delicate mix quite like Kraftwork, with its painstakingly chiseled details and workaday motif coaxing in a new era of Philly blue-collardom. Two dozen taps, laid out on stylized paper draft lists that wouldn't seem out of place on a construction site, hit all the right liquid notes — local (Fegley's and Doylestown Brewing, from Pennsylvania), national (Breckenridge 471 Small Batch IPA; Two Brothers Prairie Path) and international (Belgians, like Timmermans Pumpkin Lambicus and Struise Pannepot Reserva). 541 E. Girard Ave., Philadelphia, PA 19125; kraftworkbar.com
Garage
Located in the Whiz-drenched heart of what locals call Cheesesteak Vegas — please don't ever, ever mention or perform the godforsaken "Cheesesteak Shuffle" in the presence of a Philadelphian — Garage has endeared itself to no-bullshit locals despite its tourist-overridden neighbors. And what's not to like? The former auto-body shop has been converted into a sort of adult funhouse, with billiards, Skee-Ball, a stationary food cart featuring a rotating cast of chefs and a cleverly curated lineup of more than 150 craft beers in cans: Modelo and Natty Boh enjoy fridge space with critical-darling American picks (Uinta, out of Utah; Brewer's Art, out of Baltimore) and a range of interesting imports. Play cold-case look-and-point with the bartenders or ask for a printed menu, dressed up to look like '80s automobile owner's manuals. 1231 E. Passyunk Ave., Philadelphia, PA 19147; garagephilly.com
This post is brought to you by our friends at MasterCard Priceless Cities.
More beer stories on Food Republic: