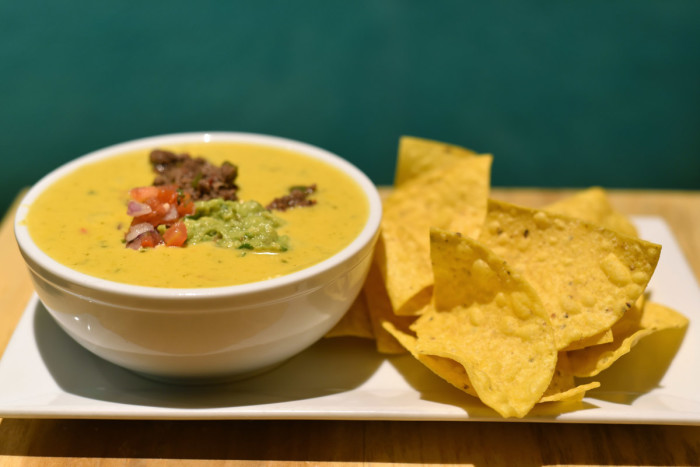 As the chef of a hugely hyped new restaurant in New York City, Richard Caruso has been doing a lot of interviews lately. And boy, does he stick to the script. When we meet up one recent afternoon at the ultrapopular Tex-Mex restaurant Javelina, which Caruso and owner Matt Post opened in Manhattan's Gramercy neighborhood in early March, he tells me up front that we can talk about anything. Well, except for three things — politics, his sex life and his mysterious queso recipe.
"I can tell you where we got the bowls," Caruso says with a wry grin. But the exact contents therein remain a tightly guarded secret.
For weeks now, Caruso has been fending off questions about the specific formula for his sensational spicy cheese dip, which isn't so easy when that particular dish also happens to be your signature menu item. As such, it's basically all that anyone wants to talk about. Practically every food writer in town, it seems, has tried to get Caruso to give up the goods. He hasn't budged. But that hasn't halted coverage of the restaurant. Or the queso. Quite the contrary: You'll find plenty of articles about the place and its trademark appetizer. There's even an entire photo essay of Caruso's queso-making process online. But no one yet has identified the precise ingredients.
If the secrecy is all just a part of the restaurant's publicity plan, well, Caruso commits to the bit with style. "Ask Javier," the chef will say, pointing to the stuffed wild-pig-looking animal perched on a shelf above the bar. Besides serving as the restaurant's mascot, the taxidermied peccary — or javelina, in Spanish — seems to have found its niche in quietly deflecting queso-related questions. Other times, Caruso will try to turn the tables on us pesky restaurant reporters. "Is this a competition among you food writers?" he asks, when I, too, inquire about the queso contents. He goes on to describe a recent multi-round cheese-focused interrogation by another reporter on the phone. "It's like Watergate," he jokes. "And I'm still not telling."
It's a pretty odd specialty for a non-Texan, especially a guy from Bensonhurst, Brooklyn. "I didn't know much about queso," admits Caruso, who came to Javelina after stints at various Mexican restaurants, notably including the vast Rosa Mexicano chain, as well as Pelea Mexicana in Tribeca and Caracara in Farmingdale, New York. He also previously served as chef de cuisine at Hill Country, New York's pioneering Texas-style barbecue restaurant. Researching smoked meat in the Lone Star State is how he first got turned on to Tex-Mex, he says: "I would wander around the Hill Country eating all the barbecue I could every night. In the daytime, I'm not eating barbecue. So I started eating Tex-Mex." Caruso's background in both Mexican and Texas-style cuisines made him uniquely qualified for the job at Javelina. But that doesn't explain his cageyness about the queso.
From the outset, it seems like a pretty silly thing about which to be so clandestine. At its most basic essence, the Tex-Mex staple is exactly what it claims to be: chili con queso literally translates to "peppers with cheese." But which peppers? And which cheeses? That's where Caruso starts to draw the line. "It's three American cheeses," the chef says. And that's as far as he'll go. The menu also drops a few hints about the spices.
Their confidentiality is all the more striking when you think about the way that today's diners are so laser-focused on ingredients, wanting to know where everything comes from and how it's produced. But that doesn't account for just how serious Texans, like Post, a Dallas native, can be about their queso — not to mention the big things that he envisions for Tex-Mex cuisine in New York City in the future.
"I wanted us to be known as the place to go to for queso in New York City," says Post, who has been developing plans for a definitive Tex-Mex restaurant in the city since 2007. "Everything else was very important, but that was the thing that I wanted people to take away from the restaurant."
Why are Texans so obsessed with the stuff? "It's just something that you grew up eating," Post says. "People love tortilla chips, people love dipping stuff — it's a very Texas thing to do. Whether it's a bean dip or a seven-layer dip or chips and salsa or guacamole or queso, people are born with a chip in their hand."
Of course, Tex-Mex food has been attempted many times before in the city, but never up to Post's own standards, he says. And arguably not up to New York's standards, either. "You've got a lot of people who don't appreciate Tex-Mex as a cuisine," he says, noting that aspiring young chefs don't generally graduate from culinary school with the burning desire to whip up bowls of cheese.
To hear Post tell it, that's about to change. He cites a number of factors setting the stage for a Tex-Mex boom in NYC. One is the well-documented migration of young people between Austin and New York, which lends itself to culinary cross-pollination. Another is all the recent interest in American styles of cooking, like barbecue and Southern food in general. Tex-Mex is the next wave, and you can already see signs of it happening, Post says, pointing to a recent queso-themed pop-up event at a nearby Gramercy retailer, Bedford Cheese Shop. Then there's El Original, a rival Tex-Mex spot that just opened on Manhattan's West Side, and Oxido, a fast-casual-style Tex-Mex joint from San Antonio chef Jesse Perez.
That's probably the biggest reason why Post and Caruso are keeping their mouths shut about the queso: competition on the horizon.
"It's going to be clear in the coming months and years that people are going to be opening up more and more Tex-Mex places," Post says. "And the same thing with Mexican restaurants. There will be Mexican restaurants doing this type of queso on their menu before too long, as well. Why give them the head start?"
If anyone cashes in on a possible Tex-Mex gold rush, Post and Caruso figure it might as well be them. And when you consider Caruso's résumé — think Hill Country and Rosa Mexicano, both big restaurants with multiple locations — you quickly get a sense of just where the pair might be headed with their Tex-Mex concept.
"I think the only way we would give out the queso recipe would be, you know, a large, really large, check, with lots of zeros on it," Caruso says. "And we'd still probably lie to you."
Read more about NYC restaurants on Food Republic: