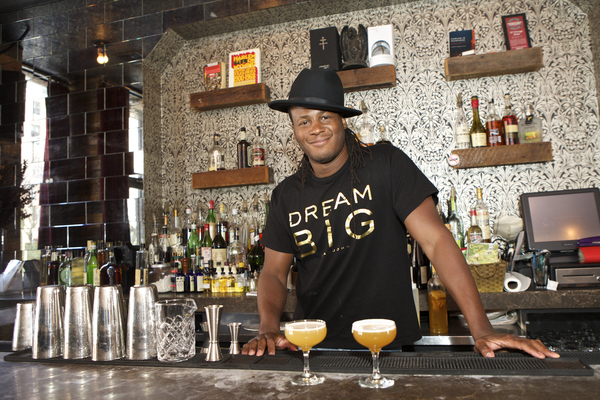 For more than a century, Harlem has been the destination for black poets, activists, artists, politicians and anyone else looking to break out of their circumstances to become something more. Like the rest of Manhattan over the past 20 years, the neighborhood has sustained a near-constant wave of change and gentrification. But instead of yielding a flood of Urban Outfitters and other homogeneous chain stores, it seems to have inspired a new generation of creative chefs and entrepreneurs. From May 14-17, the food world is coming together to highlight some of these new restaurants and bars as a part of the Harlem EatUp! festival, founded by Harlem resident and restaurateur Marcus Samuelsson and events marketer Herb Karlitz. The other day, I took the A train uptown — OK, actually, it was the D (apologies to Duke Ellington) — to talk to some of the festival participants to see what they think of the New Harlem and what they miss from the old days.
Karl Franz Williams | Owner, Mixologist of 67 Orange Street
A Yale-educated Brooklynite, Williams landed in Harlem 14 years ago, after stints living in Spain and Puerto Rico. In 2008, he opened 67 Orange Street, a bar with a seasonally changing menu of 40 to 50 original cocktails and a staff whose diversity represents the new face of Harlem. 2082 Frederick Douglass Blvd., New York, NY 10026, 67orangestreet.com
What first brought you to Harlem? Why have you stayed?
I came to Harlem because I saw it as a neighborhood that was emerging and full of opportunity. I knew that investing in Harlem was a sure thing. And I loved the history and legacy that Harlem has for African-Americans. I've stayed here because of the beauty, the parks and the friendships I've created and established. It's like a small town. So many familiar faces.
How has the neighborhood changed since you've been here?
The neighborhood has become super-diverse, safer and far more developed than when I first got here. There are many more restaurants, bars, and places to shop. Yet Harlem maintains some of its charm and character. I still work out in the park with the same guys I did seven years ago. 67 Orange Street will turn seven years old this December. Over that time, I have seen the neighborhood change drastically, but we have always stayed relevant. During Prohibition, there were over 500 speakeasies in Harlem, more than in other areas of the city. Harlem was the entertainment capital of NYC during that era. 67 Orange Street brought that back by being the "modern Harlem speakeasy."
How do you create the vibe you are looking for at 67 Orange Street?
One of the cool things about having a small place is that it self-curates, self-selects. What we get here is similar to what we put out. The staff is really diverse. We've got different ages, races — primarily younger, obviously — so that influences who comes here. I think the other side of it, too, is that you have to be an adventurous kind of person coming in here. Coming in knowing that you are getting things that you probably haven't tried or seen before.
Brenda Beener | Chef-Owner of Seasoned Vegan
Beener started in the kitchen young. As a child, she says, "my mother would make me stand by her side while she cooked for the family. She said, 'You're gonna have to learn how to cook with an appetite like yours.'" Twenty years ago, her husband adopted a plant-based diet, which led her to years of recipe testing and development. Friends and family clamored for more, eventually suggesting that she open up her own place. In 2010, she started pop-ups at nearby Lee Lee's Baked Goods, which drew enough of a following that she opened up the Seasoned Vegan, which just celebrated its first year in business. 55 Saint Nicholas Ave., New York, NY 10026, seasonedvegan.com
What has been the greatest influence on your cooking?
Both of my parents are from Louisiana. My father worked as a cook. They were both great in the kitchen. My Louisiana style definitely comes from them. Now I take what they taught me and veganize classic dishes from all cuisines.
How has the neighborhood changed?
Well, it's a different community now. It's much more diverse. There was a time when Harlem was pretty brown. Much more money is being invested up here now. There are condos all over the place and much better food quality.
What do you miss?
I miss the sense of style that people displayed. People would dress up and represent themselves with class. That was nice. There was more of a sense of community. Most of the businesses were black-owned and of the mom-and-pop variety. Now you look at 125th and it's totally commercialized.
What changes are you happy to see?
I'm glad people are becoming more health-conscious. They're exercising and learning about eating better. That's huge for me. Our community has major health issues stemming from our diets, so us taking that problem and addressing it is beautiful. We have the power to change those health statistics for the better.
Joseph Hayes III | Chef, 5 & Diamond
Chef Joe joined 5 & Diamond a year and a half ago with the goal of stepping up the restaurant's brunch game. "I noticed that while people were moving to Harlem, they were still going downtown on the weekends for good brunch spots," Hayes says. So he started Brunch by Joe, a menu set up to keep folks in the neighborhood for their afternoon revelry. Though Hayes has trained as a chef and has worked in kitchens from Eleven Madison Park to Vong, food is not his only creative outlet. He has curated a number of art shows downtown and hosted his first solo exhibition last year in Chelsea. A Bronx native, his family has deep roots in Harlem, and he has seen firsthand the seismic changes in the neighborhood. 2072 Frederick Douglass Blvd., New York, NY 10026, 5anddiamondrestaurant.com
How has the neighborhood changed?
Harlem has changed so much in the last few years that the Harlem I knew as a child seems like a distant past. Harlem as a whole is a lot more diverse these days, with so many amazing creative things happening.
Do you like it?
I think I have to accept it. And I like certain aspects of it, but I do miss certain parts of Old Harlem — institutions like the Lenox Lounges and the M&G's. I miss Pan Pan. It was a small mom 'n' pop restaurant on 135th and Lenox. I used to wake up early every Sunday to go have breakfast there.
What changes are you glad to see?
Diversity, I think. I'm happy about the diversity and opportunity here. Even with all of the new growth, there's still a lot of "us" being represented in that. I can see a lot of entrepreneurs opening places, which is nice because what often happens with gentrification is that it just attracts like-minded people in the same area. It's still quite diverse, and hopefully it stays that way. That's why it's important that people like me stay here and do things here and eventually open up things here and continue to grow the neighborhood. Because this is where I get my support from. That's why I'm here.
Tell me a bit about the sort of food that you serve.
I consider my style of food as global soul food. I think capturing the essence of why the dish was created is important. That's the soul of the dish. So I try to capture soul food from around the world. I have some dishes that are Italian, some that are Southern. But overall, I'm connected to the soul that goes into good food.
How does your artistic side inform your cooking?
It's funny, because my whole life I've only been involved and worked in creative environments. Whether it was [an] internship at Interscope Records or my role as brand manager for fashion designer Brian Wood, I've always had a creative passion, just more in the background…. As an artist, I look at culinary arts as extension of my art. I don't really separate it. I just try to create inspired art that I can be proud of in any medium.
Mame Sow | Pastry Chef at the Cecil and Minton's
Born in Senegal, West Africa, Chef Mame emigrated to the U.S. when she was 11 years old. Living in Queens, she visited Harlem often for a taste of home. She studied at the French Culinary Institute and has worked pastry stations for Marcus Samuelsson, David Burke and Pichet Ong before joining the Cecil and Minton's. 206 W. 118th Street, New York, NY 10026, mintonsharlem.com and thececilharlem.com
What first drew you to Harlem?
The community of little Senegal along 116th Street. It's an area that reminds me of being back home, being able to enjoy the same foods at Senegalese restaurants or buying the ingredients from small Senegalese shops and prepare them at home.
How has Harlem changed since you first started coming to the neighborhood?
It's changed as far as cultures and being more diverse.
What do you miss?
I miss the authenticity of some of the areas and restaurants that I used to go to.
What are you glad to see?
I'm glad to see new businesses in the community, such as ours, that are involving people that live around here, and it's a great way to showcase Harlem.
What is the character that you bring to the desserts at the Cecil?
Since we're Afro-Asian, what I try to do is re-create some of the dishes or use ingredients that we used growing up. Like baobob and hibiscus and things like that. Baobob, when I was young, I used to make sorbet with it, during the summertime. So with this dish, the Baobob [made with Baobob mousse, olive oil cake, hibiscus cream, honey lavender ice cream and raspberries], I sort of re-create that. Baobob is like our symbol, throughout most of West Africa. Wherever you go, they have baobob trees there. It's fruity, kind of like a raw pear type of texture and flavor. So it's paired with honey lavender and basil and floral notes and hibiscus. So I try to recapture that. And also, we've got dishes with Asian flair to them.
How much of this is recreating dishes from home and how much is creating something new and different?
I think it's 50-50. I try to use ingredients that I'm familiar with, but also ones that I'm not so familiar with and try to see how I can combine the two, if possible, or just create dishes with them separately.
Mark Henegen | Chef of Madiba
When Madiba first opened in Fort Greene, Brooklyn, nearly 20 years ago, the borough wasn't the international byword for hip and trendy that it is today. And South African food and culture was a curiosity more than anything else. Since then, the neighborhood and the borough have transformed, and Madiba's swirl of international and ethnic diversity has stood apart from much of the monocultural gentrification that's been seen from Greenpoint to Gowanus. Late last year, chef Mark Henegen brought Madiba to 116th Street as part of a larger artistic and culinary center. 46 W. 116th St., New York, NY 10026, madibarestaurant.com
How has the neighborhood treated you so far?
We've been nothing but embraced by the community. I haven't had one negative experience with anyone saying, "Oh, what are you doing in Harlem?" It's been overwhelming hospitality. Madiba doesn't work in any other format. The concept of Madiba doesn't work unless you have an eclectic community, a diverse, international, cross-cultural community. I wouldn't want Madiba in an all-white neighborhood or an all-black neighborhood, you know? What makes Madiba special is diversity.
How much time had you spent in Harlem before opening this new Madiba?
Interestingly enough, I wanted to open a Madiba here 10 years ago, but the investment fell through. So Madiba would have been here 10 years ago. Before that, I used to come up to Harlem, obviously. I used to go to Lenox Lounge, and when friends were in town and wanted to hear some gospel, we went to Sylvia's back in those days. I had a lot of friends living up here. A lot of ANC [African National Congress] Youth live in Harlem, and a lot of musicians and dancers from the Lion King live in Harlem, so I've been to a lot of events here. And I've been doing catering up here for 17 years. Harlem was really instrumental in the end of apartheid, too. Harlem was always where the activists and the marches were. I remember back in 1990, when Mandela came to New York, I was a member of the South African American organization, and we used to go out picketing outside of the consulate, then we'd do afterparties in Harlem. It's nice now when you go to Red Rooster on a Monday night and DJ Masai plays a lot of Black Coffee, and South African house music is all over Harlem, in all the clubs. South Africa isn't like a foreign place anymore. People are like, "Oh, cool, you're from South Africa." South Africa has become so much a part of our lives, as the world gets smaller. It's kind of cool.
What sets the new Madiba apart?
This is a community space, not just a restaurant. It's not a bar. It's a cultural center for music, film, art, food. The owners are very big on helping the youth in the community. We have eight squash courts in the building, and they do after-school programs for kids. We show kids how to become filmmakers, we teach children how to become chefs, and we're going to tie into more different things in the future.
Read more about NYC restaurants on Food Republic: