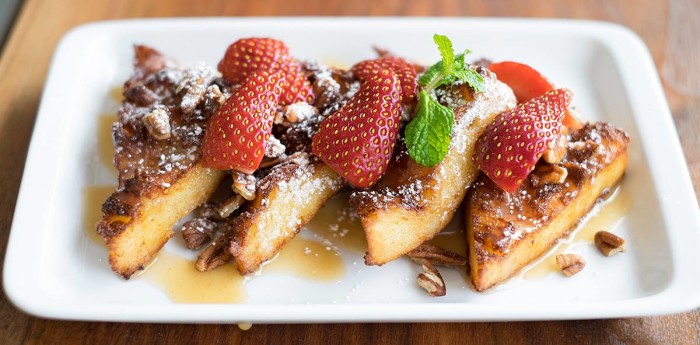 Last Friday, Danny Meyer debuted his new Untitled restaurant at the relocated Whitney Museum in New York City. The modern-art institution moved from Madison Avenue to the Meatpacking District, where its $422 million, Renzo Piano-designed cantilevered structure sits between the Hudson and the High Line.
Gramercy Tavern's Michael Anthony is behind the project. Untitled serves seasonal, vegetable-driven dishes like rotisserie cauliflower with black sesame and curry, as well as shrimp ravioli, lamb chops with quinoa and kale and crowd-pleasing chocolate banana cream pies and strawberry shortcake for dessert.
Anthony and Meyer are not the only big-name chefs to lend their expertise to the once-humble museum café. In the wake of Meyer's Michelin-starred the Modern, which opened at New York City's Museum of Modern Art more than 10 years ago, art institutions from Seattle to San Juan have been reinventing museum dining. Forget about overpriced turkey sandwiches and watery coffee. High culture meets haute cuisine at the country's six best museum restaurants.
1. Laurel Kitchen | Art Bar at the Puerto Rico Museum of Art (San Juan, PR)
Puerto Rican celebrity chef and occasional Food Network competitor Mario Pagan serves self-described "nuevo Caribe cuisine" at Laurel, his third restaurant in San Juan. Dishes blend tropical ingredients and classical French technique, as in local scallop tiradito with coconuts and sweet pepper salsa, and sea bass with yucca purée and foie gras-port reduction. 49 de Diego Ave., laurelkitchenartbar.com
2. Bistro Menil at the Menil Collection (Houston, TX)
Greg Martin opened this sleek bistro on the grounds of Montrose's devastatingly gorgeous Menil Collection in October 2014. The seasonal menu spans duck focaccia, quinoa tabouleh and crowd-pleasing pizzas, plus happy-hour pinxtos, craft beers and a nice list of American wines. 1513 W. Alabama St., bistromenil.com
3. Taste at Seattle Art Museum (Seattle, WA)
Chef Craig Heatherington's hyper-local restaurant is an ode to the Pacific Northwestern bounty. Most ingredients are sourced within 150 miles of downtown Seattle, and seasonal menus include the likes of arctic char with arrowleaf spinach, nettle-ricotta gnocchi with fiddlehead ferns and mascarpone and maitake mushroom pizza topped with Beecher's cheese curds. 1300 1st Ave., tastesam.com
4. Terzo Piano at the Art Institute of Chicago (Chicago, IL)
Spiaggia's Tony Mantuano helms this café — which received a Michelin Guide recommendation — in the sparkling white modern wing, overlooking Millennium Park and Lake Michigan. Chef de cuisine Megan Neubeck makes everything from condiments to cocktail mixers in-house, as in a Terzo Mule with Valentine vodka and homemade apricot ginger soda. 159 E. Monroe St., terzopianochicago.com
5. Ray's and Stark Bar at Los Angeles Museum of Art (Los Angeles, CA)
The Patina Group's Joachim Splichal opened this Mediterranean bistro in 2011, and it remains one of the city's best tables — or bar tabs — with a view. Arne Jacobsen-esque seating overlooks Renzo Piano's Resnick Exhibition Pavilion, and Chris Burden's "Urban Light" installation sits just outside. Menu items are similarly bold, as in lamb shank pavé with smoked parsnip chips, rabbit-stuffed house-made agnolotti and wood-fired burrata pizza with green garlic pistou. 5905 Wilshire Blvd., patinagroup.com
6. Mitsitam Native Foods at National Museum of the American Indian (Washington, D.C.)
Richard Helzer's café within NMAI proves that you can get a good meal in the National Mall. Mitsitam serves foods native to the indigenous peoples of the Western Hemisphere, including smoked lake trout with pickled cherries and spring onions, and killer beef tongue tacos on fry bread. 4th St. and Independence Ave. SW, mitsitamcafe.com
This post is brought to you by our friends at MasterCard Priceless Cities
Read these museum stories on Food Republic: