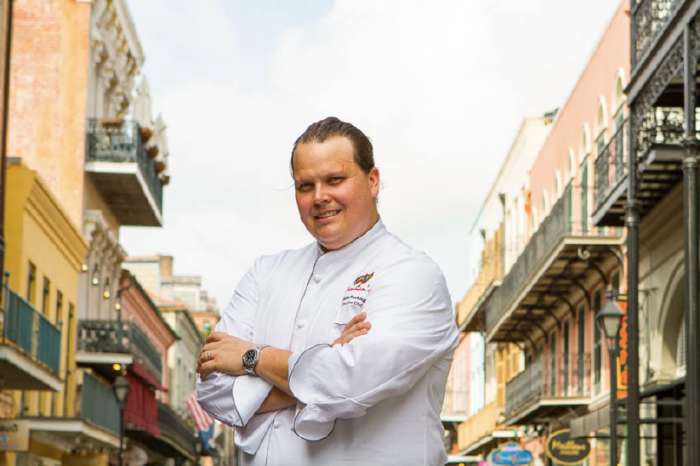 Prior to settling in New Orleans nearly a decade ago, chef Slade Rushing spent several years living and working in New York City. But he had never tried the fabled mutton chop at Keen's Steakhouse, the 130-year-old Manhattan institution, until now. "This is awesome," says Rushing, expertly slicing through the musky red meat. "To me, this is the perfect chef's meal. It's all about simplicity. You've got lamb saddle with sea salt, great jus and escarole that's been cooked beautifully. It really works. I'm just savoring every bit of it."
It seemed like the perfect setting to sit down with the out-of-town toque, who had traveled north to participate in a recent cooking demonstration. Few other New York restaurants so ably manage to pull off such crusty, old-school charm while still maintaining some degree of contemporary street cred — which is exactly what Rushing is trying to accomplish nowadays at the historic New Orleans restaurant Brennan's.
Perhaps best known as the birthplace of bananas foster, Brennan's, which dates back to 1946, reopened this past November after a massive renovation with a new direction under Rushing, who has sought to embrace and refine the restaurant's classic dishes but also update the menu for modern palates. Rushing came to the project after seven years of running his own restaurant, the acclaimed MiLa, with his wife and longtime cochef, Allison Vines-Rushing.
At Brennan's, Rushing has tried to bring a sort of "California French" approach to Creole cooking. "It's about clarity, refinement, clean food," says the chef, whose resume also includes stints at San Francisco-area restaurants Waterfront and Rubicon. The focus, though, is on local Louisiana-area ingredients, and the menu also hints at other cuisines, like Vietnamese. Consider the Palm Sugar Roasted Duck, brined in lemongrass, ginger, chilis and salt, then brushed with a blend of fish sauce and caramel and then brushed a second time with spices including black cardamom, Sichuan peppercorns, cinnamon and coriander.
Rushing's efforts to refresh the old French Quarter destination have already generated quite a bit of attention. In late March, the esteemed James Beard Foundation named Rushing one of five finalists for the coveted title of Best Chef South. The winner (for that region and many others) will be announced this coming Monday, May 4, at the foundation's annual awards gala in Chicago. "When I got the nomination, I was very thrilled," Rushing says.
Then, almost immediately, came the backlash. In a very pointed article published the very next day, Times-Picayune critic Brett Anderson dismissed Rushing's nomination as little more than a sham. Not because of his cooking, mind you. In fact, Anderson found the food "impressive" during his only visit to the Rushing-era Brennan's. Rather, it was more about the timing of the whole thing. The critic points out that hardly three months had passed between the date that Brennan's reopened and the day the Beard Foundation announced its initial list of award semifinalists. Given the wide national scope of the awards, Anderson questioned how many Beard voters had actually had the time to try Rushing's cooking at Brennan's and suggested that many likely cast their ballots based on his prior work at MiLa and Jack's Luxury Oyster Bar in New York. "The Beard Awards did a disservice to both its prestigious program and this talented chef by not allowing him adequate time to earn that honor at Brennan's," Anderson wrote.
---
"I don't mean to say this with a sense of arrogance, but I feel like the Jedi master is being picked on here out of the group that's being nominated."
---
Awards season is ripe for these kinds of controversies. Whether it's the Oscars, Emmys, Grammys or their culinary-world equivalent, the arbitrary nature of judging any artistic endeavor inevitably stirs debate about who's more deserving and who has paid the proper dues. And it underscores a fundamental question about what these awards are supposed to celebrate: Is it really about a spectacular singular effort? Or a body of impressive work produced over a career? Take the recent brouhaha over Beck Hansen's "Album of the Year" honors for his 2014 release, Morning Phase. How many music fans really prefer that album over the artist's earlier, and arguably more enjoyable, efforts like Odelay, Mellow Gold or even Midnite Vultures?
As a critic, of course, Anderson is well within his rights to call out an influential organization like the Beard Foundation for any perceived shortcomings with its methodology. That's his job. Rushing just isn't thrilled that it's his balloon getting popped in the process. "I'm nominated for this award, but I haven't enjoyed it," the chef says, "because of the controversy."
Rushing, of course, doesn't think there's anything premature about his nomination at all. "Qualifications were met," he says, citing the criteria that eligible candidates "must have been working as a chef for at least five years with the three most recent years spent in the region." On that point, Rushing is most adamant: "It's of the region, not of the restaurant. It's as simple as that."
Moreover, Rushing says, Anderson's criticism doesn't take into account the intensive six months he spent testing recipes, developing the menu, training staff and sourcing ingredients in order to reopen the nearly 400-seat restaurant.
Of all the Best Chef South finalists, a group that includes fellow New Orleans chefs Alon Shaya of Domenica and Justin Devillier of La Petite Grocery, Rushing says he's got the greatest track record. "I don't mean to say this with a sense of arrogance, but I feel like the Jedi master is being picked on here out of the group that's being nominated," he says. "All the other candidates from New Orleans used to come into my restaurant at MiLa all the time. They're friends of mine. No disrespect to them. They are super-talented. I love their food. But I am the one who's been in this new food scene in New Orleans the longest. I deserve to be nominated."
According to one online poll, at least, local diners seem to agree. An Eater survey conducted in the wake of Anderson's critical column found that 86 percent of respondents supported Rushing's nomination.
Adding an extra layer of intrigue to the whole drama is the fact that Rushing's wife, Allison Vines-Rushing, already has her own James Beard Award. In 2004, she was named a Rising Star for her work at Jack's in New York, where the couple ultimately served as cochefs. "She wants me to get one for myself," Rushing says. If he is envious of his wife's honor, Rushing isn't letting on too much. "Her award has been the best thing that ever happened to both of us," he says. But in a household with two ambitious cooks, you can easily imagine that adding a second medal to the trophy case would probably go a long way toward restoring any existing ego imbalance.
If Rushing does win the award on Monday, all this fuss just might make the victory seem that much sweeter. Or will it rekindle debate? "If it does happen," Rushing says, "I'll enjoy it."
Read more from New Orleans on Food Republic: