From Toast To Toast: How Chefs And Bakers Are Dead Serious About Browned Bread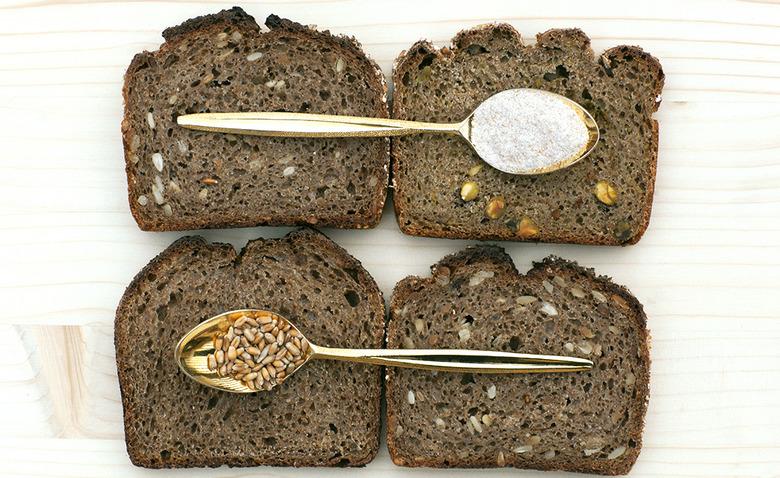 Sqirl in Los Angeles satiates hungry visitors with both sweet and savory variations on toas
Toast may not be new, but chefs, bakers and café owners from coast to coast are finding novel ways of presenting the childhood old reliable — at grown-up prices. And while the options popping up range from savory to sweet and from made-to-order to DIY, rest assured about two toast prerequisites: It will never be cold, and there will be butter. Or chocolate.
Chocolate ganache, olive oil and seat salt served with rustic white loaf at Chicago's Ada Street. Photo: Lindsey Becker.
The restaurant also features three or four savory options at any given time, including the debut menu's mainstay steak tartare with fried capers and a hen egg yolk — a deliberate move on Schor's part to encourage sharing at tables. Still, there is plenty of demand for an individual slice. Just ask Josey Baker at San Francisco's the Mill, where each $4 made-to-order slice means a wait time of at least five minutes. "People might think, 'It's just a piece of toast, how long can it take?'" he says. "But if you see how much of it we're making at any given moment — especially on the weekends — it's a lot."
While orders may be based on the toppings, like the house-made "Nutella" (cinnamon, sugar and Riverview Orchard Almond Butter), Baker confirms that the platform itself, which is made in-house from daily milled whole-grain flours, has always been — and always will be — the priority. "A slice of toast is only as good as the slice of bread out of which it's made," he says.
Patrons use tableside toasters to brown slices of bread to their liking at Baker Miller in Chicago.
At Chicago restaurant and flour-milling company Baker Miller, owner Dave Miller agrees that it's all about the bread. "It's less about making toast and more about getting the bread warm so that the crust crunches," he explains. "It makes it easier to taste the bread because the starches are being released."
Unless otherwise requested, the team places its trust in the hands of its patrons, who use tableside toasters to brown three slices of bread to their liking before choosing their toppings from a fleet of mason jars filled with house-made compound butters and jams. Canteen in Minneapolis follows a similar DIY approach on weekends, encouraging folks to select from local honeys, jams and butters for two pieces of bread sourced from neighboring bakeries.
"It's like going to a farmers' market and trying all of the products in one spot," says owner Liz Abene, who has daydreamed about serving toast after a 1995 experience at a Vancouver café left her with a baguette, several packets of peanut butter and cream cheese and interchanging bites of savory and sweet. "I just remember thinking, 'This is amazing — there are so many things I could put on this one baguette.'"
There are more than a half dozen savory sourdough toasts at Philly's Vernick Food & Drink. Photo: Stuart Goldberg.
It was time abroad that served as the toast impetus for Greg Vernick of Philadelphia's Vernick Food & Drink, as well. "I remember traveling through Italy on a budget when I was younger, and lunch was always grab-and-go and almost always some sort of toasted bread with toppings," he says.
Vernick consistently features at least half a dozen toasts, all of which are on half-inch-thick slices of sourdough bread that he seasons with olive oil and grills over hot lava rocks. The slices lean savory and act as a stage for appetizer-worthy fare, from fromage blanc with pickled ramps to Caesar salad with boquerones. Across the country, Sqirl in Los Angeles satiates hungry visitors with smoked whitefish or salmon and fromage blanc tartines — otherwise known as open-faced sandwiches, otherwise known as slices of savory bedecked toast.
Still, it was one of toast's most fundamental pairings — preserves — that served as the catalyst for the menu's toast category. "My mom was a single mom, she had a business and two offices and she'd often have to feed me in a very quick way — and a lot of the time, that meant toast and jam," says owner Jessica Koslow. "For me, toast is so nostalgic. It reflects being a kid again."
Ada Street, 1664 N. Ada St., Chicago, IL 60642; adastreetchicago.com
The Mill, 736 Divisadero St., San Francisco, CA 94117; themillsf.com
Baker Miller, 4610 N. Western Ave., Chicago, IL 60625; bakermillerchicago.com
Canteen, 3255 Bryant Ave. S., Minneapolis, MN 55408; canteen3255.com
Vernick Food & Drink, 2031 Walnut St., Philadelphia, PA 19103; vernickphilly.com
Sqirl, 720 N. Virgil Ave., Los Angeles, CA 90029; sqirlla.com
This post is brought to you by our friends at MasterCard Priceless Cities.
Now try out one of these toast recipes on Food Republic: