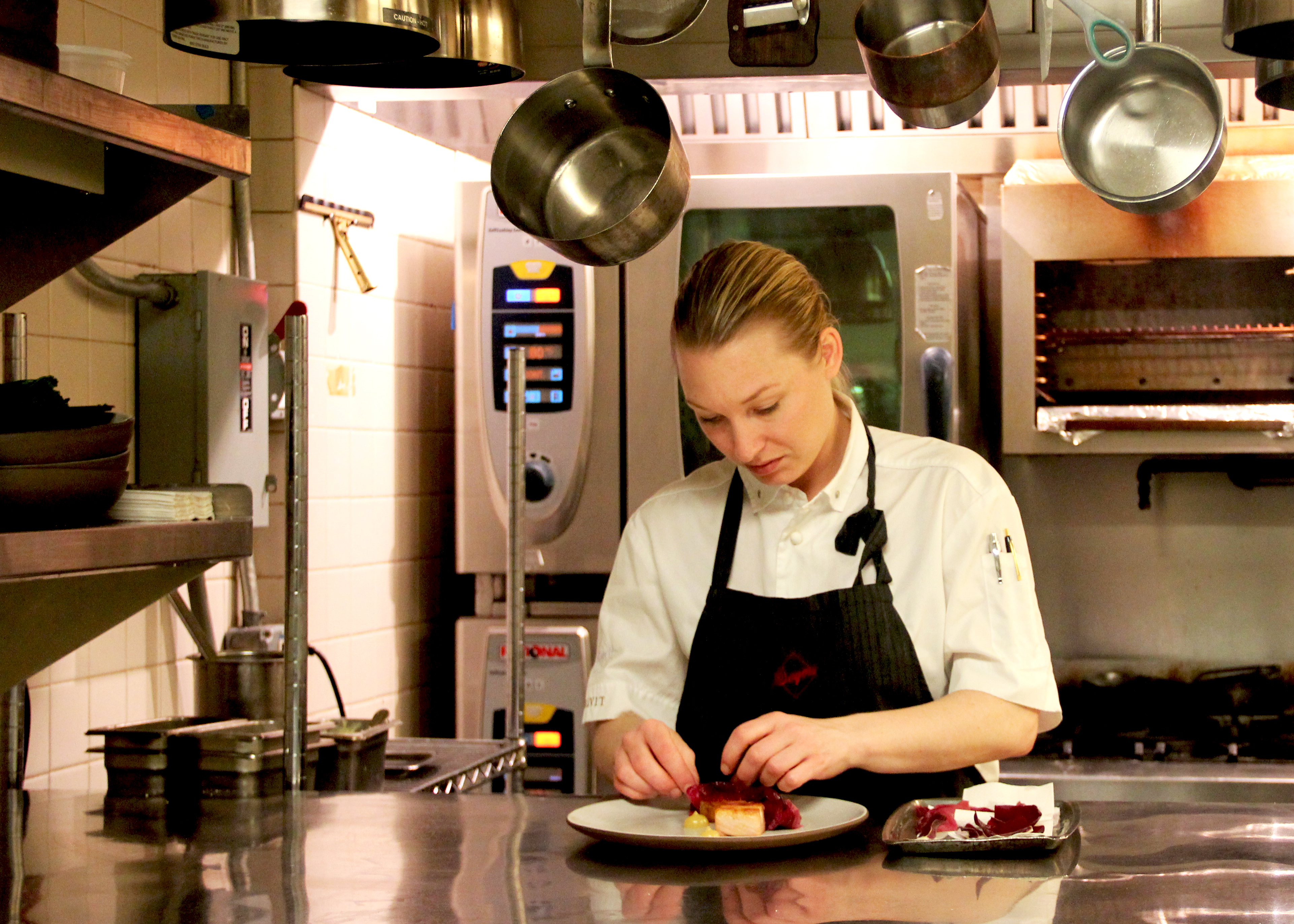 Emma Bengtsson is the executive chef of Aquavit, which has been open for close to 30 years in New York City's Midtown. Bengtsson took on her current role in spring 2014 after a four-year stint as the iconic Scandinavian restaurant's pastry chef. In October, her work garnered a second Michelin star for Aquavit, making her the second female chef in the U.S. to run a two-star kitchen. The Swedish-born chef recently traveled to Japan for the first time to visit the restaurant's Tokyo location and wrote in to us about her trip. 
I've always wanted to visit Japan. It's a country I kept hearing about, especially in regards to the culture and cuisine. So when I got the chance to travel there to be a guest chef for Aquavit Tokyo — working with the chef and kitchen team there, showing them my recipes, cooking and plating techniques — I didn't hesitate. I traveled by myself, but our director of operations, Yuka Abe, who is from Tokyo, showed me around and interpreted.
Aquavit Tokyo has been open since the fall of 2008. The exchange between the restaurant and our location in New York has consisted of sending over recipes with photos as we change our menu. But there are many things that can't be written down when it comes to recipes, as well as some differences in ingredients, equipment and seasonal availability, so there are always adaptations that need to be made. By being there, I was able to better understand what they are working with in the kitchen and to keep that in mind for sharing recipes in the future. Also, the chef at Aquavit Tokyo was able to work with me and see how I plate dishes and go through my processes so that he can better replicate them himself. Over the course of my trip, I was able to taste the dishes on the menu and acquire a better sense of the Japanese palate.
There are a lot of similarities between the Tokyo and New York Aquavit locations. If you walk into the Tokyo restaurant and sit in certain areas, you would think you are on East 55th Street; they are very precise in replicating aspects of the New York location! Even the furniture is the same as in New York, which surprised me.
Scandinavian cuisine is not very popular in Japan…yet! I think it's starting to come around. Of course, Noma recently had a pop-up at the Mandarin Oriental, and I'm sure that had a big impact on introducing the country to Scandinavian cooking. There are a few Nordic places around the city, but they are more on the homey, traditional side, so there is not much in terms of fine dining. What's so interesting to me is that there are already some similarities in our cuisines that make Scandinavian food appealing to the Japanese people. We are heavily focused on seafood and vegetables, as well as the pickling and curing aspects of the cuisine, which are very similar to what Japanese people are already accustomed to.
In Tokyo, I mostly dined out when I was not at the restaurant. The staff at Aquavit Tokyo exposed me to a lot of Japanese food: I ate whatever they put in front of me! There were a lot of bento boxes for family meals, which was really great and different from what I'm used to eating before service.
I really had only one free day to myself, so that was my exploring day. Yuka was able to show me as much as possible in one day: we went to the Imperial Palace, Meiji Shrine, Harajuku, Asakusa, Kappabashi (the kitchen district), Tokyo's Bowery, Ginza and Roppongi. It was just the beginning of cherry-blossom season, so it was beautiful to be able to see all the trees. That afternoon we went to a salt store where you can taste 300 different flavored salts, like green tea and wasabi. You can also order soft serve and top it with multiple salts of your choice, which we did!
One memorable excursion, which we took after one of the late dinners at Aquavit, was visiting the Tsukiji fish market. We were there by 4 a.m. to see the fish auction, which was incredible. After walking around the market for two hours, we had sushi, which made perfect sense.
In general, I was amazed by how clean the city was. There is not one piece of trash on the street…and no garbage cans! Everything is so organized, neat and orderly wherever you go. No one eats or drinks while walking on the street. The people are super-courteous, friendly and formal. Employees bow as they enter and exit department stores. I also found this courtesy to extend to the restaurant. The kitchen at Aquavit Tokyo is so organized and quiet. Even when there is a lot to do, it is so peaceful, which is really inspiring for me. We don't yell in our kitchen here, but it's still pretty noisy. After my experience in Japan, I want to change that.
When I ate out, I made it count. I went to L'Effervescence, which is a two-Michelin-starred French restaurant. I also dined at Narisawa, which was my favorite meal of the trip. Everything there was delicate, beautiful and full of flavor — even the snake. Yes, we ate snake, and it was delicious. I went to Esaki, a three-Michelin-starred restaurant, with some of the staff from Aquavit Tokyo. We had a low-key meal at Ginza Tenryu; the dumplings were fantastic. I was surprised by how many foreigners were working in the front of house at the Michelin-starred restaurants we visited.
I didn't have too much time for souvenir shopping, but I did buy five knives to bring home — three at the fish market and two more in the kitchen district. I can never have too many knives.
Read more Chef's Travels stories on Food Republic: