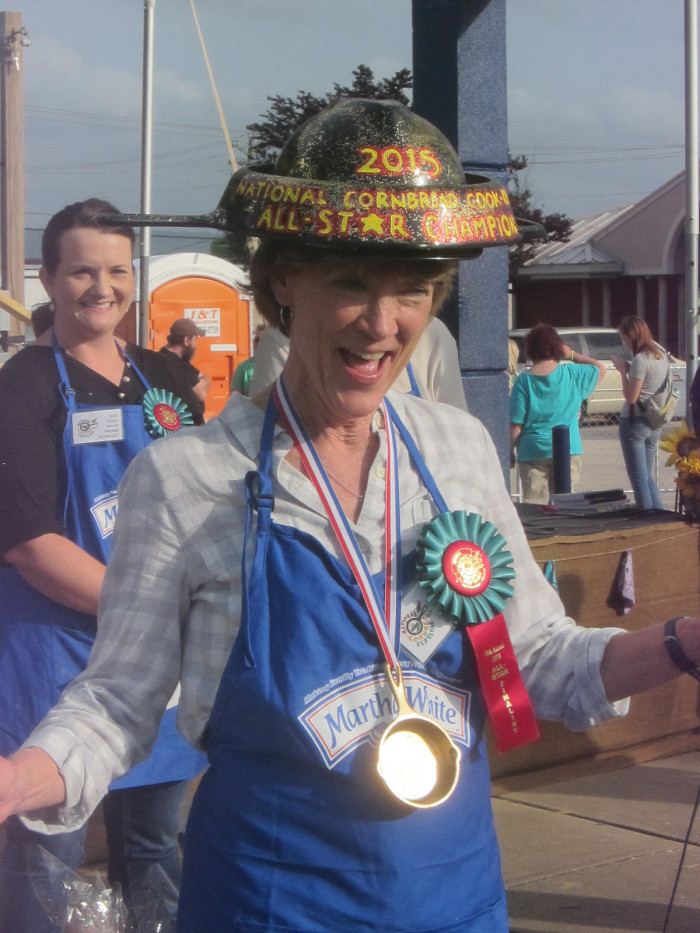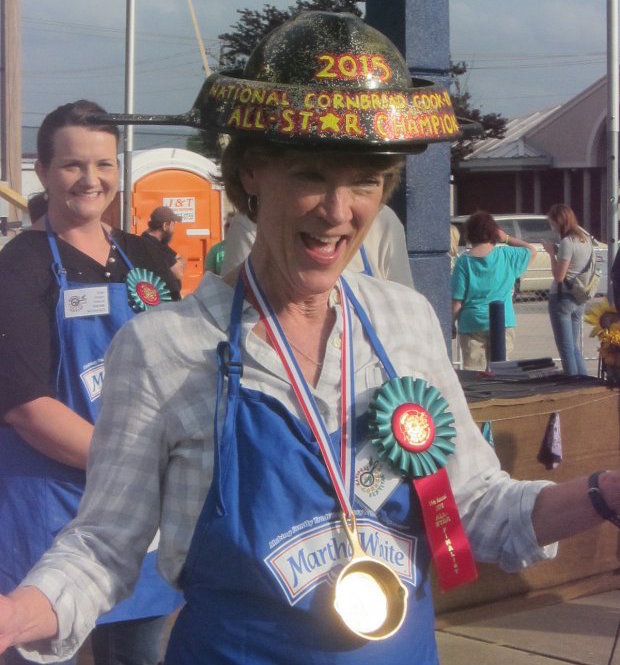 In the pantheon of iconic Southern foods, cornbread reigns supreme in the bread section of the holy cookbook. And any experienced cook should know that this glorious combination of cornmeal, eggs and milk is best cooked in a sizzling cast-iron skillet coated with bacon grease and baked until golden brown. It almost goes without saying that the pan of choice in most kitchens should come from the Lodge Manufacturing Co. and that the cornmeal ought to be Martha White brand.
So it's logical that when the time comes to crown the champion of the annual National Cornbread Cook-Off, the event takes place near Lodge's headquarters in the tiny East Tennessee town of South Pittsburg and that their cast-iron pans and Martha White Cornbread Mix are integral parts of the competition. This year, to celebrate the 19th edition of the contest, organizers invited ten past champions to re-create their award-winning recipes for a panel of professional writers, cooks and bloggers as part of the National Cornbread Festival.
Contest rules stipulate that entries must utilize at least one package of Martha White Cornbread Mix and be cooked in Lodge cast-iron utensils (a close reading of the regulations reveals that the use of alcohol as an ingredient is prohibited, which might have changed my mind about judging had I noticed in advance). The dishes were prepared in two heats of five cooks apiece, with each contestant allowed 90 minutes to work in a basic kitchen setup with an oven and stovetop.
All ten returning winners were women who had won the grand prize in past years ranging from 1998's Festive Good Luck Cornbread Skillet to last year's champion, a savory roasted tomato and bacon cobbler. Cornbread really is a versatile ingredient and appeared in unusual applications: as a bun to a spicy slider burger, as a cap to an onion soup gratin cooked in a Dutch oven and as corn cake "islands" floating in a bowl of roasted poblano chicken posole.
In the end, past was present as Knoxville, Tennessee, resident Karen Shankles took home the $5,000 grand prize plus a FiveStar range with the oldest recipe among the past champions. Her Festive Good Luck dish featured many ingredients that Southerners consider lucky to eat on New Year's: sausage, black-eyed peas and collard greens. The smoky sausage and rich greens swam in a pot likker-like broth that was excellent to soak up with the cheesy cornbread crust.
As soon as the judges finished up their deliberations, Lodge chairman Bob Kellerman crowned Shankles with the traditional bedazzled skillet corona and awarded her the cash prize in front of an assembled crowd of festival attendees. Clearly, the dish brought Shankles good luck, but if you don't want to wait until the turning of the calendar to try out the recipe, you can find it at the competition's official website.
Now try out these cornbread recipes on Food Republic: