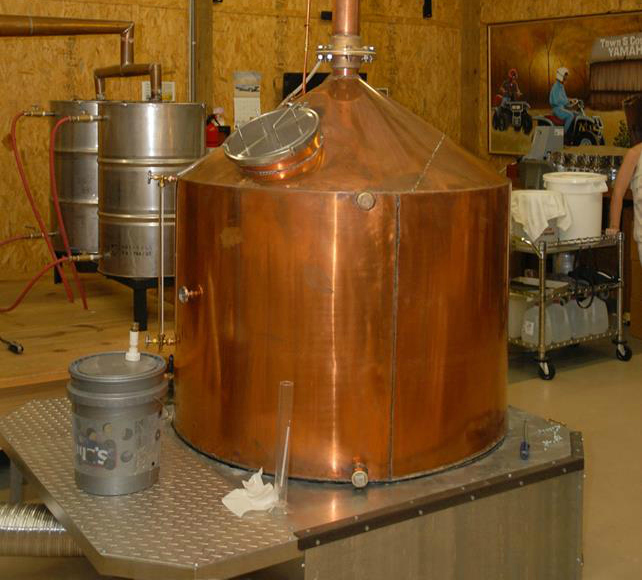 Note: A photo previously appearing with this story was taken at the Casey Jones Distillery, not Silver Train Distillery. Casey Jones Distillery is very much open for business.
Secrecy isn't the only reason that moonshiners traditionally hid their stills at the bottom of a holler somewhere deep in the woods. Safety was also a concern, since alcohol in vapor form is extremely volatile. Think about the flambé on top of your cherries jubilee that is the result of just a splash of liqueur ignited with a Bic lighter. Now imagine multiplying that amount of alcohol by, say, 100,000 times and heating it under pressure.
That's the unfortunate situation that two employees, second distiller Jay Rogers and assistant Kyle Rogers, of Silver Trail Distillery in Hardin, Kentucky, found themselves in when a major equipment malfunction led to a catastrophic explosion and fire on Friday morning. Rogers and Rogers were seriously injured by the incident and are being treated for burns at Vanderbilt Hospital in Nashville, Tennessee. Ironically, the explosion may have reduced the severity of their injuries, as it reportedly blew them both through the door of the distillery building and free of the conflagration that burned the facility to the ground.
Silver Trail opened in 2011, and its owner Spencer Balentine has been featured on Discovery Channel's Moonshiners. The distillery's flagship product was LBL Moonshine, named after the Land Between the Lakes recreation area where generations of Balentine's relatives cooked mash and ran 'shine before the Tennessee Valley Authority flooded the region to create two large reservoirs.
Silver Trail's other major release was a private label George Jones "White Lightning" Moonshine, named after one of the iconic country singer's most famous songs. Slated to be a core product in the moonshine tasting bar at the new George Jones Museum that opened just last week in Nashville, the spirit's release has been the subject of some controversy, since Jones struggled with alcoholism for most of his life. Now it looks like the museum might have to begin searching for a new supplier.
Distillery fires are not a new phenomenon in Kentucky, and they are rarely trivial. Burning alcohol can still flow like a river, and in 1996 a fire in a barrel-aging warehouse at Heaven Hill spread quickly and unstoppably down a hill on the property. The fire ended up destroying seven warehouses in total, plus seven other buildings, including half of the distilling facility. More than 90,000 barrels of bourbon were destroyed. However, the Kentucky bourbon business is largely family-run, and several other companies quickly pitched in to help out Heaven Hill as it recovered.
Brown-Forman and Jim Beam contributed excess production capacity (remember when that still existed?) to help distill Heaven Hill brands, and other companies offered warehouse space to store barrels during aging. Local distilleries are also quickly lining up to assist Silver Trail, and the Kentucky Distillers Association has organized a fund and an effort to raise money to help cover the costs of the two Silver Trail employees' hospital expenses.
See what's going on in Kentucky on Food Republic: