At Mourad, A Visual Matrix That Blends Morocco With Northern California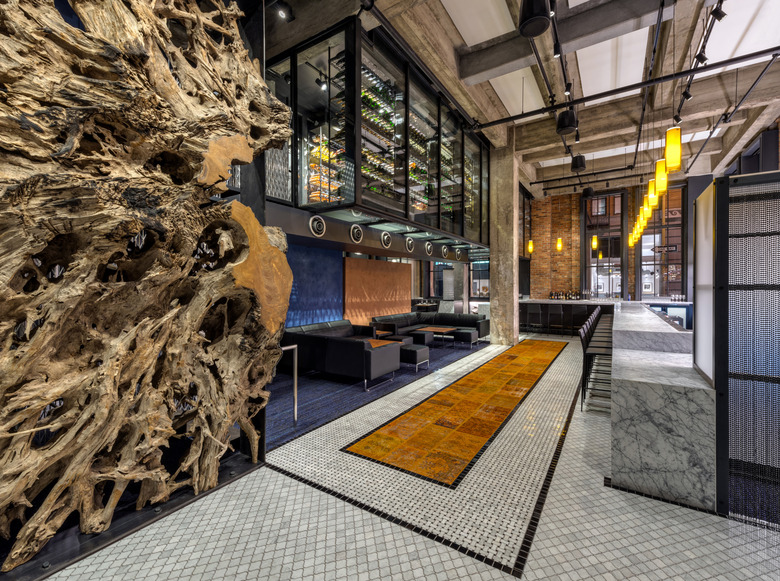 Welcome to Interior Motives, our new feature focusing on the design inspiration behind just-opened restaurants, food halls and bars.
The old PacBell Building, an Art Deco relic that was once San Francisco's tallest skyscraper, is now the home of Mourad, chef Mourad Lahlou's latest transporting restaurant. For his new SoMa endeavor, Lahlou — known for his distinct Morocco-meets-California cuisine at Aziza in Outer Richmond — turned to local firm Lundberg Design. Led by Olle Lundberg, the team, which perhaps most notably crafted Charles Phan's the Slanted Door, created a space rich with details that reflect Lahlou's contemporary cooking. Here, Lundberg describes the design process.
How did the project get off the ground? 
Mourad has been trying to open a new restaurant here for a couple of years now. Aziza is wonderful, but it's so far out there. I've always loved his food and thought it was incredible. We were introduced by Charles Phan and were obviously excited about the possibility of a new restaurant, so we did the conceptual design for one space that ended up not working out. Then this project from Wilson Meanie, the same developers of the Ferry Building, came up. The building has such beautiful bones, so we left the brick, granite, concrete and steel intact.
Tiles with geometric patterns are an homage to Morocco's extraordinary mosaic work.
What was the overall design concept?
I had never been to Morocco, but knowing Mourad and his food, I felt strongly that this was going to be a very personal restaurant. To pull that off I needed to understand where he came from, and so we went to Morocco for a week. It's not that we were designing a Moroccan restaurant, but the food he cooks is inspired by Morocco. So many of the spices and flavors he approaches are of his childhood. He wasn't trained in culinary school; he learned to cook at home. We spent most of our time in Marrakech eating street food and going to the night market. We ate all these amazing dishes, none of which are recognizable, like camel hump. It's so much more interesting than the Moroccan interpretation of upscale food.
We were looking to express both sides of him: Morocco and California, so we brought in Moroccan elements, colors, materials and influences in an abstract way. Mourad sees Morocco as a dream, but not particularly clearly, and he is inspired by it all the time. I wanted to capture that in our architecture through the use of things like screens, tiles and lighting. They are all driven by experiences I had there, yet none are literal evocations. People who expect traditional Moroccan design (and food) will be disappointed, but those who expect Mourad's genius will love it.
Who led the design and construction?
We don't see much difference between our architecture and interiors and do both. Ryan Hughes was the project architect, and our own shop crafted the signature pieces. But really, every person at the firm was involved with Mourad to some degree.
What was the vision for the different spaces?
We were very lucky that we had 18-foot-high ceilings and a lot of options in terms of manipulating the volume. It's L-shaped, so we came up with a floor plan inspired by Morocco, which leads from room to room without hallways, instead going from space to space on the edges of the rooms. It's very much a transition from one scale to another. This often happens in Moroccan architecture, where you'll see grand, large rooms with small, intimate spaces in between. For example, as you pass from the main dining room to the bar you are under a suspended wine bridge, a big, floating box that acts as a gateway to the next space, where the light changes. In Morocco there is a lot of artificial orange lighting, usually lit by incandescent bulbs through perforated fixtures. It's unique. We use LEDs here, but we tried to capture that sparkly, amber quality through our modern interpretation.
An 8-foot-wide and 14-foot-tall root-ball sculpture at the entry weighs 3,500 pounds.
What are some of the most interesting design details of the space?
We used a lot of different materials that are literally Moroccan, like tiles with geometric patterns, as homage to the country's extraordinary mosaic work, and old carpets that had been put back together as a patchwork quilt. We used plaster in two colors, one of which is the pink mauve that you see all over Marrakech, typically reinforced with straw, and the other is blue because Yves Saint Laurent's house there is an intense cobalt. There are also riveted aluminum gratings of shapes found in Moroccan architecture that serve as vertical screens, revealing it doesn't have to be just an industrial material.
Our shop made the enormous 8-foot-wide and 14-foot-tall root-ball sculpture at the entry that weighs 3,500 pounds. The edges are cut into a perfect rectangle and it's inside a steel frame. The cross-cut of the trunk is polished, so it's like the Buddha's belly: Everyone rubs it. It was designed just as a beautiful piece of art to act as a focal point, but it became personal to Mourad as a story about his own roots and how they have evolved and led him to this point.
Read more Interior Motives columns on Food Republic: