Canadian Whisky Takes A Dark Turn. For The Better.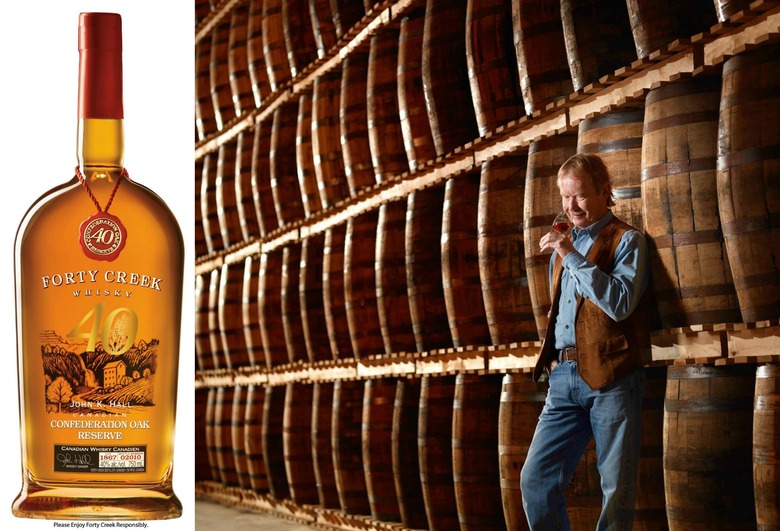 Welcome to Craft Beer & Spirits Week, when we take a look at some of the passionate producers, bars and people helping make our world a more spirited place.
For us Canadians, the end of the popular TV series Mad Men will be especially sad. We must bid adieu not only to the lovely Montréalaise Megan (played by actual Montréalaise Jessica Paré), but also to a prime-time slot starring our very own whiskey. Don Draper's drink of choice is Canadian Club, a blended Canadian whiskey that was popular in the 1960s. Seeing this dapper, brooding antihero sip our much-maligned whiskey on an all-too-regular basis has helped reshape the spirit's image — indeed, given it a much-needed makeover.
Canadian whiskey has long been perceived as light and rather insipid. Hence the pejorative "brown vodka" moniker. As a displaced Canadian, I'm painfully aware of the lackluster reputation that precedes our whiskey. It's not unfounded. Until recently, much of what was available outside Canada was rather ho-hum. I've learned, however, that Canadian whiskey's bad reputation is largely based on myth and misunderstanding.
So let's clear a few things up: Canadian whiskey must be made and aged in Canada for at least three years. Besides that, few hard-and-fast rules govern its production, and none state what grains should be used. Yet Canadian whiskey has long been known as "rye" despite not necessarily being made with 100 percent rye. Why? Early Canadian distillers began using a little rye to spice up their largely corn- and wheat-based whiskeys because, hey, a little rye goes a long way. These rye-spiced whiskeys got so popular that people came to call them simply "rye."
There's also the rumor that it contains neutral grain spirit. This rumor dates back to the 1980s, when the U.S. government offered Canadian distillers tax incentives to use American-made neutral spirit in the whiskeys destined for export to the States. Certain value brands took the deal, which was permitted under a rule that allows 9.09 percent unaged wines and spirits in Canadian whiskey. It helped them compete with U.S. brands, which can use up to 80 percent neutral spirit in blended whiskeys.
Finally, there's the stigma associated with blended whiskeys, which is traditionally what Canadian distillers have put out. Canadian Club and Crown Royal, neither of which are designed to thrill a true whiskey lover's palate, were once the archetypal Canadian whiskeys. But today, distillers are experimenting with single malts, sophisticated oak treatments and barrel proofs, resulting in whiskeys that are bold and complex.
Since Canadian whiskey first appeared south of the border during the Civil War, Americans have played a big part in its story. The U.S. is Canada's biggest whiskey customer, and many of the largest brands are owned by American corporations. (A few of the newer small brands are, too.) Now, driven by the American craft-spirits movement, microdistillers are emerging north of the border and changing the face of Canadian whiskey. Here are a few to seek out:
Caribou Crossing (left) is billed as the first single-barrel Canadian whiskey, while Stalk & Barrel (right) comes from Ontario's first microdistillery. 
Stalk & Barrel Single Malt
Barry Stein and Barry Bernstein were friends who teamed up to start Ontario's first microdistillery in 2009. Made from 100 percent malted Canadian barley, their single malt is fruity and woody, and clocks in at a hot 60.8 percent alcohol by volume. Take it with a splash of water, and its nuances will reveal themselves. Find it at Astor Wines & Spirits for $70.
Lot No. 40
Originally released in the 1990s as a revival of a recipe dating back seven generations, Lot No. 40 disappeared by the early aughts. Thankfully, it was faithfully recreated a few years ago. Pernod Ricard now owns the distillery that produces this 100 percent malted rye full of rich dried fruit with a zippy, peppery finish. Find it at K&L Wine Merchants for $55.
Forty Creek Confederation Oak
John Hall is one of Canada's craft-spirits pioneers. Since starting his distillery in 1992, his Forty Creek whiskeys have earned accolades on both sides of the border. This expression is particularly exciting because it's aged in Canadian white oak. Big and bold, it has a dry, spiced finish. Find it at Sherry-Lehmann for $27.
Caribou Crossing
The Sazerac Company, which owns more than 20 Canadian whiskey brands, released Caribou Crossing in 2010. Billed as the first single-barrel Canadian whiskey, it's made in a traditional style: creamy vanilla with a nice rye bite. Buy it at Mission Wine & Liquors for $27.
Alberta Rye Dark
Beam Suntory, which owns Canadian Club, has just released this whiskey designed for mixing into cocktails. The company's Canadian whiskey ambassador, Dan Tullio, prefers to call it "North American whiskey" because it contains a percentage of bourbon and a splash of oloroso sherry. The rest is Alberta-grown rye, resulting in a spicy, sweet spirit that packs an oaky punch. Buy it at Astor Wines & Spirits for $30.
Read more about craft spirits on Food Republic: