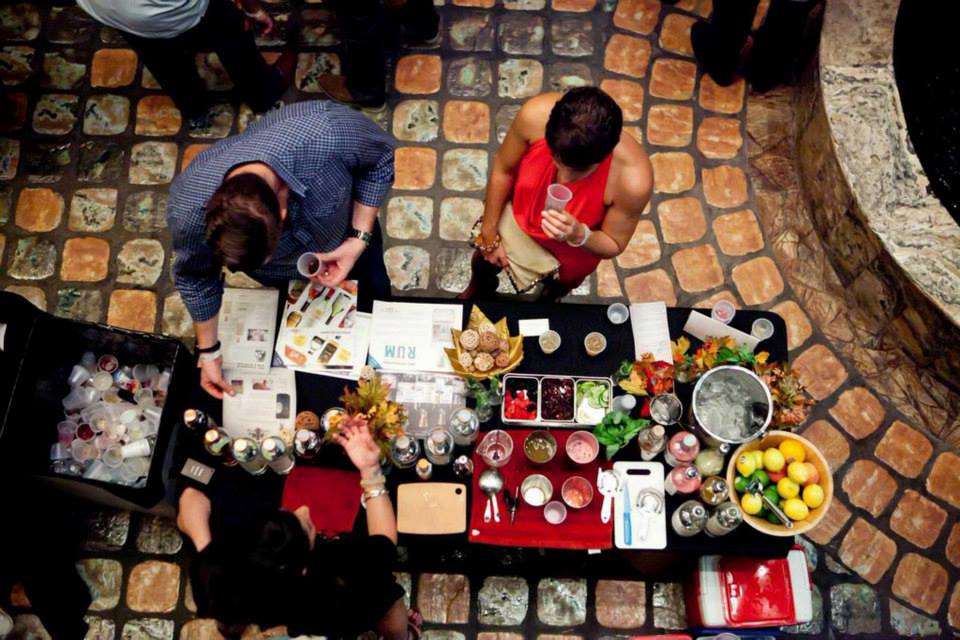 Welcome to Craft Beer & Spirits Week, when we take a look at some of the passionate producers, bars and people helping make our world a more spirited place. We asked writer and barman Naren Young for his take on the craft-spirits boom, and whether this current obsession has any downside beyond the usual morning-after effects.
The liquor industry is full of ambiguous buzzwords these days. No one really knows the difference between "super premium" and "premium" vodka, except that adding the "super" descriptor generally adds an extra $10 per bottle — for reasons that no one can quite explain, either. And when they're doused in soda or shaken into a cosmopolitan, no one can really tell the difference between Grey Goose and Absolut anyway.
Tito's, out of Texas, has always professed to be "handmade," although this preposterous term is now being disputed in court. Never mind that the manufacturer produces nearly 1 million cases annually, netting some $85 million in yearly revenue, as Forbes has reported. According to a lawsuit, the stuff is actually made "via a highly mechanized process that is devoid of human hands."
Other spirits claim to be "small batch," a phrase first introduced by the Jim Beam Company in the early 1990s with the release of Knob Creek, Baker's, Bookers and Basil Hayden bourbons. These are all very fine products, it should be noted, but the term doesn't have any legal definition in the production of American whiskey (or any spirit), as far as I know. A "small batch" can be as small (or large) as the producer desires, though the hope is that consumers will buy into the idea that the smaller the batch, the greater amount of care the distiller put into it and the better it will be.
"Artisanal" is another of my favorites. Don't even get me started on that one.
Unquestionably, though, the most common and  most ambiguous word being tossed around in the spirits world today is, of course, "craft."
What defines a craft spirit exactly? Well, according to an influential industry trade group, the Distilled Spirits Council of the United States (DISCUS), the deciding factor is the size of production. Under its definition, the craft category is limited to spirits produced in quanities no greater than 40,000 cases a year. A decade ago, there were only about a dozen craft distillers across the country. Now, there are more than 700. That's a staggering increase.
Producers who were around at the beginning of this vanguard (and even before, in some cases) include Anchor Distilling (whose Junipero gin is outstanding), Germain Robin (makers of expensive and remarkable brandies), Charbay (best known for vodkas, but the R5 whiskey and tequila are standouts) and St. George Spirits, which started Hangar One in San Francisco but now makes some of the most avant-garde and experimental distillates in the land.
Their perservance has been rewarded with a very receptive contemporary market. There is now an annual craft-spirits festival, currently heading into its third year this coming October in the Miami suburb of Coconut Grove, where consumers can try hundreds of craft spirits in one place.
There is also an increasing number of bars whose entire modus operandi involves stocking the back bar and fridges with craft spirits and craft beers. Some of these operators are trying to lower their carbon footprint, and the fact that many locally made liquors come from the craft sector just makes it all the more attractive. I have no problem with such noble intentions.
My issue with this ethos, however, is that just because a spirit is labeled "craft" doesn't mean it's any good. I've tried some remarkable craft spirits, and I've tried just as many that I wish had never made it past the development stage. The surging popularity of craft spirits has certainly created a great window of opportunity for a lot would-be craftsmen to enter the business. But sometimes you have to wonder how much time they've devoted to the craft itself before rushing a product to market while that window is still open.
A recent trip to Astor Wines, New York City's premier liquor store, showcased an enormous range of so-called craft spirits on display, dominated by gins, rums and especially whiskies. Most of these whiskies are made under contract, often secretly, at already established distilleries, mostly because starting such a business from the ground up is very expensive and takes a lot of expertise in distilling and wood maturation. The result, in some cases, is an inferior product that doesn't show the classic hallmarks of that category, and many are simply not aged for long enough in an attempt to get them out to market and sold.
I reached out to F. Paul Pacult, one of the world's leading authorities on spirits and a great mentor of mine, about the rise of bars focusing on craft spirits. He takes a very balanced view of the issue. "I salute beverage directors who choose to support local craft distillers, to a point," Pacult says via email. "They shouldn't do it blindly in a fit of chauvinistic allegiance and at the sacrifice of inventory quality. The bar owner must always make the call on offering the best spirits that they can, given their space, budget, clientele profile and concept. That said, the best and savviest bar owners are able to strike a balance between offering standard high-quality spirits (Tanqueray, Chivas Regal, Siete Leguas, etc.) and a tidy amount of local good-quality craft distillates."
In recent years, there has been somewhat of a backlash against the big names owned by the likes of Diageo and Bacardi in favor of smaller, craft products. Some outspoken bartenders have questioned the ethics and practices of these conglomerates (particularly in regard to their environmental impact), which has resulted in many bars refusing to stock their brands. It's a long and detailed argument that I certainly won't try to solve right here, but I will say that refusing to stock a big brand just because it's a big brand is nonsense.
Each and every spirit should be judged by what's in the bottle. If you have a problem with a particular brand because you don't agree with how that company conducts business, well, that's a completely different topic altogether. Should I not stock a wonderful, historic and iconic label like Tanqueray (arguably the bench mark in the gin category) simply because it is owned by the world's biggest spirits company? Of course not.
"People need to trust their palates and do their homework to figure out where spirits are really coming from," says renowned Chicago bartender Charles Joly, who has served for the past three years as a judge at the San Francisco World Spirits Competition, where an increasing number of spirits are entered each year that could be defined as "craft." Joly won a James Beard Award for his work at the Aviary, where he stocked a solid range of small-scale, locally produced brands. "There are some benefits to small distilleries," he says. "They can be more nimble, more experimental and produce smaller runs that aren't realistic for large producers."
However, the major brands still have experience and expertise on their side, Joly notes, and the quality of their products often reflects that. "American whiskey from the major producers is still the most consistent and well produced on the market, and the classic London Dry gins continue to be the gold standard," he points out. "On the other side of that fence, some major brands have definitely streamlined their processes over the years and sacrificed quality for efficiency. You can see this example in places like the largest tequila distilleries."
Of course, you don't need to be a professional spirits taster like Joly to know whether you like something or not. To the novice visiting a liquor store, it can be hard to filter through all those labels and the marketing jargon. You could do some research online before you buy (if you can be bothered). Or you can simply take the trial-and-error route. If you don't like what you've bought, you will know never to buy it again, no matter whether it's "craft" or not.