St. George Spirits Is America's Craftiest Distillery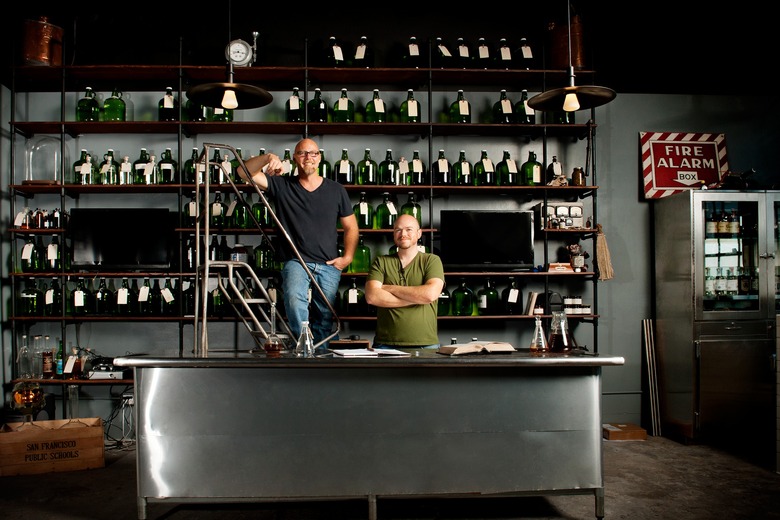 Welcome to Craft Beer & Spirits Week, when we take a look at some of the passionate producers, bars and people helping make our world a more spirited place.
Since its founding in 1982, St. George has developed a reputation as one of America's pioneering craft distillers — and easily one of the most entertaining to visit in person. The distillery is located inside a World War II airplane hangar on the charming island of Alameda, California, which gazes directly across the bay to San Francisco. Inside the massive 65,000-square-foot facility, amid many shiny copper stills, you'll find an experimental laboratory, where wacky and wonderful distilling projects hint at the next potent product in the pipeline.
If you're unfamiliar with St. George's history, it's a rich one, combining Old World craft with New World innovation. Decades back, founder Jörg Rupf, whose family has a history in distilling going back generations, moved to the Bay Area from Germany. He brought authentic eau de vie (fruit brandies) to the U.S., utilizing Northern California's rich bounty of cherries, pears, raspberries and the like, while simultaneously advancing the category with unusual fermentation techniques. "Jörg recognized the need to have a greater number of talented small distillers in this country in order to create a critical mass or a movement," says St. George master distiller Lance Winters. "He set about to train many of the folks that would make up the first wave of craft distillers in this country."
Over the years, St. George has expanded its portfolio extensively, from yearly releases of single malt whiskey to the groundbreaking absinthe verte to some of the best gins anywhere: Botanivore Gin, Dry Rye Gin and an unparalleled tribute to Bay Area botanicals, Terroir Gin. The label also makes a fantastically funky California Agricole Rum and a one-of-a-kind New Orleans-style coffee liqueur. Most recently, in keeping with St. George's history as creator of the original Hangar One Vodkas (which is now Hangar 1 and was sold to Proximo Spirits in 2010), the company just released a line of St. George vodkas this spring, which notably includes citrus and green chile-flavored varieties.
"Even though it's a category that we've been in for a decade and a half, the launch of the St. George vodkas provided us with an opportunity to create something new in the category, while still connecting with our roots as eau de vie distillers," says Winters. "It's been a chance to take a fresh, new approach to California ingredients that spoke to us but couldn't be turned into brandies." The California Green Chile, for instance, "just sings salsa fresca," he says, "while the California Citrus allows us to work with Valencia, Seville and bergamot to bring out the best of each."
This impressive breadth of products is due largely to the efforts of Winters, who has served as master distiller since 2010 after joining the company in 1996, and distiller/blender Dave Smith, who came on board in 2005. Their incisive, sharp sense of humor informs the spirit of the place just as much as their fearless innovation and honed palates inspire the range of offerings St. George produces. "Lance and Dave have created a great signature to all of the spirits that they and their team make," says Chris Lane, bar manager at Ramen Shop in Oakland. "There is a certain warmth in each of their spirits — not so much from [the alcohol content] but more from the intent behind the product; each has a cohesive feeling of welcome to it."
While the product lineup has expanded greatly over St. George's three decades in business, the company's mission remains largely the same. "The vision today is informed by the vision of the early days with Jörg," says Winters. "The focus is still on thoughtful selection of raw materials and shepherding them through fermentation and distillation to create a balanced spirit. That's classic eau de vie philosophy. Where today differs from the early days is that we apply that philosophy to so many more categories of spirit than just fruit brandy. Our single malt, gins, rum and vodkas would not be what they are without the application of that philosophy."
Consider past innovations like the sadly defunct Agua Azul, a wonderful agave spirit — tequila, essentially, except you can't really call it that since it's not produced in Mexico — and other ongoing lab experiments that don't make the shelves, like a foie gras vodka and wondrous carrot eau de vie. Craft-spirits fans should be thankful that there is a beacon like St. George, where the outlandish can occur but not without honed technique and a sense of balance.
"They pack so much flavor into things like the Terroir Gin, California Shochu, Green Chile Vodka and our own barrel of Baller Whiskey," says Lane, referring to a barrel specifically hand-selected for Ramen Shop. "Even a little hit here or there of any of these spirits can really wake up an otherwise drab cocktail. Half the challenge is not stamping out the subtlety that has already been created."
For all its history, St. George now finds itself in a great place amid the present-day drinking renaissance. "Right now is an amazing time to be us," Winters says. "I mean, it's always been nice, but right now, people's palates have really evolved. They understand nuances of flavor and aroma in ways they never have, which leads to them expecting more from their spirits. It's like everybody got tired of summer blockbuster movies and just started drinking indie films. La vita è bella!"
We'll drink to that.
2601 Monarch Street
Alameda, CA 94501
510-769-1601; stgeorgespirits.com
Read more about craft spirits on Food Republic: