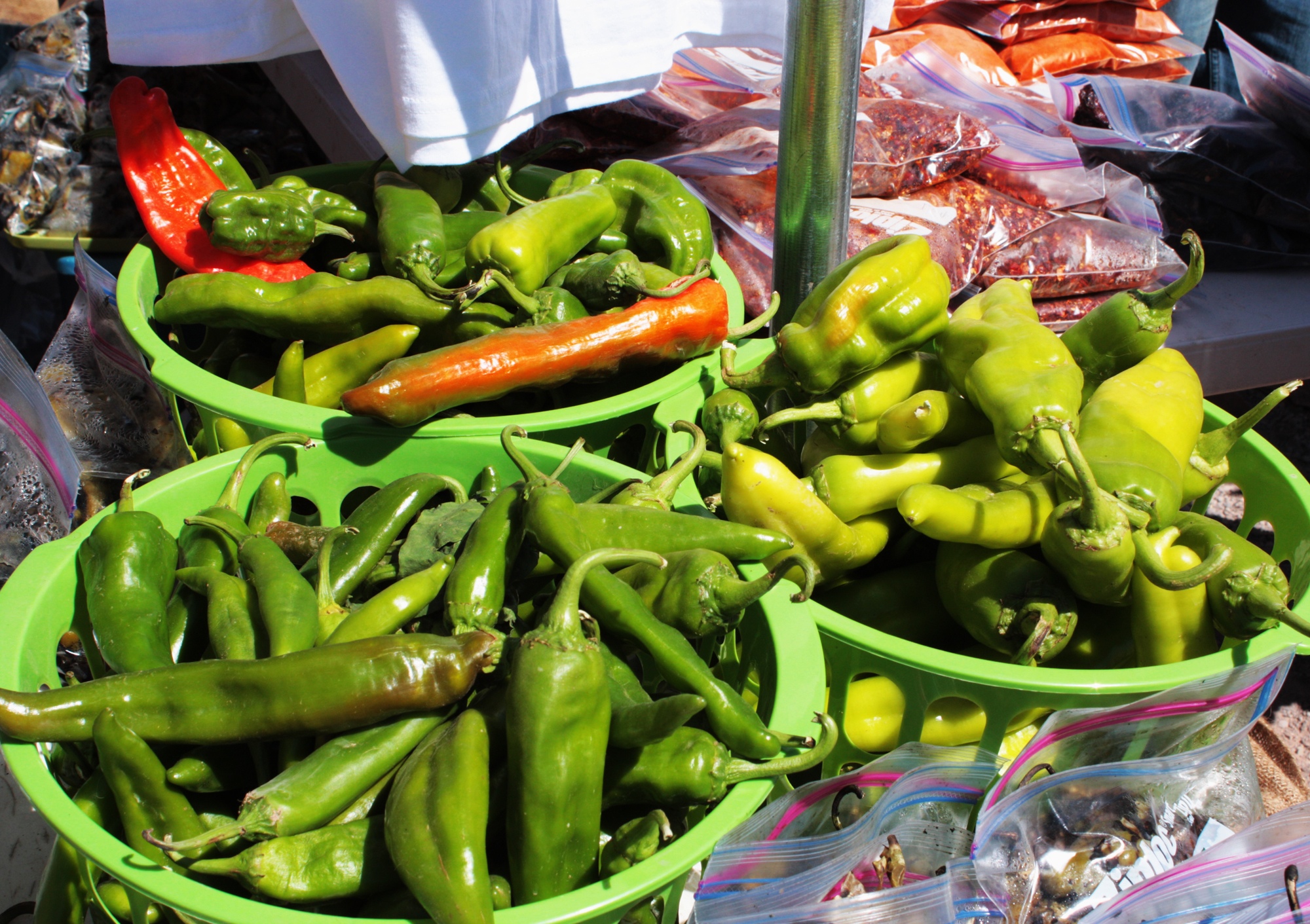 Don't get this capsicum confused with other green-colored chilies — there's a reason the New Mexican variant has such a cult following. They're spicy, meaty, bright and oh-so-flavorful, especially if you're lucky enough to score them freshly roasted. The lushness of the pepper really showcases that this vitamin C-packed ingredient is indeed a fruit. However you decide to consume them — simmered in a stew, atop a slice of cheese pizza or piled on a burger  — enjoy the overall juiciness these beauties exude.
Where it's from: It's easy to wax poetic about these meaty chilies, especially if you hail from the Southwest, where they grow. Traditionally you find them all over New Mexico, namely in Hatch, an area that has cultivated the chilies and made them their main business. Funnily enough, like Champagne, Calvados and Scottish whisky, true Hatch green chilies must be grown in a specific location: along the Rio Grande from Arrey in the north, to Tonuco Mountain, to the south of Hatch. But you can find plenty of other green chilies from surrounding regions that are just as good.
Ironically, even though the green chili is iconic to New Mexico, it's not a plant that is native to the region. Common lore tells us the chili pepper came to the area in the early 1600s with the Spanish conquistador Juan de Onate, who founded Sante Fe. While Onate failed at governing the settlement, he succeeded in make chilies a staple food for the people there. Since the plant took so well to the climate, soil, and humidity, it was quickly grown all over the territory.
Today you can easily find the chilies if you head to the Southwest region of the United States. There's even an annual Green Chili Festival in Hatch, a decades-long tradition that features the capsicum in everything from ice cream to popcorn to beer. Folks hailing from elsewhere can buy chilies already roasted and canned in grocery stores across the country, and some farmers' markets even sell them, albeit grown locally (but again, no less delicious).
When it's in season: In New Mexico and Colorado you can tell it's green chili season when the smell of the peppers roasting permeates the air. Of course, you can also go by the almanac and look for these beauties from the beginning of August to the end of September. They keep very well, so don't be afraid to stock up and store them. And in case there's any confusion, a red chili is from the same plant as the green (they've just been left out longer), so give those a try too.
What to look for: If you buy them raw, make sure the peppers are uniformly dark green, firm and have smooth skin. Any wrinkling or softness to the flesh means they aren't fresh. You can also find them roasted by the bushel. In that case, you'll want ones that are nicely blistered.
How to store: They last for about five days fresh in the fridge, but you can also freeze them in an airtight container, like Alex Figura, chef and partner of Lower48 Kitchen in Denver, does each summer. That way, you can enjoy flavor of fresh chilies all year long.
How to prepare: "I am not a huge fan of spicy food, but they add heat and smokiness in a good way," says Figura, who uses them in all sorts of applications. "You can stuff them with just about anything for chili rellenos, and they are a great addition to soups and sauces because of their subtle flavor." Figura suggests adding them to something as simple as a grilled cheese. At his restaurant, the chef serves green chilies with charred octopus and oxtail ragu, as well as a green chili broth with collard greens, pickled mushrooms and a fried egg. "Green chilies really take it to the next level," he says. "They add so much depth without overpowering other ingredients." Try them mixed with scrambled eggs, added to a salsa, gracing a gooey cheeseburger or even thrown in with some rice and beans. The possibilities are endless.
More eating globally on Food Republic: