Flavorless No More: How Craft Distillers Are Changing The Way We Think About Vodka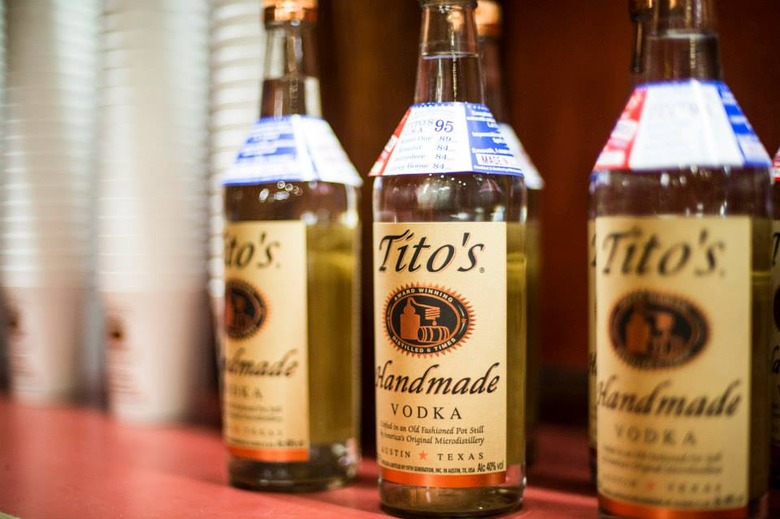 Tito's Vodka is a corn-based spirit made by the premier craft distillery in Tex
Welcome to Craft Beer & Spirits Week, when we take a look at some of the passionate producers, bars and people helping make our world a more spirited place.
It's one of the more memorable drinking scenes in a TV show that oozes booze: Don Draper, the antihero of the popular AMC period drama Mad Men, is about to pour a drink for a junior associate when a high-ranking executive quickly interjects: "Not the Stoli!"
The implication is clear. While a workplace libation is perfectly acceptable — and downright customary at a high-powered advertising firm on Madison Avenue in the 1960s — certain brands are simply too good to be wasted on lesser colleagues. Such is the case with a sleek imported vodka like Stolichnaya.
It's hard to imagine now, but back then, vodka symbolized a cool, modern European glamour that enchanted many Americans. The unfussy clear spirit didn't need to be mixed with laboriously shaken egg whites, nor woven into a libation tricked out with fancy garnishes. Instead, its beauty was illuminated through its simplicity. Whether enjoyed with club soda or in the form of a Moscow Mule sipped from a kitschy copper mug, the reputedly tasteless, odorless spirit was temptingly versatile.
Then, sometime in the mid-2000s, vodka's seemingly immutable star began to wane. Another golden era of drink-making was ascendant, and the bartenders pushing this movement forward craved bold flavors and imaginative vintage recipes, not the transparent marketing that fueled the vodka category. While the spirit remains America's most popular, and  "vodka on the rocks" shall persevere as a timelessly mainstream bar call, even bottles of luxe Grey Goose lost their luster among the cocktail cognoscenti.
That is, until craft vodka was born. Buzzwords like "boutique" and "artisanal" are now bounced around so liberally, it's hard to decipher their true meaning. But it's that same prevailing obsession with things like locally made chocolates, cheeses and pickles that spawned a similar passion for small-batch spirits — regardless of whether those things are any good or not.
One brand that has considerably shifted the perception of vodka for the better is Wisconsin-based Death's Door Spirits, abiding by a recipe that embraces local ingredients, including wheat from Washington Island and malted barley from Chilton. Vodka's supposed allure is that it's devoid of flavor, making it the perfect mixer. Comparatively, the Death's Door rendition is faintly redolent of vanilla. The subtle flavor enhances but doesn't detract from the spirit's neutrality.
Death's Door founder Brian Ellison came to the booze business from a career in land and economic development. He viewed it as a way to help resuscitate rural farms in the state. Today, with myriad "craft" distillers dotting the oft-confusing spirits landscape, Ellison says his customers are becoming savvier about what's in their bottle rather than caring only about what's on the label. "Craft vodka is not all craft," says Ellison. "People are starting to look under the hood and actually understand how the product is made and at what level it is truly 'crafted' or simply branded 'craft.'"
Standing out in the craft-vodka category is especially challenging, arguably moreso than with most craft spirits, Ellison says. "We face a lot of people who say, 'Vodka is vodka.' I always respond, 'That is like saying vanilla ice cream is vanilla ice cream.' Häagen-Dazs is not the same as Blue Bunny, and it's not just branding. Vodka is a challenge because, by definition, there is an expectation of neutrality. We want to create something that is unique, but neutral enough to have a clean favor and crisp mouthfeel."
And yet, within the greater craft-distilling industry, vodka benefits from some clear advantages, too. Many petite-sized distilleries look to America's deep whiskey traditions and turn out stellar bourbons and ryes. But that stuff takes years to mature, and therefore years to turn a profit. Conversely, vodka can be made from a number of accessible ingredients, whether it be grain, grapes or potatoes, and can be introduced to the market immediately because it doesn't require aging.
One the most successful brands to seize on this opportunity is Tito's Vodka. Made at the first licensed distillery in Texas, Tito's corn-based vodka has become such a hit and now moves so many bottles a year that it has virtually transcended the small-business descriptor that is so commonly associated with anything craft. Of the many other indie vodka labels now seeking to match Tito's success, some are seizing on the local trend to set themselves apart. Consider Colorado's Woody Creek Distillers, which grows its own heirloom potatoes, and Washington state's Bainbridge Organic Distillers, which uses wheat from Walla Walla and water from the Olympic Mountain range. There's also Michigan's Grand Traverse Distillery, which incorporates rye and glacial water from the Great Lakes in its True North Vodka.
Some craft distillers are even attempting to bring some authenticity to the clear spirit's most dubious mass-market subgenre: flavored vodkas. Long before Pinnacle put the spotlight on cloying flavors of whipped chocolate and strawberry shortcake, there was Napa Valley-based Charbay Distillery and Winery, known for its vodka made with the likes of real blood oranges and whole raspberries from Oregon's Willamette Valley. Instead of making predictable limoncello, the family-run distillery decided to use local Meyer lemons to make vodka, using a completely all-natural process of extracting the lemon, including its skins and essential oils.
"When we first released them in 1998, it was revolutionary to offer flavors that tasted like real fruit," says Susan Karakasevic, Charbay's cofounder and general manager. "It shook the vodka world and raised the quality benchmark. Suddenly, craft vodka stood out, and there was no going back."
Other distillers have sought to imitate Charbay's fruit-forward vodkas, and the marketplace has since been flooded with various cleverly packaged copycats — many of which, however, use artificial flavoring, according to Karakasevic. "As with many crazes," she says, "the focus gets lost."
As more producers refocus on the actual craft of vodka-making, though, the spirit has been shedding its inferiority rep. For years, there was a stigma attached to ordering vodka at certain cocktail bars. Some bartenders even refused to stock it among the bottles of mezcal and other obscure hooch. The scene is delightfully more democratic now. At New York bar the Up & Up, vodka soda is on tap, and head bartender Chaim Dauermann says the revival of top-notch vodka has much to do with a newfound predilection for the spirit.
"We are seeing an increase in vodkas that are meant to taste like something," Dauermann says, name-dropping Swedish-made Purity and Absolut Elyx as prime examples. "Vodkas created using craft methods, with a final product designed to reflect the qualities of the ingredients, are moving into the market and starting to take up intellectual space that was once reserved for inert vodkas that taste like nothing."
More on craft beer and spirits from Food Republic: