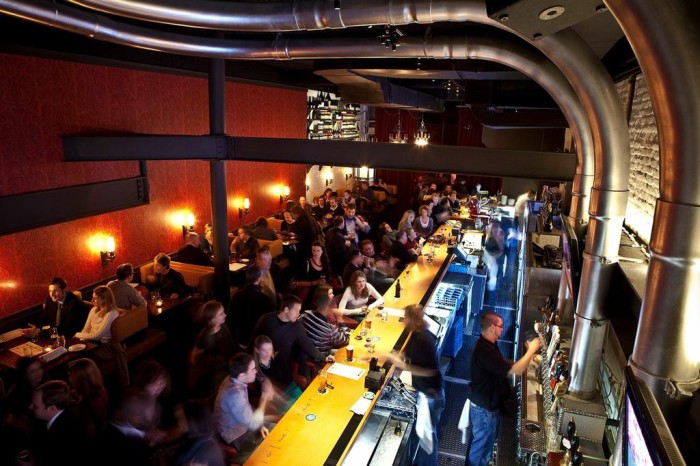 Welcome to Craft Beer & Spirits Week, when we take a look at some of the passionate producers, bars and people helping make our world a more spirited place.
It's time to host your own craft-beer summit in the nation's capital. In the past decade, the D.C. craft-beer scene's cup has runneth over as bars and restaurants continue to pump up their offerings. Though it used to be surprising to find boutique brews on draft, now it's more of a surprise if they don't rule the taps. With an abundance of microbreweries opening in and around the District, there are plenty of locally made options available. Oftentimes tough to find outside of the region, these area brews ensure your beer-drinking experience in Washington is a unique one.
1. The Arsenal at Bluejacket
Just a baseball's throw from Nationals Park in Navy Yard, this massive industrial-vibed brewery-bar-restaurant from the Churchkey team (see below) is a hophead's heaven. Beer director Greg Engert oversees the creation of more than 20 ever-changing brews on tap that span the spectrum, including five rotating cask ales. Last year, they created more than 115 types of beer, and their inspiration often comes from the unlikeliest of places. One series took its flavor profiles from doughnuts created by former pastry chef Tiffany MacIsaac. There was an imperial brown ale rich with the flavor of Nutella and a brown ale infused with the flavors of MacIsaac's maple bourbon bacon glazed doughnut. Another quartet of beers was aged in barrels that originally held bourbon and whiskey. Expect the unexpected here and you'll always be satisfied. 300 Tingey St. SE; bluejacketdc.com
2. Meridian Pint
At last count, this Columbia Heights watering hole had two dozen beers on tap, a pair of casks and nearly 100 beers available by the bottle. The list focuses on American craft beers, including some locally sourced options from Denizen's Brewing Co. in Silver Spring, Maryland, Mad Fox Brewing Company in Falls Church, Virginia, and Brewer's Art in Baltimore. There's even one made in collaboration with Ashburn, Virginia's Lost Rhino, Meridian Kölsch (don't forget the umlaut), a pale gold beer that's crisp, citrusy and light on the hops. There are choices from farther afield, including those by Brewery Ommegang, Sierra Nevada and Jolly Pumpkin, as well as a strong selection of artisanal hard ciders. 3400 11th St. NW; meridianpint.com
3. Black Squirrel
This triplex bar in Adams Morgan loves to give drinkers choices. Depending on whether you sit in the taproom, chill in the party room or hang out on the main floor, the draft options vary, but there are usually more than four dozen available. There are always tougher-to-track down kegs, including offerings from Great Lakes Brewing Co., New Belgium and Bell's Brewery. The bar's website has a complete, up-to-date list of what's being poured, so log in before you head out. Not sure if you want to commit to a full pint? Order a four-ounce glass to get a taste. In addition, there are two dozen bottles divided between domestics and imports. Oh yeah, and there's absinthe. Not like you'll need it after all the beer you'll be drinking. 2427 18th St NW; blacksquirreldc.com
4. The Bier Baron Tavern
This beer-centric Dupont Circle taphouse — what, the name didn't give it away? — is a required pit stop on any craft-brew crawl through the District. An intense 600 bottles are available from around the world, with another 50 options on tap. There are brews from around the globe and across the country, all helpfully divided by style to make your decision-making process easier. In addition, the deeply knowledgeable staff is always more than happy to talk you through what might work given your preferences. 1523 22nd St. NW; inlovewithbier.com
5. Birreria Paradiso
Located on the lower level of Georgetown's Pizzeria Paradiso, this subterranean spot offers over 250 options, including 16 taps, a rotating cask ale and twodozen hard ciders. Plenty of regionally produced bottles fill the fridges, including those from Flying Dog, 3 Stars, Heavy Seas, DC Brau and Lost Rhino. Helpfully, the bar's website lists the underground tavern's current selection and those that are on deck to debut in the not-so-distant future. Of course, there's also a strong selection of stone oven-fired pizzas. The beer tenders give good guidance on what cold one to pair with which za, ensuring your experience will be nothing like your college diet of Dominos and PBR. 3282 M St. NW, eatyourpizza.com
6. Smoke and Barrel
Beverage director Jace Gonnerman — who also oversees Meridian Pint — curates an admirable selection of two dozen drafts, another two dozen bottles and cans and a cask. Expect to find local favorites from DC Brau, Devils Backbone Brewing Company, Denizens Brewing Co., Flying Dog, Port City and beyond. If you're in the mood for something completely different, the Adams Morgan barbecue joint has wackier ways to whet your whistle. Hardywood's breakfast-approved Sidamo Coffee Stout and the rindy, tart Stiegl Radler Grapefruit have made appearances on the menu. So has Off Color Brewing's Dino'Smores enriched with cacao nibs, vanilla and graham crackers. Because desserts are always better if they come in a glass. 2471 18th St. NW; smokeandbarreldc.com
7. Brasserie Beck
Though chef-owner Robert Wiedmaier's K Street standard-bearer is beloved for its elevated Belgian pub fare, it's equally adored for its extensive beer list. There are nearly a dozen drafts and over 100 bottles and cans. Not surprisingly, the options are mostly of a Belgian persuasion or inspired by those styles. If you can't make up your mind, the supremely knowledgeable bartenders are generous with both their time and samples. A must-try is the house brew, Antigoon, which the chef created in collaboration with Brouwerij de Musketiers brewery in Ursel, Belgium. With a malty start and a rustic apple-cider finish, it pairs well with — non-shocker alert — moules frites. 1101 K St. NW; brasseriebeck.com
8. Churchkey
You could call him the sultan of suds. Beer director Greg Engert — who also masterminds the Arsenal at Bluejacket — set a high bar when this hoppy wonderland opened in late 2009 on 14th Street in Logan Circle. There are 555 hand-selected brews from around the globe, and we dare you to try them all. No, not all in one sitting. To ease newbies into the world of craft beer, the menu is broken down by flavor profile, like "Crisp Subtle Hoppiness," "Roast Soft & Silky" and "Smoke Subdued Smolder." Drafts come with a wealth of information, including the temperature it will be served at and the vessel it will arrive in. Geeking out is not only totally acceptable — it's actively encouraged. 1337 14th St. NW; churchkeydc.com
9. Right Proper Brewing Company
Showcasing yeast-centric beers from head brewer Nathan Zeender, the Shaw brewery-restaurant is worth a visit. These thoughtfully crafted beers change regularly but always include both milder and wilder options. On the former end of the spectrum, there's the hoppy Pacific Ocean Blue, with only 3.5 percent ABV. A stronger selection is the Range Life wheat beer, with hints of citrus and floral elements. Alongside the brewery's own brews is a carefully curated selection of outstanding outsiders. Expect to find plenty of pints from the Chesapeake watershed, including options from DC Brau, Denizens Brewing Co. and Atlas District, as well as hard cider from Millstone Cellars. 624 T St. NW; rightproperbrewery.com
10. Granville Moore's
This Belgian-accented gastropub in the Atlas District is known for its moules frites and beers, so come ready to dip, sip and slurp. There are usually approximately 100 imports from the land of Van Damme, a dozen Trappist beers and 20 drafts. A number of American-made, Belgian-style brews make an appearance, such as Moab Brewery's tripel and Ommegang's Hennepin. The tap turnover is quick, so keep an eye on the blackboards for the latest offerings. There may be a few secret menu items available as well, so make sure to be friendly with your bartenders — tipping well can't hurt, either — to try and access them. 1238 H St. NE; granvillemoores.com
This post is brought to you by our friends at MasterCard Priceless Cities.
Read more about Washington, D.C., on Food Republic: