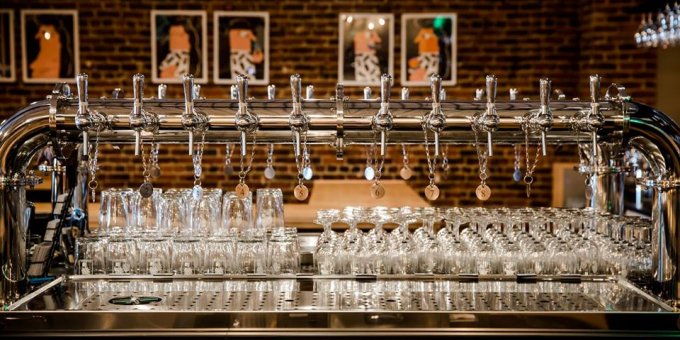 Welcome to Craft Beer & Spirits Week, when we take a look at some of the passionate producers, bars and people helping make our world a more spirited place.
You won't make it very far in the Bay Area without finding excellent beer, whether at local breweries or beer bars. While brewhounds from around the world regularly make pilgrimages to malt meccas like Sierra Nevada in Chico, Russian River Brewing in Santa Rosa or San Francisco's original craft brewer, Anchor Brewing, there are dozens of classics and newcomers opening every month all around the region. Here are 10 of the best destinations, plus additional recommendations to further your sudsy adventures while in town.
1. Fat Angel
One of San Francisco's coziest and most charming bars, Fat Angel boasts a stellar rotating selection of draft beers and rarities. Since opening in 2010, it has become a destination for wine and beer fanatics alike. Watch Facebook for updates on the venue's constantly changing taps and beer-pairing dinners. Fill up on a surprisingly excellent (and mountainous) kale salad, flatbreads and sherry-laced chicken potpie as you sit by the open window, overlooking the lovely Lower Fillmore neighborhood.      1740 O'Farrell St., San Francisco, CA 94115; fatangelsf.com 
2. Monk's Kettle
Monk's Kettle has been one of San Francisco's great (and intimate) temples to beer since it opened in 2007. It boasts 28 beers on tap and an encyclopedic beer menu of more than 180 bottles, and the staff is well educated and will steer you right if you convey your beer preferences or mood. Grab a sidewalk table (ideal during mellow weekday lunches) and order quality gastropub fare, like the beloved pretzel knots with cheddar fondue or cornmeal fried oysters. 3141 16th St., San Francisco, CA 94103; monkskettle.com
3. Toronado
Like the legendary biker dive Zeitgeist, Toronado is famous for its grumpy bartenders. But what makes this longtime beer bar actually worth it is the 45 or more constantly changing drafts. (Check out what's on tap before you visit here.) You can bring in sausages from neighboring Rosamunde Sausages, another local institution. (Pro tip: Try the duck, fig, brandy sausage). Enjoying both together in the divey, dingy Lower Haight bar, you can't help but think, "Toronado, long may you live." 547 Haight St., San Francisco, CA 94117; toronado.com
4. Hopwater Distribution
One of the coolest beer spaces to come along in years, Hopwater Distribution opened in 2014 in the so-called Tendernob (the borderline of Nob Hill and the Tenderloin). The historic brick space houses upstairs tables that gazing down over the bustling bar below and features 31 beer taps (a nod to California's status as the 31st state) with a wide range of rotating California drafts. Fill up on Dungeness crab tater tots, or attend one of the venue's regular beer dinners. 850 Bush St., San Francisco, CA 94108; hopwaterdistribution.com
5. Mikkeller Bar
On a sketchy Tenderloin block around the corner from Union Square, Copenhagen brewer Mikkel Borg Bjergsø opened the only U.S. location of his famous Mikkeller Bar in 2013 with Chuck Stilphen, founder of the Trappist in Oakland. The bar quickly became a destination for beer lovers from around the world. Its 42 taps showcase a rotating selection of American and international beers, plus two cask beers and an extensive bottle selection. There's also a sour room downstairs, featuring Lambic, geuze and other pucker-worthy brews. Try the house sausages, among other surprisingly excellent dishes. And don't miss the Mikkeller Tenderloin Series of house beers in collaboration with Mikkeller's Copenhagen brewery. 34 Mason St., San Francisco, CA 94102; mikkellerbar.com
6. Trappist
Intimate but expertly curated, the Belgian-inspired Trappist from Aaron Porter and Chuck Stilphen (and its sister cafe and beer shop, Trappist Provisions) has been Old Oakland's beer king since it opened in 2007. Located in a brick building dating back to the 1870s, the Trappist features 25 rotating taps and a 100-plus bottle list. Dine on house sausages or a Reuben filled with Perdition Smokehouse pastrami from the heralded Berkeley BBQ restaurant (another strong craft-beer source). 460 Eighth St., Oakland, CA 94607; thetrappist.com
7. Beer Revolution
One of the East Bay's best, Oakland's Beer Revolution has been packed since it opened at the beginning of 2010 near Jack London Square, thanks to its chilled-out vibe and outdoor patio. Or is it because of the 50 draft beers that change "hourly and daily" according to the website? Consider it beloved for all those reasons. The place doesn't serve food, but you can bring in food from neighboring establishments. 464 Third St., Oakland, CA 94607; beer-revolution.com
8. Biergarten
This Munich-meets-Hayes Valley beer garden, located in a parking lot, feels the most like Germany of any beer garden in town. Maybe that's because it's run by the German owners of long-beloved Suppenkuche restaurant, located just up the street. Under strewn white lights at picnic tables, locals fill up on bratwurst, giant pretzels and six rotating German beers on tap. It feels like one festive beer party. 424 Octavia St., San Francisco, CA 94102; biergartensf.com
9. Lost & Found
Opened one year ago, Lost & Found in Oakland sports 17 rotating California beers on draft (plus draft root beer for the kids) and is one of the most fun beer gardens around. The 7,000-square-foot patio is lined with plants and shrubs, and you can play corn hole and table tennis as you chow down on Thai curry popcorn and instant-ramen funnel cakes. 2040 Telegraph Ave., Oakland, CA 94612; lostandfound510.com
10. Liquid Gold
A Nob Hill arrival at the end of 2014, Liquid Gold (from owner Tim Lee) is a modern craft-beer outpost, intimate yet sleek, with a changing list of 30 mostly Californian draft beers listed on a flat screen above the bar. There is also wine on tap from locals like the Winery SF and a grab-and-go shop in back for take-home wine and beer. 1040 Hyde St., San Francisco, CA 94109; liquidgoldsf.com
And a few more…
Don't miss newer and notable San Francisco breweries like Cellarmaker, Fort Point Beer Company, Almanac, Pine Street Brewery, Barrel Head Brewhouse and Sunset Reservoir Brewing Co., or the excellent Rare Barrel in Berkeley, brewing only sour beers. There's also Oakland's Ale Industries, Diving Dog Brewhouse and Woods Bar & Brewery. Balance that with visits to longtime local brewers like the great Magnolia (the original Haight Ashbury and new Dogpatch locations), Speakeasy, Thirsty Bear, 21st Amendment, and of course Anchor Brewing. In the Mission, Southpaw BBQ brews great beers in house served with excellent 'cue, as does Bartlett Hall near Union Square.
More top-notch local beer bars include Church Key in North Beach, City Beer Store in SoMa, Amsterdam Café in the Tenderloin, Lucky 13 in the Castro, Shotwell's in the Mission, La Trappe for Belgian beers in North Beach and the Beer Hall on Polk Street. In Oakland and Berkeley, try the Hog's Apothecary, Westbrae Biergarten and Brotzeit Lokal.
This post is brought to you by our friends at MasterCard Priceless Cities.
More Bay Area stories on Food Republic: