G.L.A.S.S. Is A Game Changer For LGBT Booze Professionals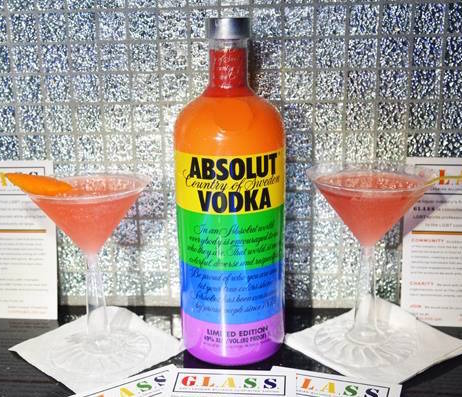 An Absolut sponsorship has helped G.L.A.S.S. expand rapidly to cities across
Welcome to Craft Beer & Spirits Week, when we take a look at some of the passionate producers, bars and people helping make our world a more spirited place.
On a recent night in February at Piranha, a gay nightclub in Las Vegas, the owner approached Cooper Cheatham, who had organized the event to bring together LGBT spirits and cocktail professionals. Piranha and Share, another Vegas gay bar, are something like rivals — usually the two sets of clientele do not mix, preferring to stick to their home bases. But that night, many Share loyalists showed up at Piranha, and the owner commented to Cheatham that it was a really surprising turnout. For Cheatham, it was a success, because his organization, G.L.A.S.S. — the Gay and Lesbian Alliance for Spirited Sipping — is all about creating community by bringing together the mixologists, brand reps and beverage directors who often feel marginalized in a heteronormative, male-dominated industry.
"I want people to feel comfortable being themselves — no matter where they are — and feel accepted," says Cheatham over cocktails at Manhattan's ABC Cocina, where two of his "G.L.A.S.S.-mates" are on staff, as the chef de cuisine and beverage director. "A lot of people feel like they have their straight life behind the bar and their gay life outside the bar. They feel isolated from coworkers, but they're so passionate about spirits, cocktails and hospitality."
Since 27-year-old Cheatham started G.L.A.S.S. a few years ago, it has grown so quickly and attracted enough attention that Absolut approached with a sponsorship offer, helping expand G.L.A.S.S. to cities across America, including D.C., Miami, Dallas and Austin. Now Cheatham is traveling around the country — with Absolut's sponsorship — building up local chapters at events, like the one in Las Vegas, that bring together LGBT beverage-industry professionals. He shows me a picture on his phone of a recent launch event, at Southern Efficiency in D.C., where Edible DC magazine editor AJ Dronkers had come dressed in drag as "Felicia Beefeater." Cheatham had also just thrown a launch event in Miami, at the Gaythering, a gay hotel.
G.L.A.S.S. was born out of a sense that LGBT-identified people were feeling isolated within the drinking industry. Fresh out of college, Cheatham first worked at the distributor Cooper Spirits. "I was still becoming confident with myself and my sexuality," he says. There was one other openly gay guy in that office, and Cheatham felt grateful for his presence. Very quickly, Cheatham began to see that the spirits industry was "very macho, male-dominated," even though there was a "sizable population" of LGBT professionals in it.
One day in 2012, he was having drinks with a friend and they were talking about the lack of an LGBT community within the industry. "She said, 'Start a Facebook group, and the rest will follow,'" Cheatham recalls. The Facebook page grew quickly, often delivering surprises — "You'd see someone on it and it was like, 'Wait, she's gay?' Which was cool," Cheatham says.
Chef de cuisine Ian Coogir comes over with a plate of guacamole and chips and off-the-menu maitake tempura, and gives Cheatham a warm hug. As we snack, Cheatham explains that G.L.A.S.S. is about more than just hosting events for its members. They also offer support to the broader LGBT community, such as volunteering as bartenders at fundraising events for organizations like the Ali Forney Center, which works with at-risk LGBT youth.
"We can provide nice drinks and a nice atmosphere to help events succeed," says Cheatham, who also runs a marketing and events company called Double Barrel Consulting, with clients like cocktail bar Death & Co. and microdistillery Three Hunters Vodka. He points out that it's good for brands' images to be known for supporting LGBT culture — it shows that they are progressive. Absolut Vodka, which was the first spirits company to run an ad in the magazine Advocate back in the '80s, was way ahead of the game in this respect, he says.
We are joined by Ann Marie Del Bello, who runs ABC Cocina's beverage program. As I sip my spicy whiskey sour, made with Widow Jane bourbon and Oloroso sherry, Del Bello explains that she originally learned about G.L.A.S.S. through chef Coogir. It had become "like a second family" to her as she transitioned from hanging out with friends she knew from college, most of whom had "corporate 9-to-5 jobs," she explains, to a social life with people in her industry. Del Bello sees her G.L.A.S.S.-mates as a support group, people she can bounce ideas off of or relax with over cocktails after a long Friday-night shift. "I've made some of my best friends through G.L.A.S.S.," she says.
Over the next few months, Cheatham will focus on using his Absolut sponsorship to build up local chapters and the national network. It's pretty difficult to imagine that it will be anything but successful, partly because a good turnout is basically guaranteed when people are offered an Absolut vodka open bar and a chance to meet people of a similar ilk, in terms of both career and sexuality, but also because Cheatham is clearly a mover and a shaker whose motives are authentic. As our conversation comes to a close, Cheatham excuses himself to head downtown to meet "a date that's not really a date." But then he delays leaving for a few more minutes, chatting about life in general with Coogir and Del Bello, proving that at its heart, G.L.A.S.S. is really about friendship. We share one last round of cocktails, and then Cheatham jumps on a CitiBike to go meet his not-date.
More drinking stories on Food Republic: