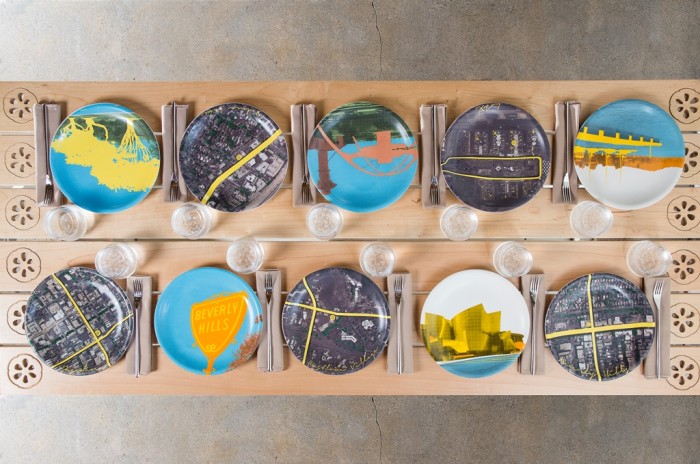 Southern California folks (and many tourists and Food Republic editors) relish their visits to Lemonade, Alan Jackson's upbeat cafeteria-inspired empire, for globally inspired dishes like lemongrass chicken spring rolls and banana caramel cream pie. In celebration of its newest outpost, on L.A.'s booming Sawtelle Boulevard, the eatery has unveiled a collection of 24 limited-edition plates featuring artwork by local designer Ilan Dei. The high-fired stoneware plates pay tribute to the different neighborhoods Lemonade calls home, like Brentwood and Newport Beach, through clever aerial views and vivid lemon- and aqua-hued depictions of landmarks, and are available individually or as a set.
"For me, the plates were a way to illustrate how each Lemonade location becomes a part of a larger, vibrant community," Dei explains. "We hope they will provoke conversation and empower people to take ownership of their barrio. Even though we're one big city, it's hard to define one style. The plates are a celebration of that diversity, with hints of the sun and weather unifying the graphics."
Some playfully showcase obvious symbols, such as the Rose Bowl in Pasadena, downtown's Walt Disney Concert Hall and of course the looming Hollywood sign. Others, Dei points out, "require more discovery. For example, in Toluca Lake we revived an old bookstore that was an iconic symbol only locals might recognize."
As a 25-year resident of Venice, Dei's favorite depiction is naturally of that of his own beachfront neighborhood, which puts the spotlight on lush palm trees and one of the stroll-perfect canals inspired by its Italian namesake.
Read more Los Angeles stories on Food Republic: