Does The Oxo Cold Brew Coffeemaker Really Make The Best Iced Coffee?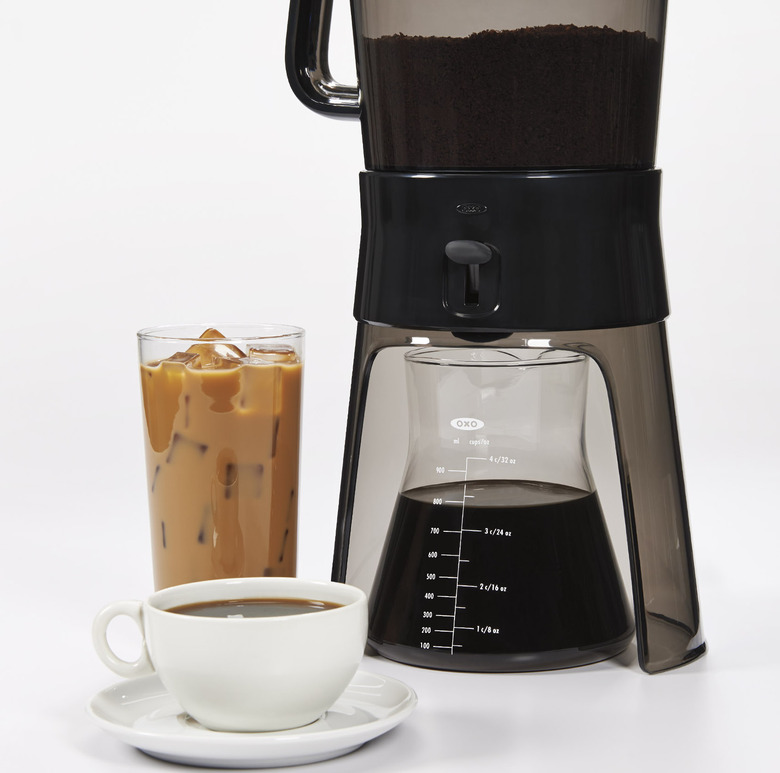 Oxo's three-piece setup provides a simple way to make cold brew coffee th
Like skinless franks and Mister Softee, cold brew is a summer staple. Far more than hot coffee diluted by ice cubes (don't do that), it's a highly caffeinated coffee concentrate, the result of steeping grounds in cold water for anywhere between 12 and 24 hours. Because hot water doesn't come in contact with the grounds, the resulting coffee is smoother and much less acidic (it's also quite strong and often needs to be diluted with equal parts water or milk, unless you like the taste of Pepcid AC).
Cold brew can be mixed up in everything from kitchen bowls to $100 gravity-assisted apparatuses with looping pipework that resemble moonshining stills. The new Oxo Cold Brew Maker is a simple, if towering, three-piece setup that consists of a plastic brew pitcher perched atop a plastic base and a 32-ounce glass beaker. One steeps the grounds in the pitcher overnight and releases the resulting brew into the beaker in the morning. Oxo's model has a few notable flourishes, like a "rainmaker" lid that the company says saturates the grounds better and a built-in mesh sieve for easy filtering. Is it worthy of your summer brew? We took the system for a jittery test drive.
Positive
The Oxo Cold Brew Maker doesn't try to overcomplicate a simple process. I made five batches — two with some Stumptown house roast and three with an Ethiopian blend I bought from a local shop. The setup yielded great cold brew every time — flavorful with heavy bottom notes and no hint of bitterness. The pitcher has that clever, perforated rain lid, which, while a bit superfluous, let the poured water drip evenly and, as every barista likes to say, "bloom" the grounds. The tiny metal sieve strained a sediment-free brew and pops out for easy cleaning. Despite being plastic, the tower is quite sturdy. I gave it more than a few bumps with my wacky, waving, not-so-inflatable arms when I wandered groggily into the kitchen in the morning, and it stayed stable.
Negative
While it was durable, the plastic worries me. Plastic has a tendency to leach substances, and also stain. Oxo uses high-grade plastic, but the setup might absorb the flavor of your dish soap in the long term. The brew release lever often sticks in the down position, making me worry that it might break with frequent use. Nitpick: The tower is a bit tall to keep on the counter and a bit large in general for something that only produces 32 ounces of brew.
Conclusion
The Oxo Cold Brew Maker is not so much a maker as a vessel in which to steep the brew. And it works. Does it have a few kinks? Sure. But it's a reliable means of whipping up some summer cold brew. No needless flourishes, no neurotic system of pipes. It makes coffee, plain and simple. $50; oxo.com
Check out these Tested columns on Food Republic: