Aaron Franklin On How To Order Texas Barbecue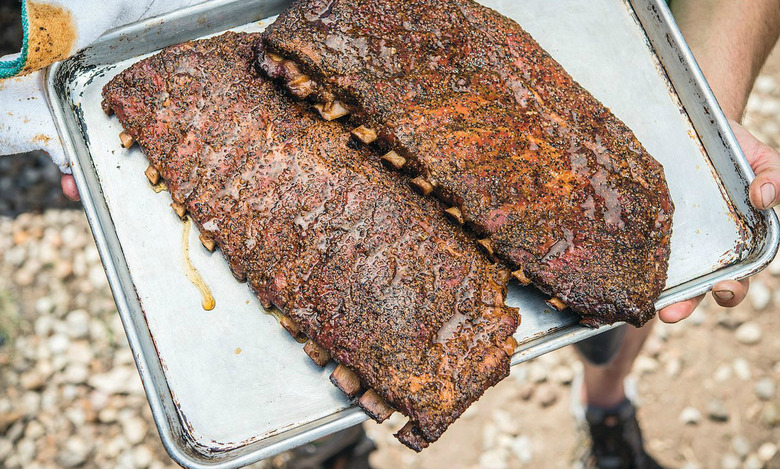 We may receive a commission on purchases made from links.
"What we do is salt and pepper and...fire," says pitmaster Aaron Franklin about the trademark Texas barbecue he sells out of his insanely popular Franklin Barbecue on the Eastside of Austin. People have waited up to four hours for his brisket, ribs and Central-Texas play on pulled pork, which can run out at the inhumanely early hour of 10 a.m. The parking lot has a football tailgate atmosphere, with barbecue fans bringing chairs and coolers of beer and the harder stuff to pass the time. Not all Texas barbecue spots are as busy as Franklin's, but many are visited by smoked-meat pilgrims looking for a taste of the Hill Country. Here, in an excerpt from his just-published book, Franklin describes the best way to order Texas barbecue, which is all about striking a balance between your eyes and your stomach. 
When you get up to the front of the line at Franklin Barbecue or any Central Texas joint, if you're a first timer, you may not know what you want to order. At our place, someone has probably already polled you in line on what and how much you're going to get, so it shouldn't be difficult. Also, we try to be friendly.
I'll admit this isn't the case everywhere, but I believe that wherever you go, you should get precisely what you want.
If you say you'd like some brisket, at most Central Texas spots, you'll be asked what kind and how much? You'll have noted that they sell by the pound and you'll be thinking to yourself, How many pounds can I eat? With such thinking, many people commit themselves to overordering. So, while it's fine to order a pound or a half pound, it's also acceptable to order one slice or two slices or whatever. In this day and age, everyone has a digital scale that can do the calculations, so it makes no difference to us whether you order by weight or by amount.
You'll then be asked what kind of brisket you want, lean or moist? At Franklin, that'll be lean or fatty. If you've read the preceding chapters of this book, you'll know that question refers to whether you want a slice of the leaner flat end of the brisket or the fattier point. It's your call. You're also welcome to ask for a piece that's heavy on bark or even something crispy, if they've got it.
Likewise, you needn't feel the pressure to order ribs by the pound. It's fine to order one rib or two ribs or however many you want. Same goes for pretty much anything else on the menu. Just order any way you want and don't let anyone tell you differently.
When I was really getting into barbecue, before I ever dreamed of having my own restaurant, I had a standard order when I went to visit places around Texas: half a pound of moist brisket and ribs, with a side of potato salad. I'd order a sausage only if it was made in-house, and I'd ask for the barky end piece off the flat of the brisket, if they had it.
Reprinted with permission from Franklin Barbecue: A Meat-Smoking Manifesto