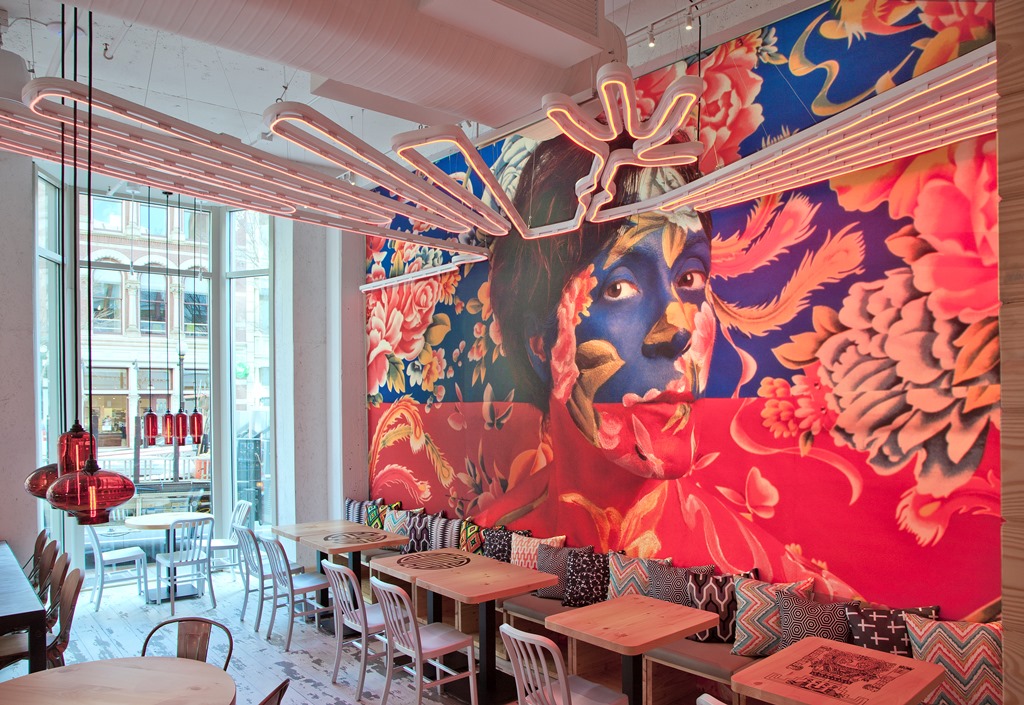 Washington, D.C.'s vibrant restaurant scene has been growing at a dizzying pace for the past few years — and it shows no signs of slowing down, as big-name chefs and promising up-and-comers alike have unveiled a flurry of high-profile projects this spring. Here are eight notable new spots to check out in and around the nation's capital.
1. Peter Chang
After being chased for years by chowhounds from restaurant to restaurant, and then opening eateries in southern Virginia and Atlanta, Peter Chang finally sets up shop in the D.C. area. Diners can feast on the specialties that made the once-elusive Szechuan chef a celebrated figure in contemporary Chinese cooking. Puffy scallion bubble pancakes, dry fried eggplant, mapo tofu and steamed pork buns all make an appearance. The dishes are often spicy, if not volcanic. So heed the chili-pepper icons on the menu, because the chef – thankfully! – doesn't downgrade intense flavors for American palates. Chang fans have more to look forward to in the coming months, as he is set to open another casual restaurant in Rockville, Maryland, later this year, and there is also talk of a fine-dining restaurant in D.C.'s Navy Yard. 2503 N. Harrison St., Arlington, VA; peterchangarlington.com
2. SER
The name is an acronym for "simple, easy, real" — and the moniker is well chosen. Chef Josu Zubikarai eschews pretension and fussiness in his dishes, instead focusing on memorable flavors and straightforward preparations that spotlight excellent ingredients. Seafood platters are a wise way to begin, showcasing arrays of oysters, shrimp, whole lobsters, octopus and a hearty jumbo lump crabmeat cocktail that proves that sometimes size does matter. For a more terrestrial kickoff, there are boards brimming with Spanish cheeses and charcuterie. Mains like salted cod and roasted suckling pig shine with an elegant ease. A carefully curated sherry selection is one highlight of the drink options, which also include sangrias, beer, wine and ciders. The well-lit Ballston space is brightened with pops of color wherever you look: butter-yellow banquettes, an azure chandelier and fresh flowers on the bar and tables. Very nicely done, SER. 1110 N. Glebe Rd., Arlington, VA; ser-restaurant.com
3. Stanton & Greene
A trio of partners from nearby Beuchert's Saloon and Sonoma has taken over what was once the Pour House on Capitol Hill and given it a 180-degree makeover. The triplex bar and restaurant has been restored to echo its golden years in the 1930s and 1940s, so there are subway-tile floors, pounded-tin ceilings and a marble-topped bar. Mixologist Erik Holzherr, who has a strong following at Wisdom and Church & State, developed cocktails inspired by the same era. Meanwhile, Sonoma's chef, Josh Hutter, puts out continentally concentrated cuisine, such as oysters Rockefeller and a classically executed lobster roll. Save room for his more-epic-than-epic double-patty Greene burger, featuring bacon three ways: ground into the beef, splayed on top and enriching the aioli. 319 Pennsylvania Ave. SE; stantonandgreene.com
4. Bistrot Royal
Chef Christophe Poteaux and his wife, pastry chef Michelle Poteaux, are the force behind this charming French restaurant. The breezy bistro occupies the original address of their well-loved upscale café, Bastille, which has relocated to a larger space nearby. The new place focuses on the standards. Savory selections include standout renditions of beef bourguignon, duck confit with a heady Madeira sauce, and moules frites, while the sweet side features profiteroles, pot de crème and crème brûlée. The rich red-and brown-hued interior is cozy and inviting. It's the kind of place where you want to nestle in with a loved one or a dear friend to catch up after a long day. 1201 N. Royal St., Alexandria, VA; bistrotroyal.com
5. Hälsa
This is not your average fast food. The name means "health" in Swedish, so don't expect to find French fries, deep-fried apple pies or cheeseburgers on the menu. Serving breakfast, lunch and dinner, the grab-'n'-go (or sit-'n'-chill) Nordic-leaning spot in the District's burgeoning Brookland neighborhood specializes in healthy fare made with locally sourced seasonal ingredients. Build-your-own meals include a protein (meat or vegetarian), a base (think mashed celery root, brown rice or greens) and a side, such as kimchi or pork-belly-amped potato-leek hash. A farm-fresh egg and fermented hot sauce are optional, but recommended. House-made bone broth, the hipster beverage of choice, is available, along with smoothies, tea and Madcap Coffee. 655 Michigan Ave. NE; eathalsa.com
6. Sotto
The subterranean space below sister restaurant Ghibellina on the white-hot 14th Street corridor has been refurbished and reborn as mini bar and restaurant Sotto. Chef Keith Cabot, who made a name for himself as the chef de cuisine of the now-shuttered Menu MBK, offers blue-ribbon American fare with a barbecue emphasis. The menu is divided into unconventional categories, including Sausages, Smoked and Not Smoked. Standouts are a slightly spicy Merguez link, beef brisket and roasted half chicken. This hearty fare pairs well with the classically focused cocktail program from Dan Barnes, who also oversees the bar at the upstairs establishment. 1610 14th St. NW; sottodc.com
7. Beefsteak
James Beard Award-winning chef, restaurateur and sometime-activist José Andrés has gotten into the fast-casual game. But this isn't Minibar to go. Despite doubling down on the bovine references in the name, vegetables take center stage (the tongue-in-cheek moniker actually refers to the tomato variety). Using the Chipotle-engineered build-a-bowl system, diners choose steamed and raw seasonal vegetables and then add a grain, sauces, toppings and dressings. If you must have meat, you can add salt-cured salmon or roast chicken. (Sorry, no beef!) Situated on the George Washington University campus, the corner chophouse embraces whimsy. White produce crates serve as light covers, while several walls are plastered in cartoons of super-powered veggies running amok. 800 22nd St. NW; beefsteakveggies.com
8. China Chilcano
It's been a busy spring for José Andrés. Besides the aforementioned Beefsteak, Washington's most famous chef also opened this Peruvian restaurant with Chinese and Japanese accents in Penn Quarter, just a few doors down from his pioneering tapas joint, Jaleo. The electrically colored and flamboyantly decorated space is divided into the Marketplace and Elements dining areas. There's also a raw bar known as Heaven, where ceviche, nigiri, sashimi and other remixed sushi styles highlight Peruvian ingredients. Like many of the Spanish-born toque's other restaurants, dishes are generally served as small plates for sharing. Come ready to drink pisco. The bar offers one of the nation's largest selections, including a number of varieties not available elsewhere. As they say in the Land of the Incas, "Salud!" 418 7th St. NW; chinachilcano.com
This post is brought to you by our friends at MasterCard Priceless Cities.