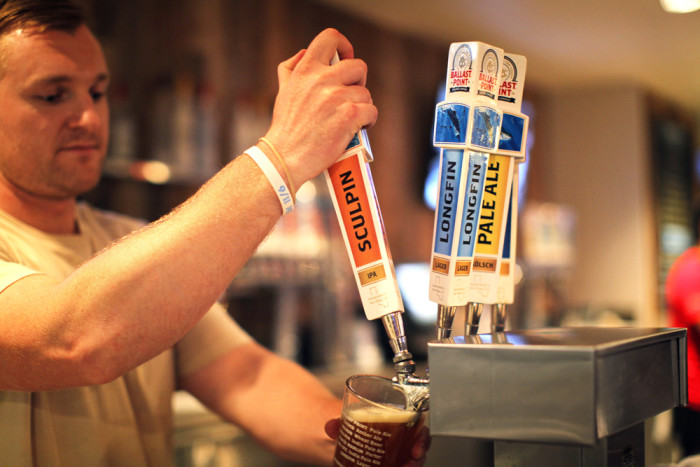 Nothing makes a day at the ballpark better than a nice cold brew. For decades, Miller and Budweiser have dominated ballpark taps, but now, as the craft-beer movement continues to spread its delicious tentacles across the country, concessions companies are upping their craft offerings to stay in line with national trends.  
Stadiums like Comerica Park in Detroit — where the craft-beer industry is booming outside the sports scene — were quick to jump on the bandwagon. Bob Thormeier, the venue's on-site general manager for Delaware North Sportservice (concessions), says he thinks the increased popularity and demand for pairing local brews with baseball has happened in part because "people are very cognizant of supporting local brands, stores, and businesses. They relate with local and are very willing to support the brands that they believe help the local economy." In 2013, the Tigers were one of the first in the country to install a dedicated "local beer" station in addition to the selections that can be found in the on-site restaurants and bars.
When it comes to assembling a noteworthy craft-beer program at a ballpark, several factors come into play. For the diehard fans, it's not enough to simply offer a few taps and call it a day. Concessions organizers must pay attention to quality, quantity and variety. Will the taps feature only beers that are made in the same state, or craft from around the country? Will they be available only in the bar areas or at regular concessions stands as well? What kinds of events and features can be implemented to make the park more of a formal "beer destination" than others around the country?
Seasonality also comes into play. "The craft-beer drinker is always looking for variety. What can they try at the game today that they did not at the last game?" Delaware North Sportservice general manager Chris Agne says of his work at Cleveland's Progressive Field. "We have found that variety is very important and having some seasonal beers on tap is very important. It helps you keep your selection fresh and the fan asking what is coming next."
The only downside to having great beer options at the park is the unfortunate price point. Where most macro brews will set you back $10 or more, craft beer costs a pretty penny more. While that doesn't dissuade the converted, it's likely one reason the Bud Lights and Miller Lights remain king when it comes to sales percentages. But with the demand for high-quality local brews not slowing down anytime soon, it's safe to say craft beer is here to stay, regardless of how expensive a pint is.
Here are our picks for the ballparks with the best tap lists.
1. Seattle Mariners
Every Friday, a local brewer kicks off an extended happy hour at The 'Pen at Safeco Field. The open-air bar, located near the home and visitor's bullpens, serves an assortment of beers from Washington, Oregon and other parts of the West Coast. In other areas of the park, more than 50 percent of the tap handles are dedicated to craft beer from breweries such as Full Sail Brewing, Deschutes Brewery, Ninkasi Brewing and Rogue Spirits & Ales. Last year, the park introduced two beer engines for cask-conditioned ales, a program that went over so well it's being expanded this year to the "Good Hops" area on the upper-deck concourse.
2. Cleveland Indians
Beer from Ohio's Great Lakes Brewery has long been a best-seller at Progressive Field, but variety is what makes the park's craft-beer lineup so impressive. With beers from New Belgium Brewing, Lagunitas Brewing Company, Flying Dog Brewery, Abita Brewing Company and Clown Shoes, about 83 of the 110 different kinds of beer and cider offered at the park will be from craft producers this year. A new two-story bar called the Corner will also open, featuring 40 taps (14 local) and disposable beer flights, a home plate-shaped carrying tray that holds four beers, designed so fans can carry them back to the stands.
3. San Diego Padres
Southern California has always been a hotbed for quality brewing, so it's not unusual to see a slew of regional IPAs on the menu at Petco Park, which has not one, but two beer gardens, sponsored by Escondido's Stone Brewing Co. (12 taps, upper deck) and Ballast Point Brewing Company (20 taps, garden level). At other craft-beer outposts found throughout the stadium, fans will find a total of 28 craft beers from the likes of Mission Brewery, Coronado Brewing Company and St. Archer Brewery.
4. Detroit Tigers
From the moment Michigan favorite Bell's Oberon was tapped at Comerica Park in 2012, Tigers fans haven't looked back. In 2013, the management set up a dedicated tap station for Michigan craft beer, and the options have only expanded since. This year, six beers from Bell's Brewery will grace the menu, along with the offerings from Founders Brewing Co., New Holland Brewing, Arcadia Ales, Atwater Brewery and Saugatuck Brewing Company.
5. Baltimore Orioles
It doesn't get much more local than at Oriole Park, where Maryland beer lovers will find a healthy representation from local Flying Dog Brewery and Heavy Seas Beer. Unlike other stadiums, there's also beer brewed fresh on site at Dempsey's Brew Pub and Restaurant, which is open seven days a week. Fans can also get their drink on at the Free State Pub, one of three concessions bars in the stadium that sells over 28 different craft brews, and a special rotating firkin from a local outlet sells out quickly every Friday.
Read more baseball stories on Food Republic: