The Best-Designed Coffee Bars, Roasters And Shops Across America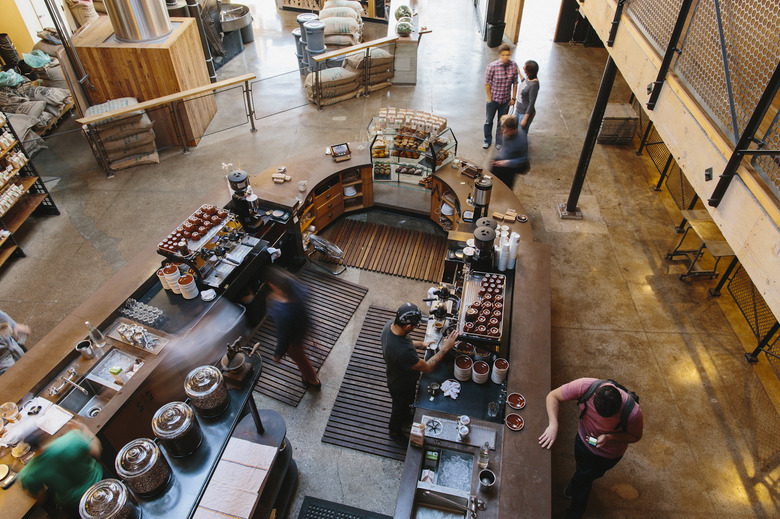 Yes, coffee is sometimes sipped solely for the caffeine rush it delivers. The soulless to-go cup purchased from a corner bodega, the iced latte glugged in a fluorescent-lit Starbucks. But when a coffee operation puts as much effort into its ambience as the drink itself, it's easy to see why people will linger until well after their espressos have drained. From a Philadelphia icon that doubles as a rum distillery to a onetime Nashville recording studio serving up baked strawberry cream-cheese doughnuts, these nine coffee shops are so damn good-looking, you won't want to leave.
No conversation revolving around Philadelphia's expansive coffee scene is complete without a reverent pause for Todd Carmichael and Jean Philippe Iberti's La Colombe Torrefaction. In addition to locations on its home turf, the café has sprouted easy-on-the-eyes outposts in New York, Chicago and Washington, D.C. None of them, however, are quite as striking as the newish flagship, set in a retro warehouse in Philly's gritty-cool Fishtown 'hood. The massive 11,000-square-foot space unites a full-scale bakery (biscuits and gravy with that pour-over is a win), cupping lab, creative offices and shiny rum-making operation set behind glass. Awash in wood and metal, the highlight is undoubtedly Lost & Found: Soy Milk, graffiti artist Stephen "ESPO" Powers's playful brick mural.
A good cup is almost always within reach in San Francisco, but few settings impress as much as Sightglass Coffee's 7,000-square-foot bilevel coffee bar and roastery in SoMA. Jerad and Justin Morrison, the brothers who run the sustainable-minded company, converted a circa-1920s sign-making shop into an industrial but welcoming hangout complete with blackened steel, concrete floors and a zinc-fronted counter. For a quality people-watching session, grab a perch amid the wood beams on the sky-lit mezzanine. Here, baristas will be pulling unconventional shots at the quiet geek-approved Top Bar.
Danny Hanlon and Tim Hayden were longtime baristas before opening Analog Coffee, the sequel to their well-received Seattle pop-up, so functionality was just as important to the duo as an alluring interior. Inspired by the clean, weathered aesthetic of both beach houses and modest Scandinavian design, this tucked-away Capitol Hill spot has a steel-and-wood bar that's perfect for settling in with one of the comic books begging to be opened and an Americano crafted from local Herkimer Coffee Beans.
Coava Coffee Roasters was born in founder Matt Higgins's garage and maintains a minimalistic sheen despite its growth. The first Southeast Portland location (a second, more intimate space has since been spawned in the nearby Hawthorne District) channels the area's stark vibe. With antique drafting tables and a bamboo-filled bathroom, this rustic ode to natural wood is more an artful showroom devoted to conscientiously sourced beans than a chaotic café.
Verve Coffee Roasters, based in Santa Cruz, California, is one of the country's most estimable, and now it gets the spotlight in flashy downtown Los Angeles, in the historic Primrose Design Building. The counters are made of pressed myrtle wood, the concrete stenciled floors flaunt patterns redolent of vintage amplifiers, and the denim-wrapped benches pay homage to the surrounding Fashion District. Operated in partnership with Juice Served Here, there's no more apt spot to detox on a cold-pressed concoction than the outdoor patio swathed in greenery.
Brooklyn's always-in-flux Williamsburg neighborhood is keen on giving new life to old buildings with lovely bones. The former meat-processing plant now home to Devoción, a Colombian coffee company that sources organic beans from small farms, is no exception. Beyond its roasting operation, the 3,600-square-foot space beautifully mingles wood, leather and brick for a clubby aura that is brightened by the presence of a skylight and a vertical garden studded with live coffee plants.
For two decades, Chicago-based Intelligentsia Coffee has been eliciting well-deserved accolades. Its slew of coffee bars, found throughout the Windy City as well as in New York and Los Angeles, are certainly good-looking, but the Logan Square locale takes the design to new heights with a wall of light-bearing windows, exposed white brick and an abstract map of the neighborhood dominating the back wall. In the center of the space is a gray-topped bar with a piercing blue face that matches the hue of the "L" in spitting distance. Surrounded by stools, it has an inviting diner feel that encourages interaction between curious guests and knowledgeable baristas.
Proving that size is not an obstacle to visual appeal is Huckleberry Roasters' sophomore effort, a demure, 700-square-foot space in Denver's RiNo District. The space is part of a unique development comprised of repurposed shipping containers cut and welded together, along with outdoor gear shop Topo Designs and the restaurants Cart-Driver and Work & Class. Owners Koan Goedman and Mark Mann softened the rough-around-the-edges feel with an abundance of Colorado-sourced beetle kill pine gushing a sleek shade of gray-blue.
Andy Mumma's Barista Parlor has long been an East Nashville favorite. Its sibling, located in the up-and-coming historic Gulch, is catching on just as quickly. With the help of the Black Keys' Dan Auerbach, Mumma resuscitated the Golden Sound recording studio and transformed it into a café, roaster and bakery churning out goods like imaginatively flavored cake doughnuts. The onetime music shrine's original sign still hangs, and a stash of vinyl provides old-fashioned entertainment, but the custom furniture filling the space has a decidedly futuristic slant.
Analog Coffee, 235 Summit Ave. East, Seattle, WA 98102, analogcoffee.com
Barista Parlor Golden Sound, 610 Magazine St., Nashville, TN 37203, baristaparlor.com
Coava Coffee Roasters, 1300 Southeast Grand Ave., Portland, OR 97214, coavacoffee.com
Devoción, 69 Grand St., Brooklyn, NY 11249, devocion.com
Huckleberry Roasters, 2500 Larimer St., Denver, CO 80205, huckleberryroasters.com
Intelligentsia Coffee, 2642 N. Milwaukee Ave., Chicago, IL 60647, intelligentsiacoffee.com
La Colombe, 1335 Frankford Ave., Philadelphia, PA 19125, lacolombe.com
Sightglass Coffee, 270 7th St., San Francisco, CA 94103, sightglasscoffee.com
Verve Coffee Roasters, 833 S. Spring St., Los Angeles, CA 90014, vervecoffeeroasters.com
This post is brought to you by our friends at MasterCard Priceless Cities.