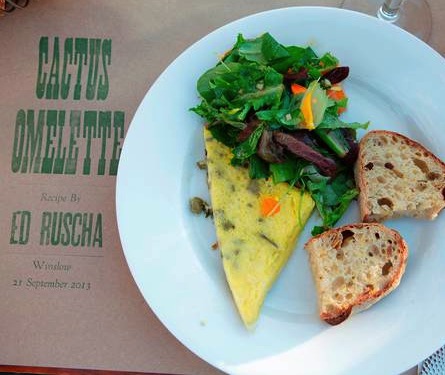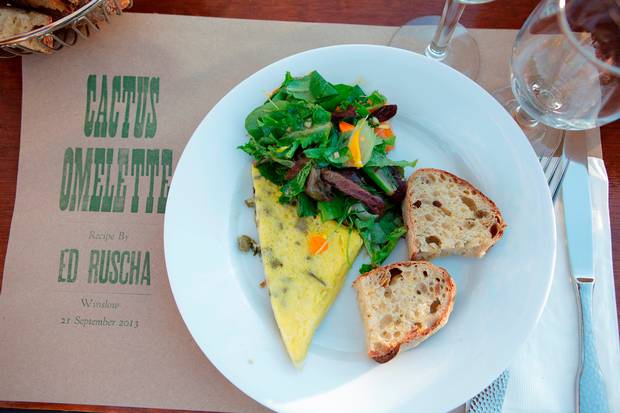 Welcome to the afternoon roundup! If it happened in food today, it's news to us. Here are a few stories that have caught our attention.
Fast Food: Children in the U.S. are eating less fast food. A recent study found that the percentage of kids eating fast food on a given day fell significantly between 2003 and 2010. The study concluded that the calories from some types of fast foods have declined as well, and that children are also visiting fewer pizza restaurants.
Groceries: Traditional grocers are increasingly losing market share — some 15 percent in the past 10 years — to competitors like smaller markets, convenience stores, farmers' markets and dollar stores. These groceries are looking to stay afloat by adding full-service restaurants, offering more services (by hiring skilled butchers or fishmongers), catering to millennials and increasing delivery options.
Art: Ed Ruscha, one of the leading lights of Pop Art, is contributing something unique (and edible) to a monthlong festival at London's performing arts center the Barbican beginning on June 27. Visitors will be able to sample a cactus omelette created by the artist; some of them may be served by U.S. multimedia artist Doug Aitken.
Donuts: Just days after announcing that the company was exploring the possibility of only using 100 percent cage-free eggs across the company's global operations, Dunkin' Donuts introduced several new additions to its breakfast menu. Items include a pretzel roll chicken sandwich with bacon, a steak wrap, a Southwest bagel and two varieties of cheesecake squares. So much for that short-lived pledge towards healthier living.
Easter: Time Out has compiled an impressive list of where to eat Easter brunch in New York City this Sunday. A number of restaurants are serving special prix fixe menus, and a wide range of cuisines are included.