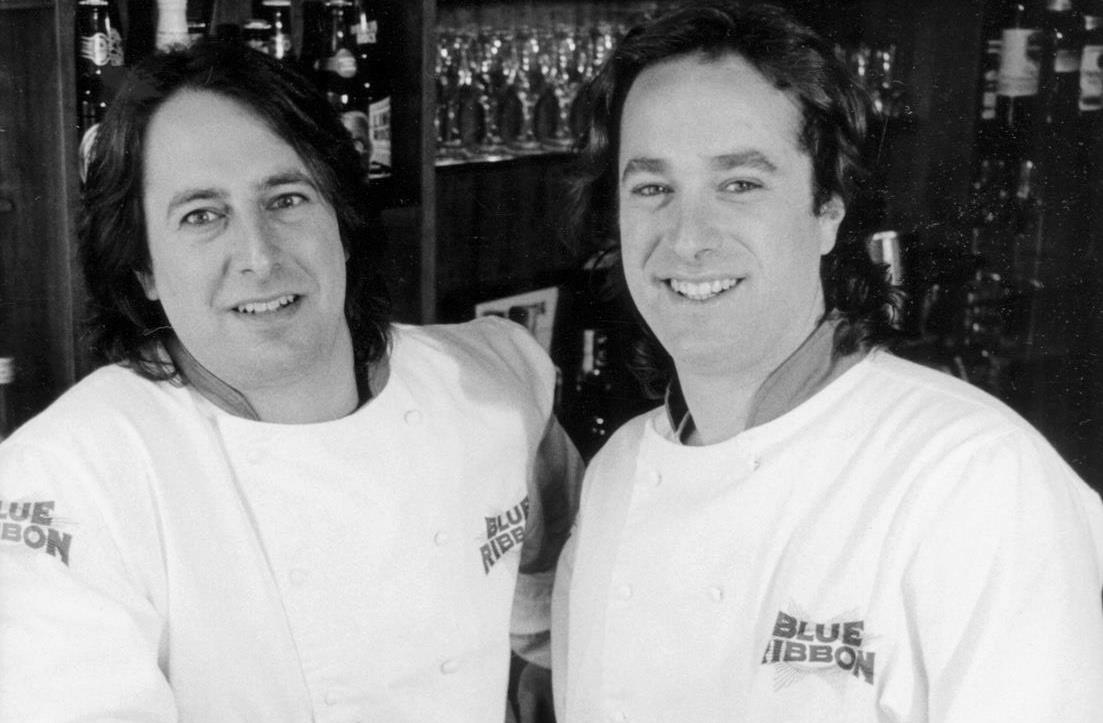 Family-run restaurants may not be as prevalent as they used to be, but if you look closely, family ties are still threaded throughout the industry. Beyond brothers Eli and Max Sussman, who have taken over Food Republic for today, there are a number of high-profile chefs and restaurateurs with siblings who are also highly involved in the restaurant world. Even if they don't work in the same kitchen, their common passion for food and service is undeniable. Here's a look at some of the more notable brothers and sisters who have been serving us sensational meals in recent years.
1. Albert and Ferran Adrià
Unquestionably the most famous of the Adrià brothers, Ferran has been called the world's most important chef, having served as the face of the hugely influential Spanish restaurant El Bulli until it closed in 2011. But it was his younger chef brother, Albert, who gets credit for coming up with many of the modernist institution's mind-blowing culinary techniques. As Ferran once told Food & Wine, "I've always said that Albert has had the great misfortune of being my brother. I sincerely believe he is the best cook I've ever known." Albert now runs his own restaurants in Barcelona, while Ferran focuses on his foundation and center for culinary innovation.
2. Joe and Paul Bartolotta
Paul made his mark as executive chef and partner at Chicago's acclaimed Spiaggia, for which he earned Best Chef Midwest honors from the James Beard Foundation back in 1994. Around the same time, he joined up with his brother, Joe, to launch a new restaurant group in their hometown of Milwaukee. The company presently oversees a fleet of fine-dining spots, fast-casual concepts and a catering operation. In a 2014 interview with Milwaukee magazine, Joe described his younger brother as "the culinary force," while he primarily handles the operational side of the business: "We've had a few issues over 21 years – we're Italian, we're passionate, we're independent thinkers – but first and foremost, we're brothers. It breaks my heart to see how many businesses crumble because people forget what's important – that brotherhood, family."
3. Bruce and Eric Bromberg
Beyond mere genetics, brothers Bruce and Eric Bromberg also have similar résumés. For instance, the both attended the prestigious Le Cordon Bleu in Paris and both spent time cooking at the American Hotel in Sag Harbor, New York. In 1992, the duo opened their first Blue Ribbon restaurant in Manhattan's SoHo neighborhood, which generated a lot of buzz at the time for its revolutionary no-reservations policy. They now operate more than a dozen restaurants under the Blue Ribbon name, with notable outposts in Las Vegas and London.
4. Benjamin and Max Goldberg
In 2003, older brother Ben opened his first place, Bar 23, an unusually fashion-forward spot for Nashville at the time. Since bringing his younger brother Max into the fold, the pair have rapidly become the premier restaurateurs in Music City, with notable locations including the Catbird Seat and Pinewood Social. As Max told Food Republic's own Chris Chamberlain in a 2013 interview, "I couldn't pass up the opportunity to work with my best friend in my hometown. Benjamin is the real restaurant visionary, and I can't imagine working with anyone else."
5. Allison and Corwin Kave
Corwin was the executive chef at Asian-inspired New York barbecue restaurant Fatty 'Cue and has since helped develop menus for other NYC restaurants, as well as a New York-themed restaurant in Moscow. (Read our 2013 interview with Corwin here.) His sister, Allison, is the founder of the made-to-order pie company First Prize Pies and recently helped launch the unique dessert and craft-cocktail bar Butter & Scotch in Brooklyn.
6. Joseph and Thomas Keller
Thomas, of course, is the famed proprietor of Napa's renowned French Laundry and a number of other high-profile restaurants, including New York's Per Se. His older brother, Joseph, once worked as the private chef for Prince Satam of Saudi Arabia and later operated his own restaurants in Florida and Las Vegas. In 1998, the brothers Keller partnered to open the very French restaurant Bouchon in Yountville, California, a concept that has since spun off several outposts. As Thomas told Food & Wine at the time, "We're both believers in organization and preparation. Our mother taught us that no matter what you do, you do it the right way."
7. Brian and Keith McNally
Originally partners, this pair of restaurateur brothers opened the pioneering New York bistro Odeon back in 1980. Three years later, the duo went their separate ways. Brian went on to open his own places, including the popular Vietnamese restaurant Indochine and onetime celebrity magnet Canal Bar, before ultimately decamping to Vietnam. Meanwhile, Keith became one of the city's most prolific operators (Balthazar, Pastis, Schiller's and Minetta Tavern, to name a few) and remains so to this day.
8. Bryan and Michael Voltaggio
Many siblings are naturally competitive with one another. Few, however, see their rivalries play out on national TV like Bryan and Michael Voltaggio, who both appeared as finalists on season 6 of the Bravo series Top Chef. Younger brother Michael ultimately came out on top on TV. But both brothers have gone on to great success after the show, with Michael opening restaurants in Los Angeles and Bryan launching a slew of concepts in Maryland, Virginia and Washington, D.C. The pair also coauthored a cookbook and consulted on a restaurant in Mumbai. For all the televised rivalry, Bryan told The Washington Post that Top Chef actually "brought us closer together. That in itself was probably one of the greatest things we got out of it. We're now our own barometers, our own support."