The Trusty Gimlet: Made Two Ways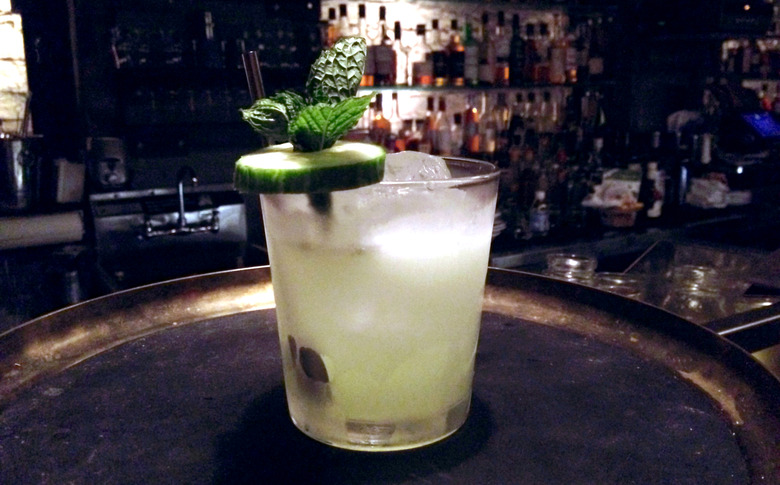 It's a classic that everyone knows but often overlooks — even though its influence on the world of drinks can hardly be measured. It's said to have been first created by a surgeon in the British Royal Navy as a prescription for officers to avoid scurvy, and the original version was no lightweight, with overproof gin — deliberately potent enough to allow one's gunpowder to still fire if the barrels somehow spilled — and Rose's preserved lime juice to sweeten this stiff, room-temperature dose of salt dog salvation.
Anyone ordering the modern version of the gimlet today would expect fresh-squeezed lime juice. And since New York City bar Milk & Honey starting stirring its way into cocktail lore, they've often offered up their now-hallmark cucumber-mint variations on this drink — the East Side — served up. And then there's the Old Maid, on the rocks. The family of "Maid" drinks in particular represents a simple variation: Take any shaken drink and transplant it into a rocks glass with a large cube of ice, mint and cucumber, whether it be made with bourbon, mezcal or even vodka.
No matter your preference, the gimlet remains one of the easiest drinks to make and modify with whatever ingredients are in season. Though it's no longer necessary to compensate for dietary deficiencies, one sip of the Old Maid or any of its cousins will surely leave you longing for another dose. Enjoy.
Classic Gimlet
2 ounces Beefeater Gin
½ ounce Rose's Lime Juice Cordial
Directions
Build ingredients in a rocks glass and stir several times to dilute as desired. No garnish.
Old Maid
2 ounces Beefeater Gin
1 ounce fresh-squeezed lime juice
¾ ounces simple syrup
3 cucumber wheels
3-5 mint leaves
Directions
1. Combine gin, lime juice and simple syrup in shaker and muddle briefly with cucumber and mint.
2. Shake vigorously with ice for 10-15 seconds, then strain into a chilled rocks glass.
3. Add a straw and additional cucumber wheels and mint leaves for garnish.
Read more Cocktails of the Week on Food Republic: