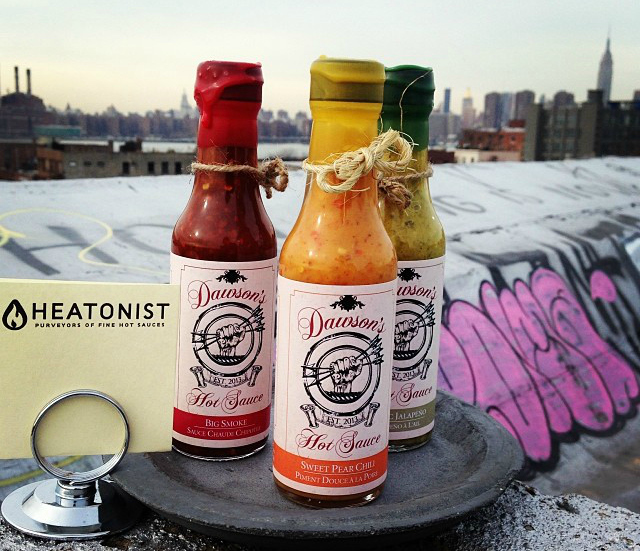 Exciting news, spicy-food lovers! Soon you'll be able to get your hands on all the hot sauce you can dream of buying.
Heatonist, a tiny new specialty shop with a focus on global hot sauces, will open in Williamsburg in just a few short weeks, featuring around 150 hot sauce bottles, a tasting bar and attached space for pop-up dinners and educational events.
Noah Chaimberg, the founder and in-house "hot sauce sommelier," says he wanted a place where he could taste hot sauces before investing in a full bottle. "I tried picking up new bottles here and there, but often I didn't love them, and they'd end up sitting on the counter until I threw them away," he says. "I wasn't going to put something I didn't love on my food."
In addition to the carefully selected worldly collection of sauces — all of which will be all-natural and sourced from exotic locales, including Hawaii, Sweden, Japan, Australia, New Zealand and South Africa — the shop will also feature a selection of other spicy foods and condiments, such as chocolate, pretzels, jerky, honey, vinegar and oils. "We're trying to focus on local makers for these items, to contrast with the global perspective of the hot sauce selection," Chaimberg says.
Like any good gourmet shop, the staff will be well versed in the ins and outs of the hot sauce category. "Our hot sauce sommeliers have a deep knowledge of the hot sauce world, the makers who are doing great things, the ingredients they use, and a solid understanding of the culinary landscape that these sauces will be part of," he says. "For us, hot sauce is food that goes on food, and knowing how to pair a sauce to a dish is very important."
Sounds like a winning concept to us. Time to slowly back away from the Tabasco.
Read more hot sauce stories on Food Republic: