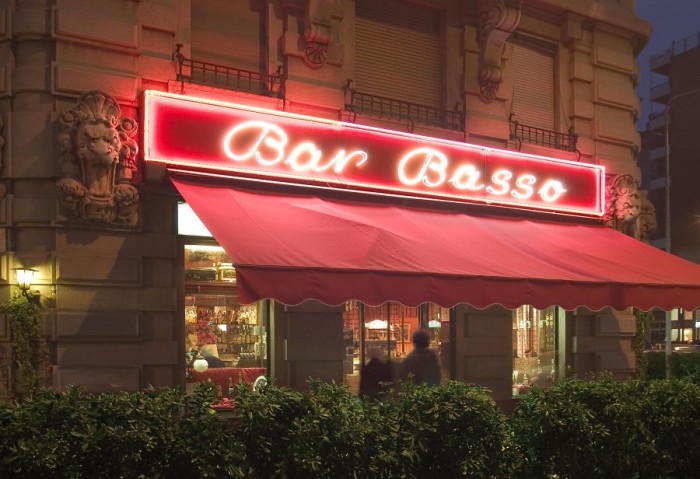 The aperitivo is one of the most cherished Italian pastimes. And while this social predinner drinking ritual didn't exactly originate in Milan, it's safe to say that the tradition is at its strongest here. Partaking isn't merely recommended. It's obligatory — at least once — when you're in town. During this convivial early-evening gathering, locals and visitors alike sip on a cocktail, nosh on some small bites and enjoy good company and conversation. Among the standard cocktails sipped during this elevated happy hour are the spritz, made with Aperol, prosecco and soda, and the Negroni — composed of gin, vermouth and Campari.
And here's where it gets good: With the purchase of a cocktail, you are entitled to help yourself from a bountiful spread of pizzas, bread, crostini, pasta, arancini, vegetables, meat and more. It's important to keep in mind, though, that the spread isn't an all-you-can-eat Vegas-style dinner buffet. In fact, loading up in such a manner is frowned upon. Think of it more along the lines of sustenance accompanying a predinner drink that also helps prevent imbibers from becoming too tipsy.
As the times have evolved, so has the aperitivo. Yes, there are plenty of locales that adhere to tradition. But nowadays, cocktail bars, restaurants and wine bars offer aperitivos of their own, and the options have evolved from standard buffets to served plates of canapés. Whether you're looking for a taste of the traditional or the modern (or a little bit of both), here are ten of the best places in Milan for an aperitivo.
1. Bar Basso
This iconic bar, opened in 1947, is just as quintessentially Milanese as partaking in the aperitivo itself. Notably, owner Mirko Stocchetto also made cocktail history when he poured what became known as the Negroni Sbagliato some two decades after the place first opened. This serendipitous version of the Negroni — which translates to "incorrect Negroni" — substitutes prosecco in place of gin. One massive square ice cube characterizes both the Negroni Sbagliato and Bar Basso's house version of the standard Negroni, which is served in a glass chalice. Today, Mirko's son Maurizio runs the show. Cocktails range from eight to ten euros, and complimentary plates of chips, olives and miniature sandwiches are served for the table to share. Via Plinio 39; + 39 (0)2 2940 0580; barbasso.com
2. Cantine Isola
This Chinatown mainstay has been pouring wine since 1896, and it's here that you'll find one of the most generous aperitivo spreads against the backdrop of a cozy, rustic ambience complete with floor-to-ceiling wine-stocked shelves. Cantine Isola fills up fast, but there's plenty of room outside on the pedestrian-only Via Paolo Sarpi. Enjoy a glass or bottle of Italy's popular and lesser-known wines, from Franciacorta to Fiano to Chianti to Refosco. If you don't want to brave the crowd to help yourself to the buffet, simply hang tight and wait for one of the staff members who circulate with plates of passed food. Wines by the glass start at five euros, or you may purchase a bottle to share among friends. Via Paolo Sarpi, 30; + 39 (0)2 331 5249; facebook.com/CantineIsola
3. Mag Cafe
The Ripa di Porta Ticinese is one of the busiest and most charming streets in the Navigli area. Yet many spots along the route are disappointing in terms of quality. Not Mag Cafè: This old pharmacy turned cocktail bar serves some of the best cocktails in town. Although it's one of the newer additions to Milan's cocktail scene, its enchantng 1920s-style Parisian café ambience evokes an old-school vibe. Mag's aperitivo (priced around ten euros) stands out, too: There is no buffet with your drink, but rather a small plate of salumi (cold cuts) and formaggi (cheeses). Call ahead to book a table, as the place fills up quickly. The same crew also operates a secret speakeasy, the legendary 1930. Work your charm on the friendly bartenders and see if they share the address with you — unlikely, but worth a try! Ripa di Porta Ticinese, 43; + 39  02 4548 9460; facebook.com/pages/Mag-Caf
4. Pavè
Widely regarded as one of the best pasticceria in Milan, lovely Pavè (named after the ever-present cobblestones in the city) also offers a nice aperitivo. And during the weekends, the Milanesi may even let it overlap with a late breakfast. The morning starts with cappuccino and a slow perusing of the newspapers, then noon magically arrives and it's time to choose from the carefully curated list of old-school traditional Italian cocktails, such as the Milano-Torino, which is half Campari, Milan's native spirit, and half Punt e Mes, from Turin. There's also the Garibaldi, made with Campari and orange juice and served with pistachios, olives and chips. If you feel that the small bites don't suffice, grab a slice of Pavè's delicious focaccia. Via Felice Casati, 27; + 39 (0)2 9439 2259; pavemilano.com
5. Radetzky
The fashion-obsessed, money-hungry 1980s were the golden age of aperitivo culture in Milan. Radetzky, located in the heart of the Brera district on a pedestrian square, is arguably the epitome and the best-surviving example of that day and age. The pleasant outdoor seating offers some of the best people-watching in the city, and it's still a fun experience, despite the fact that both the buffet and the drinks (priced around ten euros) are, alas, just average these days. What's with the German-sounding name, you ask? Curiously, this Austrian general — immortalized by Johann Strauss I's Radetzky March — is remembered quite fondly in Milan as a fair ruler, despite his success against Italian patriots in the First War of Independence. Corso Garibaldi, 105; +39 (0) 02 657 2645; radetzky.it
Modern Options
6. Bento Sushi Restaurant
This sleek sushi restaurant — one of the first of its kind when it opened 15 years ago — still fills up every night of the week, thanks to its central location in Corso Garibaldi and a clever menu where sushi is presented alongside more inventive fusion dishes. The cocktail list focuses on seemingly infinite variations of gin and tonic (ranging from eight to ten euros), where different gins are paired with their "ideal" tonic waters, such as Gin Mare with 1724 tonic water, rosemary and basil; or Hendrick's with Fever Tree, sansyo pepper and cucumber. If you're in the mood for aperitivo, pick something from the tapas menu: The dishes (priced from six to ten euros) range from a more traditional salmon tartare to octopus meatballs served with soy sauce and candied ginger. Corso Garibaldi 104, Milan 20121, bentobar.com 
7. Bulgari Hotel
Even if fancy hotel bars are, anywhere in the world, a safe haven for a good cocktail, sometimes they lack in atmosphere. Not so for the stunning Bulgari Hotel. Located on a private street in the very heart of Milan's city center, the hotel has a beautiful hidden garden that is the perfect backdrop for toasting to the spring season. The list offers both classic and signature cocktails, such as the eponymous Bulgari (gin, Aperol, fresh orange juice, pineapple and lime juice). The price tag is high at 20 euros, but the ambience makes it worth the splurge, especially since the kitchen constantly sends out piattini filled with delicacies. Via Privata Fratelli Gabba 7/b; + 39 (0)2 805 8051; bulgarihotels.com
8. Ceresio 7 Pools & Restaurant
This restaurant, situated on the rooftop of fashion house Dsquared2's headquarters, has played a significant part in redefining the Milan social scene since opening in 2012. To start, there are two pools and a 360-degree view that juxtaposes the city's modern skyscrapers with its red-orange shingled rooftops. The aperitivo is among the pricier options in town, with cocktails costing 15 euros each, but they are accompanied by a generous assortment of fried bites, such as cheese and pepper croquettes and mortadella-topped focaccia, as well as chips, nuts and olives. The ample cocktail selection includes house specialties such as the New Aviation, made with gin, lemon juice, crème de violette, grapefruit juice and maraschino. Old-time and post-prohibition favorites include the French 75 and Moscow Mule, respectively. Via Ceresio, 7; +39 (0)2 310 392 21; ceresio7.com
9. Pisacco
This modern Italian bistro has set a high bar, following the inauguration of its very own aperitivo program earlier this year, which is arguably the cleverest in town. Drop in to Pisacco between 7 nd 8 p.m. to see a spread like no other. For starters, you'll find jars of house-preserved vegetables in oil and vinegar, including bok choy, thistles, pumpkin, Romanesco cabbage, turnips and fennel. Then there's Parmesan potato chips, paprika-caramel popcorn, marinated veal breast, mustard sandwiches, seared tuna with guacamole, Cantabrian anchovies with butter and much, much more. With the purchase of a glass of red or white wine (around ten euros), chef Fabio Gambirarsi will prepare a plate for you himself. Via Solferino, 48; +39 (0)2 9176 5472, pisacco.it
10. Rita & Cocktails
Situated on a nondescript side street off the Naviglio Grande, Rita & Cocktails opened in 2002 and continues to fill up every night. The sharp, talented bar team has implemented a collection of creative cocktails that exemplifies their careful attention to quality. Notable offerings include the Fargo, made with saffron syrup, fresh lime juice, Punt e Mes, Campari and mint leaves, as well as the Roger the Shy, composed of honey syrup, fresh lime juice, grapefruit juice, Zubrowka vodka, Oscar 697, teapot bitters and coriander leaves. Arrive before 10 p.m. and you will be served a crudité of cucumber, carrots, peppers and olives, as well as potato chips, small slices of pizza or stuffed focaccia and a special appetizer that changes daily. Cocktails average about nine euros each. Via Angelo Fumagalli, 1; + 39 (0)2 837 2865; facebook.com/RitaCocktails
Jackie DeGiorgio and Sara Porro are cofounders of  Sauce Milan , an English website dedicated to Milan's food and beverage culture. Sauce Milan covers everything: where to dine near top attractions; restaurants in both popular and lesser-known neighborhoods; how to find the best risotto alla Milanese, cocktails and even fried chicken. Sauce Milan offers food tours of the city's Historic Center, Isola, Navigli and Brera neighborhoods.
More places to drink while traveling abroad via Food Republic:
This post is brought to you by our friends at MasterCard Priceless Cities.