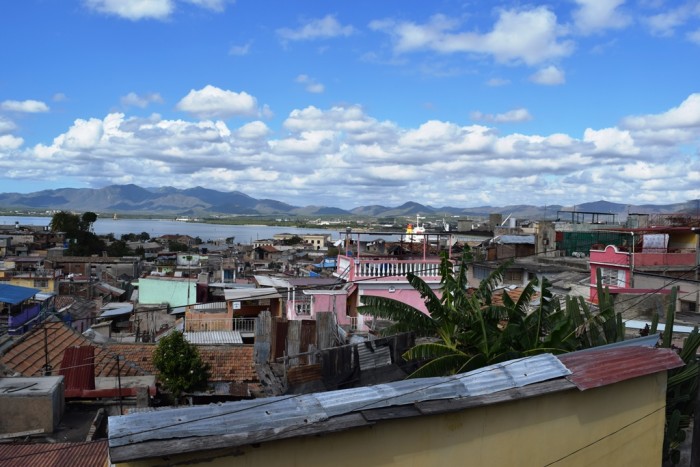 As a traveler, I have a compulsion to seek out the hardest-to-reach, most difficult places on the planet. So imagine my delight when, on a recent jaunt to Cuba, I heard about Baracoa, a reportedly enchanting little beach town situated a mere 20-hour bus ride from Havana — not counting a layover in Santiago. The seaside locale, which benefits from the African influence of Cuba's "Oriente" (eastern end), is said to have some of the country's best food. A few evenings after I arrived in the country's capital, I was at the bus station ready to find out.
Like most tourist-approved buses, this one included a nonworking bathroom, worn upholstery and air-conditioning meant to simulate a meat locker. My request that perhaps the driver could "bajar el aire" prompted a 10-minute diatribe from this large fellow with finger-waved hair like early Elvis. He ranted in some language that resembled the Spanish I studied for years but was seemingly much more colorful, judging by the laughter of the mostly Cuban crowd seated up front. One woman was kind enough to translate the gist: "Tourists always think we can control the air-conditioning; they don't realize we are only the drivers and these things are centrally managed. We can't do anything." Okay, then. Clearly this was Elvis's kingdom on wheels and the rest of us were just along for the ride. I laughed helplessly and decided to shut up, bundle up and get some sleep.
By midday the following day (after some transportation hassles in Santiago and Guantánamo), we arrived in Baracoa. In this weird, wild sea town with a malecón (seaside walkway) that's far less lively than Havana's, the horse cart is still considered a normal mode of transportation and fruit vendors pedal through the streets calling out "Hay ajo y tomate" ("I have garlic and tomato") and "Guayabera madura" ("ripe guayabera"). In the center, Che Guevara's ubiquitous image and accompanying revolutionary slogans watch over old wood-paneled buildings that are alternately brightly painted or gone to seed. Down by the water, there's a district with newer concrete houses.
A friend and I managed to rent a second-story flat inside a green-and-yellow casa for a nightly rate of 15 convertible pesos, or CUCs ($15 USD). The best feature was a rooftop terrace where it was possible to observe the long peninsula of beach below and hear the strains of an invisible violinist playing sadly and soulfully inside the dingy house across the street while laundry flapped in the breeze. I grabbed a perch there, accompanied by the house copy of One Hundred Years of Solitude in Spanish and the cheap, pure-tobacco Cuban cigarettes I was naughtily smoking then, and I knew I wouldn't want to leave for a while.
Soon, though, hunger lured me down to the streets, where all the restaurants and food stands seemed to have closed for siesta. I bumped into Simone, an Italian guy I'd met on the way, who had secured a casa with a kitchen he could use. Observing the mountains of beautiful fruits and vegetables for sale (a novelty in a country where up until this point I'd scarcely managed to eat a vegetable), he offered to cook spaghetti.
You should never turn down an Italian's invitation for spaghetti, which is how I came to eat Simone's simple tomato pasta four days in a row. We had no cheese, but there was olive oil, which he had managed to find in Santiago and had been carrying around in his backpack. He poured it with a generous hand to sauté first the onions and then the tomatoes, which slowly cooked down while we drank rum and TuKola without ice. (Since then, I've tried to replicate Simone's pasta and haven't been able to get it right. At the time, there was some magic of the place, those Baracoa tomatoes and the deft touch of someone who's cooked something 500 times that made it one of the most delicious things I've ever tasted.)
The next day was a searing one, and I traipsed around getting a feel for the town. I tried pru, a drink fermented with fruit, sugar and spices, and noted a few restaurants I might like to go to if I could ever arrive when they were actually open. From my own terrace I spotted one, La Terraza, which has a very good reputation for its seafood in coconut sauce and its vistas. I climbed up the steps of El Castillo, a stately yellow hotel high on the hill that used to be a fort and still boasts the best views in town, which anyone can see by asking nicely.
That afternoon I hit the beach en route to Parque Natural Majabera, where I met Chi Chi, the coconut seller, who shimmed up a tallow and narrow palm with the aid of some rubber straps and fetched me one coconut to drink now, one to crack open later, and one for the boy who'd decided I might be his new American wife and had fallen into step with me. (I could've had at least five marriage proposals in Baracoa if I'd wanted them, something I don't chalk up to my looks or charm but rather to my foreign passport and paychecks issued in something other than local Cuban moneda nacional, which has an exchange rate of about 25 to 1 CUC and is practically worthless.)
At the park, the much-touted Playa Blanca turned out to be a bust, rocky and shady and not swimmable. When I went back to the guard to tell him as much and ask for my 2 CUCs back, he surprised me by obliging and then offered to let me see Majabera's cave and mirador for free. (He also extended the offer of guide services for the following day and an invitation to drink wine "somewhere dark and romantic" that evening, so his motives were suspect.) I ended my one eventful Baracoa day with a swim in the River Duaba, which runs into the ocean near the park's entrance, then stopped on the beach to watch the sun set behind the town and El Yunque, the flat-topped mountain that looms over Baracoa from the west and seemed to shimmer like something out of The Land Before Time.
It rained the next day, dashing plans for any further excursions, and the day after that and the day after that. So I never did climb El Yunque, or visit the mouth of the Yumurri River, or camp in the national park, or undertake any of the other expeditions talked up by my guidebook. Luckily, Baracoa is a pretty good place to do nothing. It's moody and appealingly melancholy in the rain, and the kind of tiny town where you can show up at the Cafeteria El Parque any time of day and encounter at least half the people you were drinking rum with the night before.
I sat on the terrace of my casa and smoked and watched the sea and wrote notes on my Internet-less laptop while the violin wept in the wind and a small black dog on the roof across the way barked noisily at anyone who dared walk by. In the background, I heard horses clip-clopping on the malecón and snippets of the chatter and gossip that floats between houses and makes up the backdrop of daily life in Cuba.
I ran small-town errands with varying degrees of success. One afternoon, I managed to check Internet without excessive delays but failed to change money, since the people at the Casa de Cambio had gone to lunch, according to a neighbor, and didn't seem to be returning anytime soon. Usually, I ran into Simone, engaged in his own daily errands of stockpiling spaghetti. Whenever I wanted to find him but couldn't — since we didn't have Wi-Fi or texting or any of those modern conveniences — I just asked around for Boro, the bicycle taxi driver who'd become our friend and who was always ferrying Simone to and from the new house he'd moved into down by the stadium.
There were rummy, hazy nights dancing salsa outside the Casa de la Trova, then traipsing up the treacherous stone steps to the El Ranchon disco for more salsa, plus some booty-shaking reggaeton. And there was drama, like in any small town. One late night that ended with a last, cheap bottle of rum we didn't need in the Cafeteria El Parque, my flatmate got drunk and ran off with the keys. I spent the night, innocently, at Simone's, and the next morning Boro showed up at 8:30 a.m. aflutter with the news that the señora, the owner of Simone's casa, was just outside the door and I couldn't leave because she knew la Americana had stayed over and she had registered only one foreigner and what if the inspector showed up? (That she knew I existed was news to me, but it shouldn't have been. Everyone seems to know everything about everyone in Cuba.)
It was only after the Brazilian died that I knew it was time to leave. I know that's a crazy thing to offhandedly write here, and I wasn't going to mention it, but I can't think about Baracoa without remembering Chris, who was just 27 and a poet and full of life and bound for the Havana book fair in two days. He spent the last night of his life with Simone and me, eating spaghetti, drinking rum, and having that kind of traveler conversation that makes all the hassles and the long bus rides worth it: about books and dirty Cuban slang and our families and experiences. He got far, far drunker than we were, and later we heard him rattling around the kitchen singing, which was funny and charming. And then he hung himself.
Simone and la señora found him on the balcony and Simone started to do CPR and and we threw water on Chris and pounded his feet to try to rouse him. The ambulance was called, and then they told me I had to run, because once again I wasn't registered in the house. So I fled into the night, distraught to leave the situation and scared to be alone in the dark at this far end of town, not knowing whether the lifeless body on the porch could be revived. Boro was the one who confirmed the news for me the following morning: Chris was dead, and Simone had gone to the police precinct to make a statement.
Later that stormy day, Simone and I sat on the gray beach, both of us shivering in Italian cashmere sweaters that belonged to him, and we cried for this person we'd barely known, who had spent his last night on earth with the two of us. It seemed like some people in town had heard the news, and I don't think I'm imagining things when I say we were the subject of curious stares. We ate some very good fish in coconut sauce at a restaurant along the malecón, but I cut dessert short when I sensed the waitstaff was listening in. It was time to leave.
The next day, Simone and I said goodbye to Boro and bound a bus for Santiago, just five hours away. The sun was shining there and the buildings were stately and there was music even in the afternoon. But it didn't capture my heart the way Baracoa had. I suspect few places ever will.
Note: Names have been changed in this story.
More Cuba stories on Food Republic: