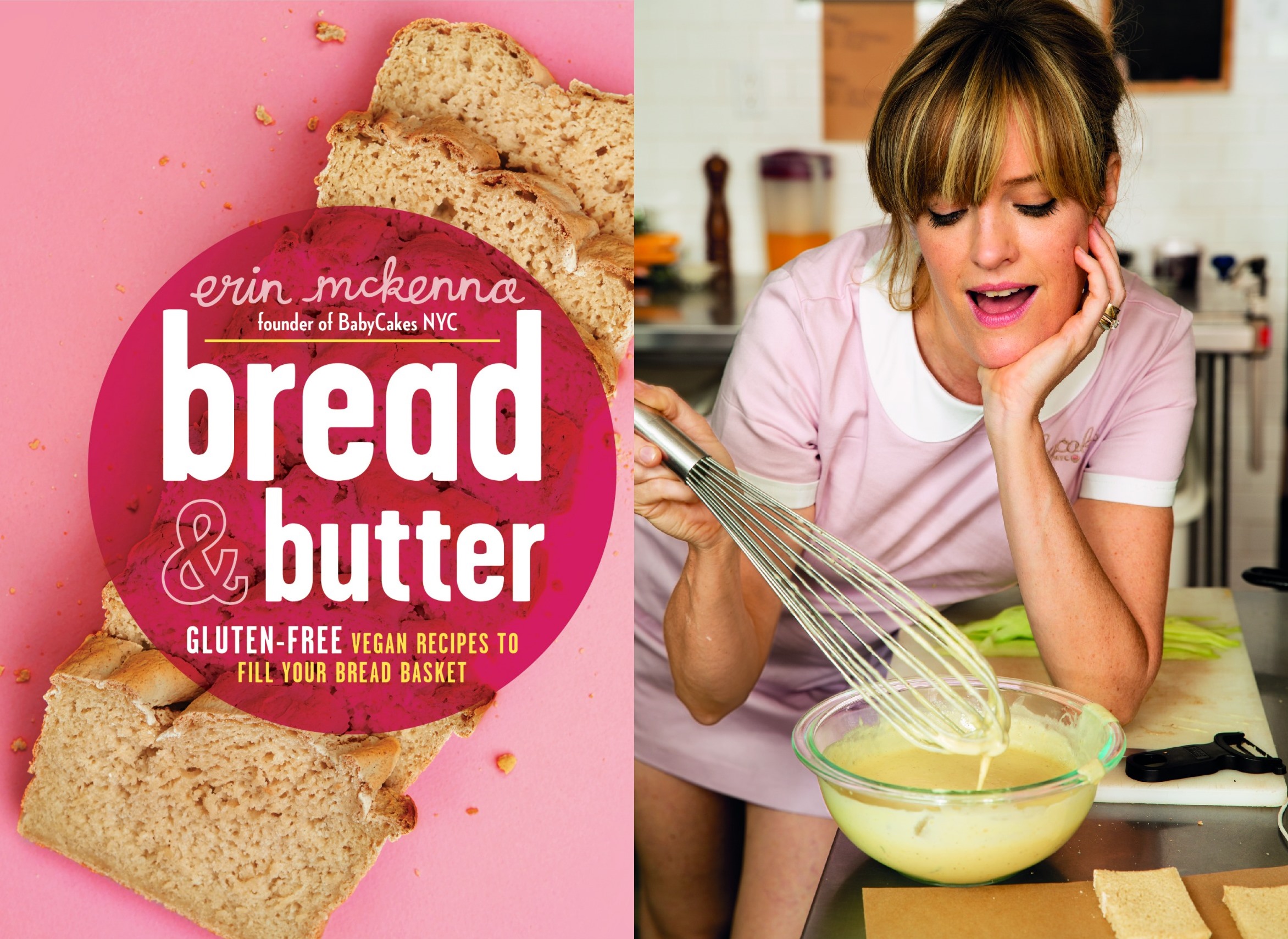 Working in a professional kitchen can be a daunting experience for many people. But not so much for Erin McKenna, who grew up with 11 brothers and sisters. "From a really young age, I was put in charge of making the family dinners," she says. "My mom would say, 'Go in the fridge, grab this, make that,' so eventually I didn't have any fears around making food."
You could reasonably call it a cakewalk for McKenna, founder of New York's pioneering BabyCakes bakery, a mecca for treat seekers who might otherwise abstain because of aversions to things like gluten and dairy.
As a youngster, the San Diego native stopped at nothing to satisfy her own sweet tooth. She fondly recalls one particular time during Lent, when she was supposed to be skipping sugar but nonetheless swiped two Girl Scout Thin Mint cookies during school recess and devoured them in a locked bathroom stall.
Later in life, when she faced an onslaught of allergies to wheat, gluten, dairy, soy and refined sugar, it was that same boldness that inspired the then-26-year-old to change the game for folks like her. "I wanted to open a neighborhood bakery I would want to visit," she says. "It was important for me to create a space where people could have something for the first time, not have to worry about reading ingredients and be treated normally." What started as a requisite post-work distraction from her fashion-industry day job swiftly turned into two weeks' notice and mental blueprints. "It was like being infatuated or falling in love," she recalls. "I talked about the bakery as if it was already open."
McKenna spent her mornings at work on the business plan — and, of course, her baked goods — before she would head into evening waitressing shifts at DuMont Burger and the Mermaid Inn. "I was the only joyful waitress in New York," she says. "I knew what was ahead of me." Within 14 months, she opened BabyCakes on Manhattan's Lower East Side, featuring three core offerings: cupcakes, breads and cookies. Soon enough, curiosity compelled her to expand that list to include brownies, muffins, cornbread and doughnuts — the bakery's most clamored-for item — all the while adhering to her underlying raison d'être: to remain gluten-free, vegan and kosher.
It was that same call to action that recently led McKenna to pursue additional new savory avenues, culminating in last week's release of her latest cookbook, Bread & Butter: Gluten-Free Vegan Recipes to Fill Your Bread Basket (Clarkson Potter). "Savory items seemed so far out of reach, and like such a mystery," she explains. "It was like starting over again — going back to before I even knew how to bake, throwing ingredients into a bowl and seeing what happened."
One such development that took particular hold of her was the bagel, a hearty and rustic alternative to New York's often-chewy morning must. The book features both plain and strawberry lemon zest renditions, each of which packs oat flour, arrowroot and potato starch and is baked until golden brown, with a crunch. "If you can get past what you expect in a bagel, it's so satisfying," she says.
The bagel was just one of the book's recipes that was born out of McKenna's kitchen experiments. Rather than having a fixed table of contents from the start, she went largely off instinct for items like vegetable home-fry biscuits and salad-topped pizza. "You can try to have a really direct path, but for me, I would start out trying to do one thing and end up with five other things," she explains. "I'd close my eyes to taste it and think about what it reminded me of, and I'd tweak it until I got what I was looking for."
One could argue that McKenna has followed a similar approach to her own professional life, foregoing formal culinary training for trial-and-error baking at a time when "vegan" was just entering the vernacular of New Yorkers. "Back then everyone was like, 'I can't believe you use coconut oil — it's so bad for you!'" McKenna recalls.
But thanks to her yield — three cookbooks, an iPhone app, a line of baking kits and three locations, including New York, Los Angeles and last month's Disney World opening — McKenna wouldn't have changed a thing. (Well, except for the name BabyCakes, which she recently changed to the more personalized moniker Erin McKenna's Bakery.)
"I had no money, no credit card and no idea how to open a business in New York, but I felt so strongly that this could happen that I never took no for an answer," she says. "It doesn't matter where you've been or what you've done — if you have a vision and inspiration, you can make it happen."
Erin McKenna's Bakery NYC, 248 Broome St, New York City, NY 10002; (855) 462-2292, 
Erin McKenna's Bakery LA, 236 North Larchmont Blvd., Los Angeles, CA 90004; (855) 462-2292 
Erin McKenna's Bakery Downtown Disney, 1642 E. Buena Vista Dr., Lake Buena Vista, FL 32830
Watch the video trailer for McKenna's new book:
More gluten-free goodness on Food Republic: