Spring Preview 2015: 10 Newly Opened And Upcoming San Francisco Restaurants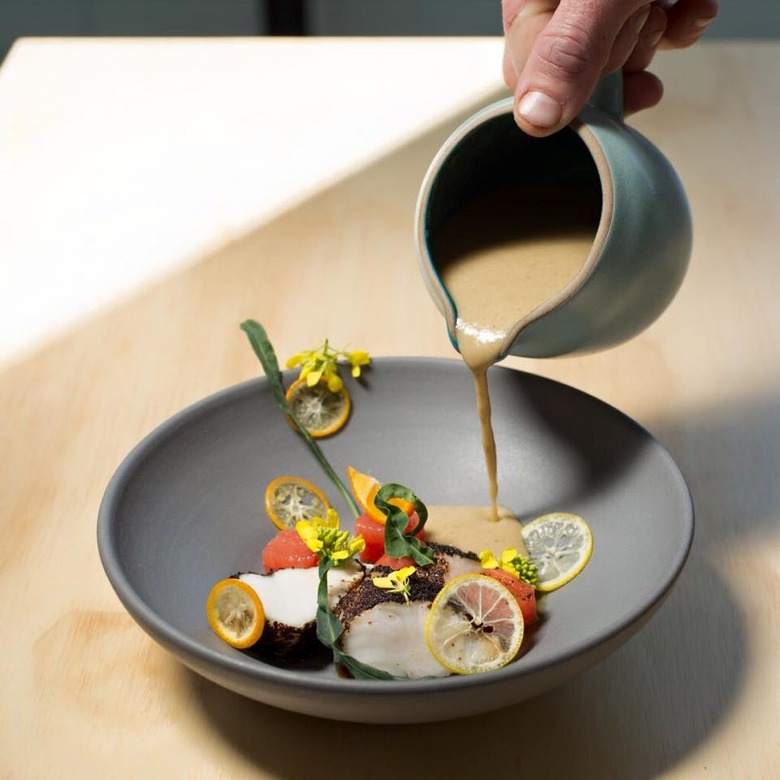 Just three months in, 2015 is already shaping up to be a very exciting year for the Bay Area restaurant scene, with several high-profile openings since January and many others ready to launch in the coming weeks. Here are six notable newcomers and another four tantalizing spots on the watch list.
OPENING SOON
1. The Perennial
You haven't seen a restaurant quite like this one before. The Perennial — from Anthony Myint and Karen Leibowitz (who opened Mission Chinese Food, Commonwealth and Mission Street Food) — will serve "progressive agrarian cuisine" and has a business plan that's heavy on ethics and innovation. Championing farming practices beyond merely organic and sustainable, Myint and Leibowitz are operating an aquaponic greenhouse (a food-production system where aquaculture meets hydroponics, aka water/plant cultivation) in Oakland. The restaurant is also taking care to focus on sequestering carbon, soil biology, whole-animal butchery and making good use of the restaurant's food waste. Oh, and there will be cooking, too. Chef Chris Kiyuna's California-style cuisine aims to be both sophisticated and comforting, utilizing vegetables and meats. The restaurant is currently scheduled to open in July. 59 9th St.; theperennialsf.com
2. Octavia
Award-winning chef Melissa Perello's beloved Frances is about to witness the birth of its sister restaurant, Octavia, in the space that formerly housed Baker & Banker, Meetinghouse and the original Quince. The restaurant will boast a larger menu and more seating than intimate Frances, plus an expanded wine program from celebrated sommelier Paul Einbund. Set to open in April, Octavia's menu highlights Northern California's bounty with international inspiration akin to the cooking at Frances. "We couldn't be more excited to grow into this corner space that has been home to some of my favorite neighborhood restaurants in San Francisco," says Perello. "It's an honor to continue the space's historic legacy with Octavia." 1701 Octavia St.
3. China Live
This visionary complex from George Chen, his wife, Cindy Wong-Chen (Betelnut, Shanghai 1930), and director of operations Richard Miyashiro (Boulevard, Hakkasan) is set to rock Chinatown and become one of the most notable Chinese-restaurant openings in the country. Many are calling the multi-floor, 30,000-square-foot space the Chinese Eataly. Designed by Avro/KO, the facility will serve multiple functions. Downstairs is an upscale, interactive Chinese-food market with numerous demo stations and noodle, seafood and raw bars, as well as an exhibition kitchen, bar, café and grocery. Upstairs will showcase an exclusive eight-table restaurant by Chen (called Eight Tables by George Chen), which is accessed via a back alley, as well as a futuristic bar overlooking Broadway Street and an intimate, retro Shanghai bar and lounge dubbed Madame's Parlour. The ambitious project also includes an exclusive rooftop patio and restoration of the building's underground movie theater. 644 Broadway St.; chinalivesf.com
4. BDK Restaurant & Bar
Scheduled to open at the end of March, BDK Restaurant & Bar in the Hotel Monaco is an upscale American tavern named after the hotel company's founder, Bill Drennon Kimpton. Chef Heather Terhune (from Sable Kitchen & Bar in Chicago) has created playful dishes like Thai coconut red curry popcorn and bacon jam with brie and a baguette, or pickle-brined fried-chicken thighs with coleslaw and mini buttermilk biscuits. Kevin Diedrich (Jasper's Corner Tap & Kitchen, Bourbon & Branch, PDT) heads up the bar, naming cocktails after their main feature, like Smoke or Herbal Licorice. Meanwhile, the wine list specializes in Bill Kimpton's favorite Italian region of Chianti. Hotel Monaco San Francisco, 501 Geary St.; bdkrestaurant.com 
NOW OPEN
5. Al's Place
Aaron London rocked Napa — and garnered national press and James Beard noms — with his visionary vegetable restaurant, Ubuntu, which closed in 2012. London is thankfully back in the Bay Area, with Al's Place, which opened in February. In the cheery, intimate space, vegetables shine in London's artful-yet-affordable dishes (none over $20), like turnips mingling with burrata cheese, sweet currant sofrito, crumbled potato chips and potato skin puree. Seafood also dominates — and meat dishes are cheekily offered as sides. Try a stunner of black cod roasted with black lime powder, sporting slivers of grapefruit and kumquat in an earthy sunchoke curry. 1499 Valencia St.; alsplacesf.com
6. Californios
After working at Sons & Daughters and one of Mexico City's great restaurants, Pujol, chef Val Cantu opened Californios at the beginning of January with wife and maître d' Carolyn Cantu. The space is alluring and intimate under waterfall chandeliers, lined with wood and marble bookshelves, with a hip-hop soundtrack for a funky, relaxed vibe. The menu lists just a few ingredients and is delivered at the end of the meal, so it's all about the element of surprise in a nine-course, $75 dinner with standout drink pairings ($45) from beverage director Charlotte Randolph (formerly at French Laundry). Cantu's roe, fermented pepper cream and black bean topped "Chips and Salsa" are quickly becoming a signature; the chips are prepared using nixtamalization, a process of soaking and cooking corn in an alkaline lime-water solution for ultimate crunch and pronounced flavor. 3115 22nd St.; californiossf.com
7. Mourad
From Mourad Lahlou and chef de cuisine Chris Kajioka (formerly of Honolulu's Vintage Cave), Mourad opened at the end of January in the historic PacBell Building. Old and new fans of his Morocco-meets-NorCal creativity at Aziza will be delighted to find the Morocco native's cuisine now on both sides of the city. Mourad is refined yet still comfortable with a standout $150 tasting menu, as well as celebrated pastry chef Melissa Chou's desserts and master sommelier Alan Murray's wine list. Decadence meets restraint in tasting-menu glories like Caspian caviar with maple on smoked brioche (brilliantly paired with sake), or regular menu offerings like a gorgeous duck-liver dish layered with pistachio genoise and dark chocolate, dotted with edible flowers, turnips and satsuma oranges. 140 New Montgomery St.; mouradsf.com
8. Sous Beurre Kitchen
Proprietor/chef Michael Mauschbaugh's French-Californian-themed Sous Beurre Kitchen (SBK) found an inviting permanent home on 24th Street after several years as a pop-up. Opened in February, SBK employs a forward-thinking fair-wage program (the actual cost of labor, service and tax is included in menu prices), and the staff is friendly and informed. NorCal bounty from mostly local producers and farms is showcased in Mauschbaugh's rustic-elegant Provençal French dishes, such as the perfect boudin blanc and duck confit cassoulet. 2704 24th St.; sousbeurrekitchen.com
9. Liholiho Yacht Club
Chef Ravi Kapur (formerly the opening chef at Prospect) brought his beloved Hawaiian- and Asian-influenced pop-up, Liholiho Yacht Club, to Sutter Street in January with Jeff Hanak and Allyson Jossel (ex-Nopa and Nopalito) and chef de cuisine Nana Guardia. Light woods and brightly colored tiles signify the space's breezy but sophisticated casualness, best enjoyed with dishes like beef tongue bao, fried game hen or a light yet flavor-packed bowl of marinated squid, crispy tripe, slivers of cabbage, peanuts, fried shallots and mint. 871 Sutter St.; liholihoyachtclub.com
10. Hawker Fare
Michelin-starred chef James Syhabout (of Commis in Oakland) opened Hawker Fare SF at the end of January, bringing a Thailand street-party feel to Valencia Street under strings of lights, vibrantly colored tablecloths and pressed-tin "roofing" over the bar. Vinyl records and movie posters (think Elvis records and Back to the Future posters in Thai) line the walls, making it a festive setting for cheap Thai beers and mehkong (a Thai sugar cane/molasses and rice spirit) "bottle service." Rounds of sticky rice and grilled meats are the authentic highlights here, transporting diners straight to Thailand and best eaten with hands and paired with one of the refreshing house cocktails. Hit the hidden upstairs bar, Holy Mountain, for a nightcap. 680 Valencia St.; hawkerfare.com
  Read more spring previews on Food Republic:
This post is brought to you by our friends at MasterCard Priceless Cities